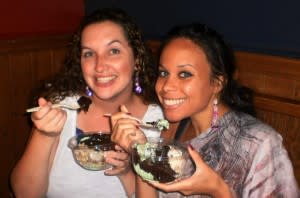 I don't know who was the smart person to create this special event, but I'm glad he/she did! It's fun eating the ice cream at these places in Indiana.
1. Ivanhoe's Drive-In
Chances are, you've heard of Ivanhoe's Drive-In in Upland in central Indiana. Its food has been written about in magazines like Midwest Living.
Despite a full menu, ice cream has been king since its beginning. Its 100 sundaes and shakes are listed on large menus, thankfully with description. The toughest part may be deciding which one to choose. With names like Chocolate Peanut Butter Pretzel (my favorite), Grasshopper, Peach Melba, Cashew Crunch, and S'Mores, it can be nearly impossible to narrow the list to one.  My family loves the Mint Chocolate Chip Shake, while the favorite sundae is Turtle.
To further complicate matters, there are three sizes to choose from – mini, regular, and super. At 9 oz. I've found the mini is plenty, especially with bountiful amounts of scrumptious toppings heaped on top. The regular is 16 oz. and the super weighs in at a daunting 32 oz.
Ivanhoe's Restaurant, which has been profiled in Midwest Living and Indianapolis Monthly, got its start 50 years ago when Ivan and Carol Slain bought Wiley's Drive-In on Main St in Upland, 50 miles south of Fort Wayne.
The Slains opened a sit-down restaurant – a first for them -- and had one year to change the name. A high school student who worked at the restaurant was studying knights in school and upon learning there was a knight named Sir Ivan, began calling his employer "Ivanhoe." The name stuck.
Keep in mind the location of Taylor University down the road keeps the employees hopping as college students frequent the place at regular intervals. I know as I am an alum, as well as our daughters. Ivanhoe's was part of our regular campus visits. This is a photo of our daughter eating at Ivanhoe's with a friend.
If you're not someone who begins a meal with ice cream, Ivanhoe's has a great selection of salads, sandwiches and other menu items. The hamburger is ground daily, as is the grilled tenderloin.  I can vouch for the homemade chicken salad made with fresh fruit. Strawberry Shortcake is made fresh daily and can be served with whipped cream or ice cream.
Ivanhoe's Drive In
979 S Main St
Upland IN  46989
Phone: 765.998.7261
&&&&&&&&&&&&&&&&&&&&&&&&&&&&&&&&&&&&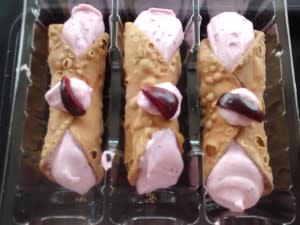 Ever eaten sweet potato pie ice cream? How about Black Cherry cannoli made with ice cream? Can you imagine ice cream that doesn't melt for more than an hour under normal indoor conditions?
Lynnette & Russell Beach opened Ice Cream Dessert Factory in Scottsburg (southern part of the state) in November 2014. They make their ice cream daily. Much of what they make is handcrafted ice cream desserts such as ice cream cannolis.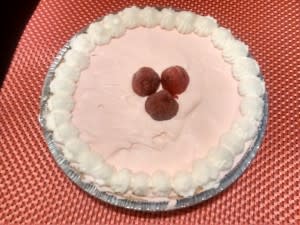 For those of you unfamiliar with this Italian dish, cannoli is a rolled pastry typically filled with ricotta cheese for a cream filling. The Beaches have sold 8,000 cannolis since opening. This Strawberry cheescake Ice cream pie would fit with most summery menus!
The restaurant has seating for 20. While you're indulging, you can watch the employees make the ice cream through a window.
If that is not enough information to pique your interest in the Beaches' ice cream, check this: Russell has created a recipe for a slow-melt ice cream. It's too scientific for me. Suffice it to say he claims you can set it on your counter for approximately 90 minutes and it would not melt. Awesome!
Restaurants in the southern part of the state selling confections made at the Ice Cream Dessert Factory: Food4TheSoul / Memphis; Fireside Inn / Sellersburg; LeRoys / Lexington.
Ice Cream Dessert Factory
27 South 1st St.
Scottsburg IN  47170
812.599.8370
&&&&&&&&&&&&&&&&&&&&&&&&&&&&&&&&&&&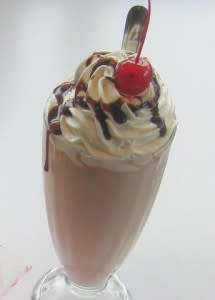 If you live in northern Indiana, you've heard of and/or visited any one of the Schoop's Restaurants.
These diners, many of which are located near Chicago, are great places to sample tasty shakes, floats, banana splits, and cones.
For those who want to round out a meal with something less sweet Schoop's accommodates with fries, chili and soups, chicken strips, chili cheese fries.
Better come hungry. A single grilled Schoop's burger weighs one-third of a pound. Schoop's hamburgers are also available as double and triple patties. Wow!
Schoop's non-smoking facility is handicap accessible with additional seating available via picnic tables outside. The restaurant offers value meals, kids' meals and carryouts. Dress is casual.
2816 Calumet Ave
Valparaiso
219.464.2996 For more Hoosier ice cream trip ideas go to
https://visitindiana.com/trip-ideas/4932-sweet-temptations-in-central-indiana