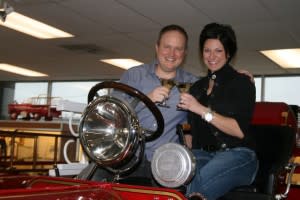 The phrase 'Kindle the Flame' might sound like the wrong thing to say at a fire museum, but hang with me.
'Kindle the Flame' is the name of a special event at the Vintage Fire Museum in Jeffersonville on Feb. 12. Jeffersonville is located on the north bank of the Ohio River in southern Indiana.
Those with their thinking caps on will realize Feb 12 is a pre-cursor for another holiday that is fast approaching—Valentine's Day.
 On that Friday night, couples are invited to visit the Vintage Fire Museum for an evening designed to help them 'Kindle the Flame' of their romance. Champagne, hor d'oeuvres, tours of the museum and music will set the tone for the special day set apart for people to show appreciation for their loved one.
The mood of the evening will be enhanced for romance by soft light inside the museum. Couples will also receive a box of chocolates.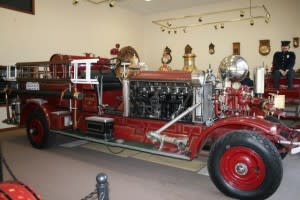 I think one of the most fun parts of the evening will be the opportunity to sit as a couple on one of the museum's vintage fire engines and have a photo taken. The museum staff will develop it into a 5"x7" photo as a souvenir. Ooh la la!
When: 5-8 p.m., Friday, Feb. 12.
Where: Vintage Fire Museum, 723 Spring Street, Jeffersonville, Ind.
Admission: $20 per couple
Reservations are not necessary but may be made at 812-282-4705 or 812-948-8711.
Visit www.SunnySideOfLouisville.org for more information on travel to Clark & Floyd Counties.