There are so many different configurations and layouts to parks around the state - from small neighborhood playgrounds to sprawling county parks. Some parks become true destinations, becoming much more than green space. Many are multi-purpose facilities offering a variety of activities, events and opportunities for recreation, entertainment and fitness.
One park in Northwest Indiana that checks all the boxes is Central Park Plaza in downtown Valparaiso. Located just a block off of the courthouse square, it sits along Lincolnway Ave., the main thoroughfare through the downtown. It opened in the summer of 2011 and is surrounded by boutiques, specialty shops, trendy eateries and more. It's in the middle of all the action and sometimes is the center of all the action as a number of festivals, concerts, summer movie nights, markets, scouting functions, fundraisers, weddings and galas take place there.
It's also a destination park that spans all seasons. 
Fun in Summer
In the summer, a splash pad beacons young families for summer fun. The Northwest Health Amphitheater is the setting for free summer concerts hosted by Valparaiso Events, Hometown Jams and others. Facing Lincolnway Avenue is a bench with a bronze statue of one of Valparaiso's most famous residents, Orville Redenbacher. The city even has an annual festival honoring the popcorn guru that takes place each year in September, part of the festivities taking place at Central Park Plaza. In winter, you can skate or enjoy the sparkling lights at the city's official tree lighting.
On the other side of the plaza are the William E. Urschel Pavilion and the Indiana Beverage Activity Center. The pavilion is the site of the Valparaiso Market in the late spring, summer and early fall. When it's not in use in warmer months, picnic tables are placed under the pavilion, providing a shady spot to sit and enjoy a meal.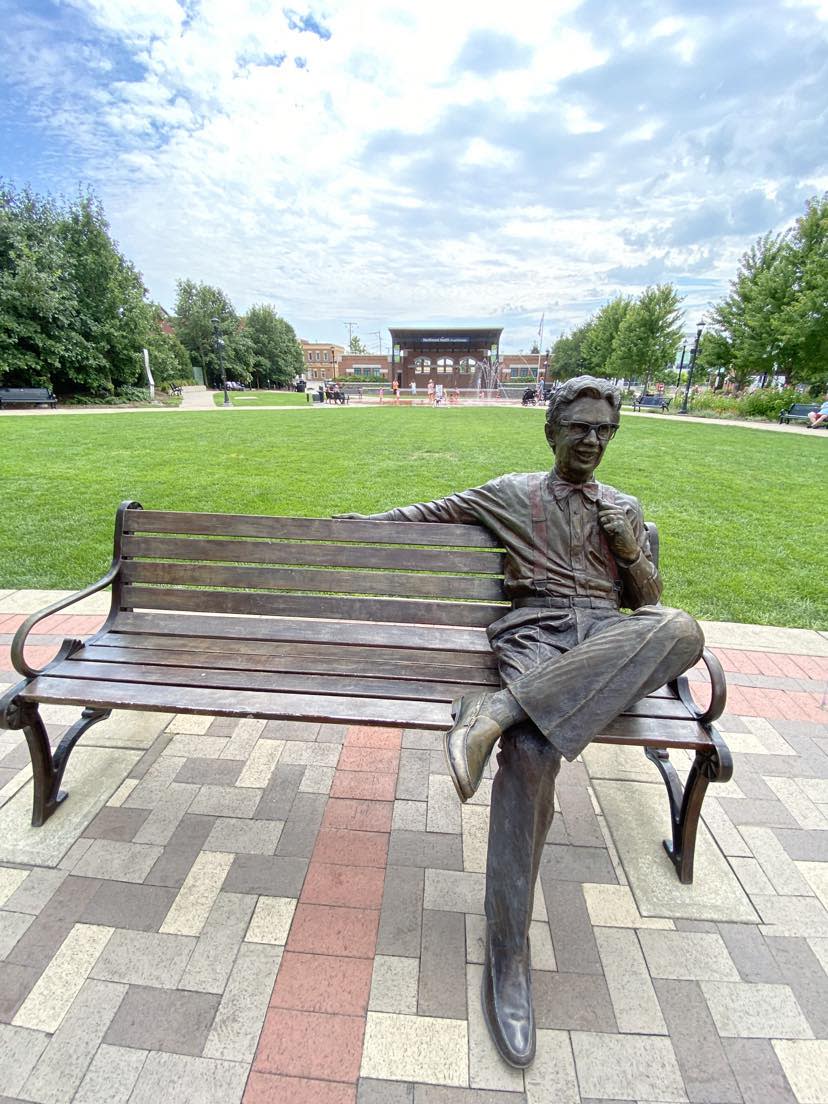 Fun in Winter
When winter hits, the pavilion is transformed into an ice rink for several months where open skate times are available, skating lessons are taught and hockey leagues compete. The building serves as a warming center with a locker room and concessions and it has meeting space for other events. 
Next to the pavilion is the Costas Family Plaza, which includes a water feature and dining tables. It sits behind several businesses, including the Spice and Tea Exchange, Rocket Fizz Candy, Stacks Bar and Grill, Fluid Coffee Roasters, the Rolling Stonebaker and Ben's Soft Pretzels. The Rolling Stonebaker has a window that opens to face the park, so you can walk up and place an order to then enjoy outside in the plaza overlooking the park. The plaza also provides seating when purchasing food from food trucks that stage along the street at various events.
Fun Events All Year Round
Valparaiso Events, a local non-profit organization, is dedicated to providing distinctive events and experiences and hosts several events each year at Central Park Plaza, including the Popcorn Festival, their largest event. They also organize Valparaiso Wine Festival, Valpo Blues and BBQ Festival, Valpo Brewfest, Fall Harvest Festival, Holly Days, Summer Outdoor Movies and the Summer Concert Series all at Central Park Plaza. For more information, visit centralparkplazavalpo.com, and for information on events through Valparaiso Events, visit valparaisoevents.com