Last weekend some friends of ours invited us out to dinner in Indy. We didn't know where we were going and were more than happy when we found ourselves at Chef Joseph's. We are always thrilled to try locally-owned restaurants and one that is within walking distance of all there is to do in downtown is a huge plus.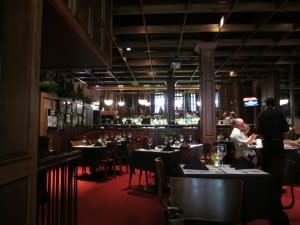 Immediately we loved the charm of the restaurant. The dining room is quaint, and the atmosphere is unlike any other restaurant I've been to in Indy. Upscale, but welcoming and warm. Perfect for dinner with our friends.
We quickly settled on some wine and appetizers - Baked Goat Cheese, Roasted Pepper Tomato Sauce, Flat Breads and Sliced Almonds and Piquillo Peppers Stuffed with Sriracha Mac & Cheese. They hit the spot and were an excellent beginning to our evening.
When it came time for dinner, I was intrigued to try to Bison Burger served with Mushrooms, Onions, White Cheddar Cheese, Worcestershire Mayonnaise and Coleslaw.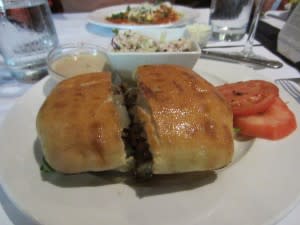 It was mouth-watering and filling to say the least.
My husband tried the Six Cheese Ravioli with Sautéed Tomato, Garlic, Grilled Zucchini and a Balsamic Glaze. I had hoped to sneak a bite off of his plate, but when I looked over it was already gone. Guess he enjoyed it!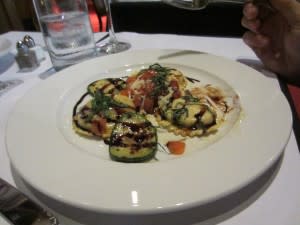 We ended the evening with a slice of the vanilla/raspberry cheesecake. I must say after having that cheesecake my standard for cheesecake has gone up by quite a bit. I am not sure I can top that.
If you are looking for something new to try in Indy, I highly recommend Chef Joseph's. If my opinion isn't enough to entice you, then maybe these facts will:
Chef Joseph's was voted one of the Top New Restaurants for 2012 in Indianapolis Monthly, one of the Most Romantic Restaurants on Indy's A-List, received an A+ rating from Avanti, was a Diners Choice Award Winner 2012 and 2013 from OpenTable AND was named Best New Restaurant by Nuvo NewsWeekly!
Chef Joseph's serves an executive lunch Tuesdays through Fridays from 11am-2pm.
You can enjoy live music from the Baby Grand on Wednesday, Thursday and Friday evenings and live performances from local musicians every Thursday, Friday and Saturday nights.
Pair dinner with a show at the Indianapolis Symphony or the Indiana Repertory Theatre and you have a wonderful, romantic evening all planned and ready to go.
Visit Indianapolis's website for more information including other events and destinations downtown.