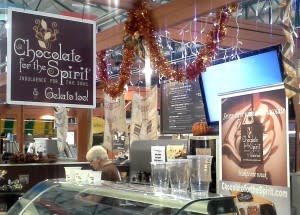 On a recent visit to the Indianapolis City Market  a friend and I spied the Chocolate for the Spirit vendor.  Being chocolate aficionados, naturally, we had to check it out.
What immediately caught our attention with Chocolate for the Spirit was the number of display cases containing a wide variety of flavors of gelato, a type of Italian ice cream. Gelato is a new food to me and boy, am I glad to have made the discovery! The rich creamy texture is mesmerizing!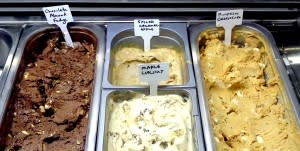 In addition to the popular gelato flavors of Stracciatella (Chocolate Chip) and Pistachio, there were seasonal flavors, like Spiced Caramel Apple, Maple Walnut, and Pumpkin Cheesecake.  I like any and all things pumpkin, so I sampled the latter. Delicious!
My friend and I ordered servings of the gelato and purchased candy bars for friends.
Another aspect of the Chocolate for the Spirit that intrigued us is the use of two unique ingredients in some of the edible creations. The first is – not joking -- honest-to-goodness gold flecks. Strange, but fun.
The second is a rare type of chocolate found in Peru, South America called Pure Nacional. It was discovered just a few years ago and many chocolate experts (I want that job!) consider it one of the best (read: most yummy, decadent, rich, heavenly) types of chocolate in the world! Just to think this rare chocolate is right in the heart of Indiana's state capital!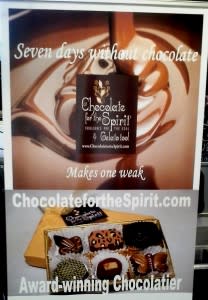 Insider tip: An order of the Chocolate for the Spirit Love Collection is a great idea way to treat your loved one at Valentine's Day.
I also like the fact that Chocolate for the Spirit maintains fair prices with cacao producers overseas and establishes routine contact with the farmers. I support fair trade companies whenever possible. It was a pleasure giving business to this company.
We visited the location in downtown at 222 E. Market St.
The main location is 301 E. Carmel Dr., Suite A-700, Carmel, Indiana.
Chocolate for the Spirit is also available during summer at farmers markets in Broad Ripple, Carmel and Fishers.