From now until late December the dull of a hump day evening is no more! Let your imagination come to life as you enter the Indianapolis Zoo this holiday season where you and your family can enjoy the festive side of the holidays with a "wild" twist!
Raved as the longest standing tradition in any zoo nation wide, critics and Hoosiers alike praise Christmas at the Zoo for its spectacular holiday light display. When the sun begins setting over the already beautiful White River State Park, you can guarantee a sight like none other. With the sunset in the background illuminating the warm glow of twinkle lights, Hoosiers will rejoice at this magical nighttime experience!
Keeping to what it's known best for, the Indianapolis Zoo keeps the all time favorites up past their bed times to give all zoo-goers a nighttime appearance! Seals, sea lions, polar bears, walrus, tigers, the red panda and brown bears will all be up late to ensure a once in a lifetime experience! With all these animals out during the night, we hope you're ready to dash between exhibits!
Have no fear about the chilly nighttime weather. The Indianapolis Zoo is keeping the Dolphin Dome and Café on the Commons open late to ensure a safe haven from the chilly breeze. Wanting to stay outside and enjoy the dropping temperatures? The Zoo even has two campfires lit throughout the grounds serving up some hot cocoa to further fuel your wild adventure under the stars!
During this wonderful time of year, doors open at noon for all zoo-goers to experience the beauty the zoo holds while enjoying the brisk weather and lovely sunshine. If you're looking to come for the nighttime atmosphere and enjoy the lights, it's suggested you make your way over before 5pm to snag a great parking spot and get a last quick peek at some animals before the lights are illuminated!
Christmas at the Zoo this winter season is a wonderful place for all families and loved ones to make everlasting holiday memories. Who knows…this could even become a holiday tradition for you and your entire family!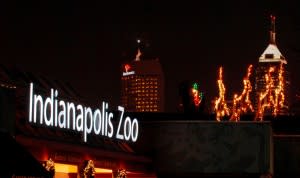 Let your imagination run wild this Christmas with lights, animals and breathtaking views of downtown Indianapolis!
Looking for a whole list of what Christmas at the Zoo offers and the dates/hours of Christmas at the Zoo? Click here!