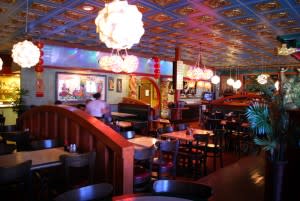 The first Christmas after my mother-in-law passed away, our family felt discombobulated. We didn't feel like trying to handle the plethora of kitchen tasks she had performed with aplomb—cooking the turkey, making fluffy mashed potatoes, setting a gorgeous table.
So we did the unexpected. We went to a Chinese restaurant for Christmas dinner.
It was nothing like the scene in the holiday favorite 'A Christmas Story' when the family is served a goose for dinner and listens to carols by the kitchen staff. Still, it was delicious, relaxing and memorable.
We ate at Coco China Buffet (2020 N. Main, 260.827.0838) in Bluffton. My teens had their fill of dozens of yummy selections. We've made it a family favorite. I always head for their peanut chicken and Crab Rangoon. The service is quick and friendly.
Coco's, as the locals refer to it, is located 25 miles from Fort Wayne and has been voted #1 Chinese restaurant in Reader's Favorites contests for the past several years. This restaurant is open 11am-10pm on Christmas Day.
Other Chinese and other restaurants are open on Christmas Day around the state.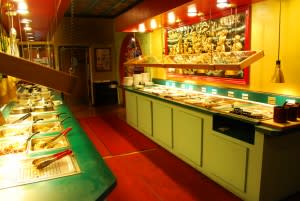 The Great Wall in Dubois County is a colorful, locally-owned restaurant that is popular with residents. I could almost forget to eat while looking at the attractive décor—almost.
The Dubois County Tourism website offers information for more ethnic restaurants in the area.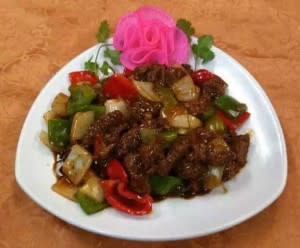 The Szechwan Garden, 3649 Lafayette Road in Indianapolis, is part of the International Marketplace It might be a fun excursion, especially with kids, to hop among two or three of these places for your Christmas meal. They would not only eat their fill but learn about the varied cuisines from around the world!
The NY Times wrote about this incredible area in this story.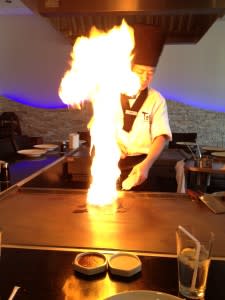 Taku Japanese Steakhouses in Kokomo and Columbus are both open Christmas Day 10:30 am - 2:30 pm (lunch) and 4:00-11:00 pm (dinner).
Their menus include steak, seafood and sushi. Why not create a truly unforgettable holiday event with an order of the Teppanyaki (open flame cooking)?
The two Jade Garden Restaurants in Elkhart County have excellent menus that include good sushi and vegetarian options. Their staffs are friendly and efficient, and the dining room at the Nappanee Street location is spacious, capable of accommodating large parties.
Insider tip: The kitchen is good about modifying dishes to a diner's tastes, so feel free to ask.
The Jade Garden locations on Johnson Street handles mostly carry-out orders. Both locations are open on Christmas Day from 11 am - 10 pm. The Great Wall Chinese Restaurant located down the street from Jade Garden is also open on Christmas.
Here's a rundown of Elkhart County area places open
on Christmas Day.
The Fortune House in Munster (northwestern Indiana) has a large dining room to accommodate groups. Pick your favorite place to dine and create a memory!