Vevay and Switzerland County (IN) will be all aglow with holiday events and activities throughout December.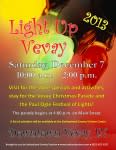 Light Up Vevay is 10:00 a.m.-2:00 p.m. on Saturday, December 7 before the annual Christmas parade. Look for store and restaurant specials along with Scrooge and Elf on the Shelf.
The fun begins with the December 6 Vevay Main Street "Deck the Walls" First Friday event from 6-9 p.m. Late night shopping, dining, store specials, art openings and free carriage rides (weather permitting) are available in downtown Vevay.
Sponsored by Vevay Main Street, "Deck the District Wreath Decorating Contest" wreaths will be on display at the Switzerland County Visitors Center from First Friday until Friday, December 20. Stop on by from 6 p.m. to 8 p.m. on First Friday and cast your People's Choice vote.
Switzerland County Tourism invites visitors and locals to "don us now in bad apparel"—Christmas apparel that is—during their First Friday "Ugly Christmas Sweater" contest. Categories include: All-Around Ugliest; Most Festive; and Most Likely to be Avoided at the Annual Christmas Party. The contest is open to youths and adults and men and women. Participants are encouraged to wear sweaters or vests accessorized with their craziest Christmas hats, plaid pants and skirts, ties, wild socks, scarves, and mittens. Judging will take place at the Visitors Center around 8:00 p.m.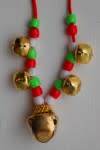 Make It Take It crafts at the Switzerland County Visitors Center while supplies last on First Friday and at Light Up Vevay on December 6 and 7.
While supplies last, on December 6 youths are invited to make a festive jingle bell necklace from 6-8 p.m. at the Visitors Center. All activities are free and open to the public.
In anticipation of the 2nd annual Vevay Christmas Parade and Festival of Lights at Paul Ogle Riverfront Park, "Light Up Vevay" will take place Saturday, December 7 from 10 a.m.-2 p.m. in downtown Vevay.  The event features store specials and activities at shops and eateries. Be on the lookout for an ornery and playful Scrooge and an Elf on the Shelf roaming downtown beginning at noon. Guests are invited to bring a camera for photos with Scrooge and the Elf in town and at the Switzerland County Visitors Center at 1:45 p.m.
A free jingle bell necklace craft for kids will be held at the Visitors Center while supplies last. A complete list of "Light Up Vevay" activities and participating businesses will be available at the center.
The 2nd annual Vevay Christmas Parade will take place at 4:00 p.m. on Saturday, December 7. The parade will begin with the "Ringing of the Bells," a simultaneous bell ringing by downtown churches and sites.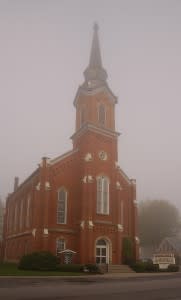 Switzerland County Baptist Church in downtown Vevay will be one of the historic structures that will be participating in the "Ringing of the Bells" to begin the Vevay Christmas Parade on December 7.  Four churches will be ringing bells along with the  top-of-the-hour chime of the historic Switzerland County Courthouse. (Kendal R. Miller photo.)
The Most Sorrowful Mother of God Church bell will chime at 3:55 p.m. to signal the onset of its Saturday church service. The Switzerland County Baptist Church; Switzerland County Historical Society (former Presbyterian Church); and Ruter Chapel United Methodist Church will participate in the 4 p.m. bell ringing to begin the parade.
The Historic Switzerland County Courthouse will sound its usual top-of-the-hour four rings.
Parade onlookers are invited to bring their own hand, sleigh or jingle bells to help ring in the parade. The parade committee asks that in the spirit of the occasion that attendees refrain from using any air horn or noisemaker-type devices. Last minute entries are welcome from all areas. Call (812) 427-3237 for an entry form.  There is no cost to enter and prizes will be awarded The grand prize is $200 for the best overall entry; $150 first place; $100 second and $50 for third. Santa Claus will be the special guest.
The parade will cruise down Vevay's Main Street and proceed to Paul Ogle Riverfront Park at 100 Ferry Street. Afterwards, cookies and hot chocolate will be served while children can visit with Santa.
After the parade, a special judging for the "Best Decorated Fire Truck" will take place by former firefighter and State Representative Randall Frye. A $200 check will be awarded to a charity selected by the winning Switzerland County fire station. Fire trucks from all areas are invited to participate but only trucks from Switzerland County are eligible for the special award.
At dark, the light up of Vevay's Christmas tree will take place as a spectacular sight of thousands of holiday lights make up this year's Paul Ogle Festival of Lights. Sponsored by Switzerland County Tourism, Vevay resident Shawnna Ramsey and numerous town employees and volunteers spent hours arranging and installing the breathtaking holiday exhibit along the Ohio River. The lights will remain throughout December.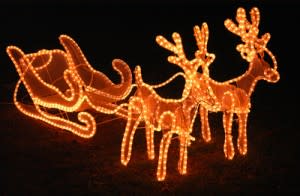 Holiday displays and thousands of lights will be at Paul Ogle Riverfront Park during the Festival of Lights. The official light up will be after the December 7 Christmas parade and will remain on display throughout December. (Kendal R. Miller photo)
Enjoy examples of Christmas past through two historic home tours on Saturday, December 7 from 10 a.m.-4 p.m. Experience a simple Country Christmas at the 1820's Venoge located at 111 State Road 129. A more modern 1860's Christmas celebration will take place at Thiebaud Farmstead, located at 5147 East State Road 56. Both historic sites are located in Vevay. For more information on a Country Christmas, contact (812) 427-3560 or log on to www.switzcomuseums.org.
It wouldn't be Christmas with a Nutcracker ballet performance. Visit the Historic Hoosier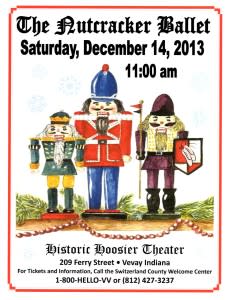 Theater on Ferry Street in Vevay at 11:00 a.m. on December 14 for this year's event. Tickets are $4 each and can be purchased at the door or in advance at the Switzerland County Visitors Center.
For information on Switzerland County, tourist activities and holiday events contact the Switzerland County Visitors Center at (812) 427-3237, e-mail visitsc@switzcotourism.com or log on to www.switzcotourism.com. Information can be found on the Switzerland County Tourism-Vevay, IN, or Vevay Christmas Parade Facebook pages.