Just in time for Halloween, Conner Prairie is turning into "Conner Scairie" on a few special nights, to help celebrate the 30th anniversary of the Headless Horseman. Visitors can still ride the Headless Horseman haunted hayride, but they're adding a lot of new programs and special events to the experience.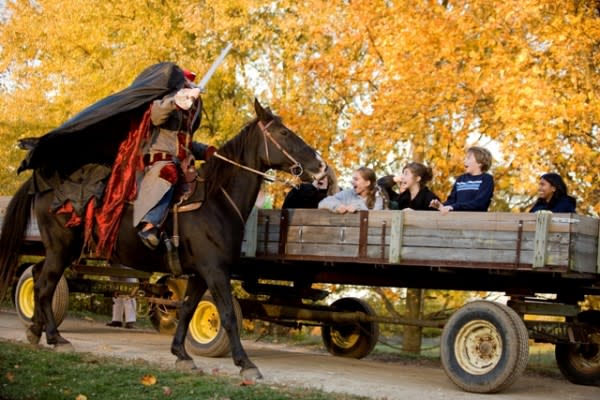 Conner Prairie Headless Horseman Conner Prairie says "Conner Scairie is a monster world inhabited by comical, fun-loving ghouls. It's been left leaderless after its former mayor, Lord Moldywart, accidentally turned himself into a bunny with an errant spell."
Visitors who visit Conner Scairie get to elect the new mayor out of one of six possible candidates.
Dr. Acula's Monsters and Magical Creatures Show – A comical introduction to the  town of Conner Scairie and the monsters who inhabit its grounds, presented by the vampire and expert in monsters, magic and all things pertaining to the underworld.
Beautisha's Magical Tips for a More Beautiful You – Beautisha, the cosmetics-loving witch, will share her magical secrets to achieving "true" monster beauty in this hilarious show full of crazy concoctions. Be prepared, she will need help from the audience.
Ed's Electrical Spectacle – Ed, the mad scientist, and his assistant, Ezmerelda, will demonstrate the power of electricity and attempt to bring their latest creation to life.
Holly's Hollow – Child monster, Holly Ween, will invite visitors ages 8 and younger to romp through her wooded trail containing magical creatures and fairy houses. Make it through the path to her chute and enjoy sliding down on potato sacks. Then stop and hear Holly's family-friendly, magical stories, perfect for the little ones.
Crane Bros. Superstition Emporium – Join Ichabod Crane's brother and sister, Ingelbert and Ilka Crane, as they show off amulets, superstitious charms and try to spook visitors with their stories of ghostly encounters.
Harry Howler's Scary-o-ke – This crazy crooning werewolf will pass the microphone to visitors who dare to out-sing him.

— Source: Conner Prairie press release
Visitors can also use a catapult to launch a ball of flying monkeys, watch the Disney classic "The Legend of Sleepy Hollow" (the only Disney movie to scare me enough that I've never watched it again), see the Legend of Sleepy Hollow marionette show, have your fortune told in the Mystic Tent, and several other shows, crafts, and attractions. You're also encouraged to come into costume to the event.
You'll get to vote for your choice of mayor on any of the Headless Horseman days, October 11 – 13, 17 – 20, and 24 – 27, from 6:00 pm to 9:00 pm. (Activities and hayrides may run past 10:00.) You'll cast your vote into the smoking cauldron, and the results will be announced on Conner Prairie's social media accounts, their website, and live at the festival on the night of October 27.
Presale tickets are available at select central Indiana Marsh, Mainstreet, and O'Malia's locations. Thursdays and Sundays, tickets are $10 presale, $12 at the gate, free for all members. Fridays and Saturdays, tickets are $14 presale, $16 at the gate, free for Plus-Level members and above.