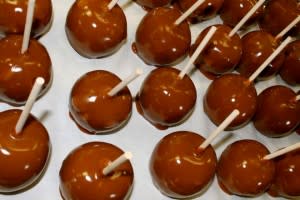 This guest blog was written by Duane Brodt, director of public relations for Conner Prairie.
August is a busy month for some 100 women who volunteer at Conner Prairie. Not as busy as September and October are. But pretty busy. And stressful.
That's because they're preparing to open the Apple Store at Conner Prairie for its 31st year. There's a lot to do.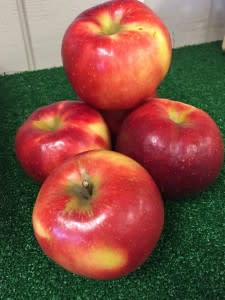 About 12 members of the Conner Prairie Alliance, an all-volunteer woman's group that includes more than 100 members focused on creative fundraising for the museum year-round, will spend a day or two cleaning every inch of the store. All members will undergo a week of training that will teach them everything from overall store management to specific shift work. There are deliveries arriving daily that need to be coordinated.
And soon, about 50 members will take a week to actually set up the store, stock shelves and make sure everything – and every person – is set for opening day.
"There is really no adequate way to recognize how hard our members work," said Alliance President Barbie Millington. The group was founded in 1982 and opened the Apple Store in 1985. "And we love our dedicated customers. They are so anxious each year for that first hand-dipped apple or cider slushie."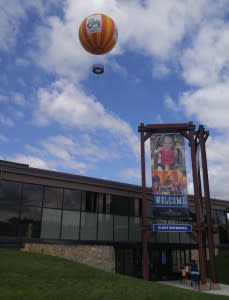 The 1859 Balloon Voyage at Conner Prairie gives you a view from the top!
The store opens at 11 a.m. Sept. 1, offering on its first day only a 15 percent discount on all items. The store will be open 11 a.m.-5 p.m. Tuesdays through Sundays through Oct. 31. During October's Headless Horseman, hours will be extended until 9 p.m. Its doors will be open on both Labor Day and Halloween.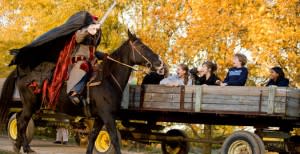 The Headless Horseman is an annual Fall thrill each October at Conner Prairie.
In honor of Indiana's 200th birthday, the store will feature a Bicentennial Gourmet Apple, which will be available all season, and Bicentennial Hand-Dipped Chocolate Caramels. Also new this season is the Chocolate Caramel Toffee Crunch. "Think of an apple wrapped in a Heath bar," Millington said.
Popular products returning this season include hand-dipped caramel apples, gourmet caramel apples, cider slushies, fresh popcorn, apple pies, gifts, candy and various treats. Other long-time favorites returning are caramel apples dipped in dark chocolate and dusted with sea salt and Annie's Apples – fresh-cut apples drizzled with caramel and served in a bowl. Special discounts and promotions will be offered throughout the season on Facebook, Twitter and Instagram.
Last year, the Apple Store sold:
7,224 cider slushies
5,082 nutty caramel apples
5,502 plain caramel apples
3,480 specialty items, including fall gift items
3,201 pounds of apples
1,257 cups of hot cider
1,241 gallons of cider
816 bags of freshly popped popcorn
562 slices of pie
547 gourmet apples
264 whole frozen pies
In 2015, sales from the store raised $85,000 to support the construction of Treetop Outpost, a new nature experience that opened in July, and the museum's agriculture and textile programs.
Since its inception, the Conner Prairie Alliance has raised more than $1 million to support initiatives at the museum.
Spanning 800 wooded acres in central Indiana, Conner Prairie welcomes nearly 390,000 visitors of all ages annually. As Indiana's first Smithsonian Institute affiliate, Conner Prairie offers various outdoor, historically themed destinations and indoor experiential learning spaces that combine history and art with science, technology, engineering and math to offer an authentic look into history that shapes society today.
For more on Fall in Hamilton County:
[embed]https://www.youtube.com/watch?v=m55_Cnua14A[/embed]