Are you looking for a destination to take your family on an adventure? Then head on down to Historic Corydon, Indiana in Harrison County. For years, I have wanted my boys to experience a cavern. So needless to say, when the opportunity arose for us to get away from everyday life and experience, not one, but two caverns plus so much more, I jumped at it.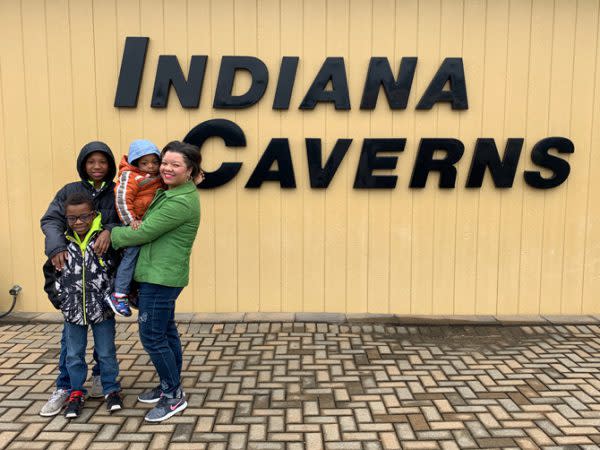 Indiana Caverns After just a short drive from the hotel, we arrived at Indiana Caverns. From the outside, you definitely cannot see what beauty awaits you. Before you start your tour, you will be led to a theater-style room to watch a video that explains how the Indiana Caverns came to be, which was very interesting to me. We were lucky to have a tour guide that actually helped discover and create the Indiana Caverns for people to see. Once the video was over, we were led into the cavern. I loved the sign that greeted you as you walked in. It read, "God shines a light in the darkness."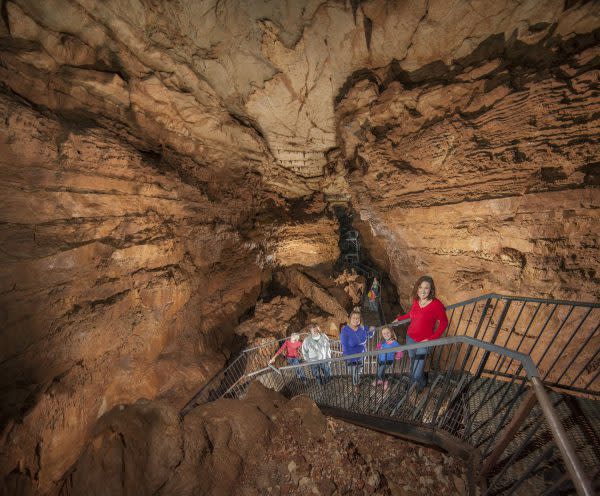 Photo courtesy of Indiana Caverns
As soon as you walk into the cave, you will feel the temperature drop, so be prepared with a jacket or hoodie. I was amazed by the beauty of this cave from the moment we walked in. This cave was created millions of years ago and is the 7th longest cave in the U.S. Some of the stories that our guide shared about animals that most likely walked into the cavern not realizing steep falls and dying there just left me in awe.
You can see the skeletal remains in several places throughout the cavern. I loved that there was a designated spot to take a family photo. I am definitely one of those people that loves to capture special moments in time. So, I really appreciated this opportunity.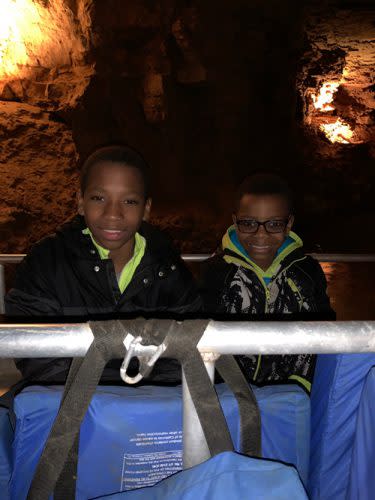 You know you are at the midpoint when you reach the boat ride. This was definitely a cool experience and lasted about 25 minutes. Our guide took his time and showed us everything that he could during our time in the cavern. When you come out you have the opportunity to shop in the gift shop and purchase your photo if you want. There is also gold panning available for the kiddos.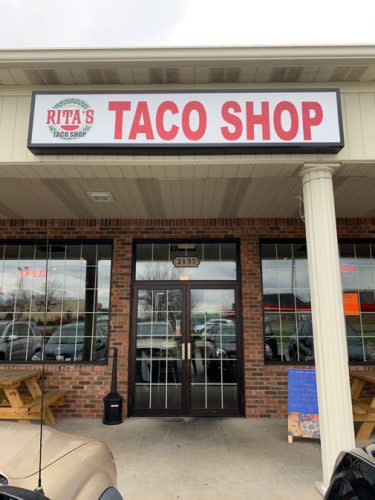 Rita's For lunch, we ate at a lovely Mexican restaurant called Rita's Taco Shop. To our surprise, the owner Rita actually waited on us. Not only was she extremely nice, but she helped explain the menu items we had questions about and brought our food out fast. We were still enjoying the chips and queso so much that our food had to wait a second. The chips and queso are a must when you visit this restaurant. The food we ordered was just as good. The boys ordered tacos and I ordered my favorite, enchiladas. Let's just say we all walked away happy and with full bellies.
Downtown Corydon - Indiana's First State Capitol After lunch, we headed to downtown Corydon. We drove around for a while taking in the historic sites. The town of Corydon was established in 1808 and served as Indiana's first state capitol from 1816 to 1825. Did you know that Indianapolis was not always the state's capitol? It was very cool to see the Corydon Capitol State Historic Site, which is well kept considering how old it is. Tours are available to the public.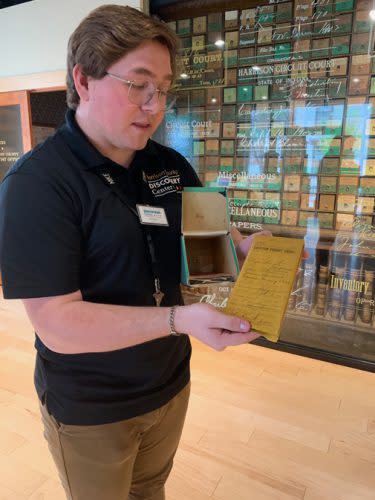 Harrison County Discovery Center Right across the street is the Harrison County Discovery Center, where history truly comes alive. From the moment you walk in the door, you are greeted with a small gift shop. We were led on a tour of the museum just minutes after arriving. You can expect to see a cool and interactive Archivist's Office that uses rare documents and talking portraits to tell how Indiana's story began. I loved that there was a gallery dedicated to exploring caves in Harrison County. This was interesting to us since we had just had the opportunity to see a cave earlier that morning. It is hard to believe there are 600 known caves in Harrison County alone. Another highlight was the 360-degree theater of the Battle of Corydon. This is definitely a must-see when you visit Corydon.
Zimmerman Art Glass We could not visit downtown Corydon without visiting two popular shopping attractions. Our first stop, Zimmerman Art Glass. This family-owned business spans five generations, in which glassblowing expertise has been passed down. We were lucky when we walked into the store because they were just getting ready to start their glassmaking demonstration. I will tell you that watching one of the family members create a glass egg from beginning to end was absolutely fascinating.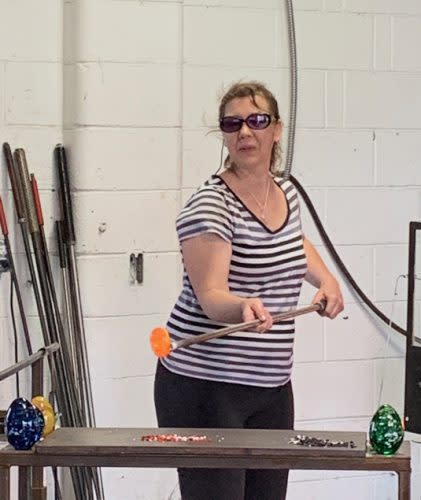 Golf Shores Fun Center We ended our evening at the Gulf Shores Fun Center, which is located right across the street from the hotel we were staying at. The boys had a blast playing 18 holes of indoor black-lit miniature golf.
It is definitely a cool experience to play golf in the dark. They also played several games in the arcade including a family favorite - air hockey. Let's just say watching Chase come back to beat Jayden was very entertaining. While I waited for the boys to wrap up, I indulged in a delicious caramel latte from the snack and coffee bar.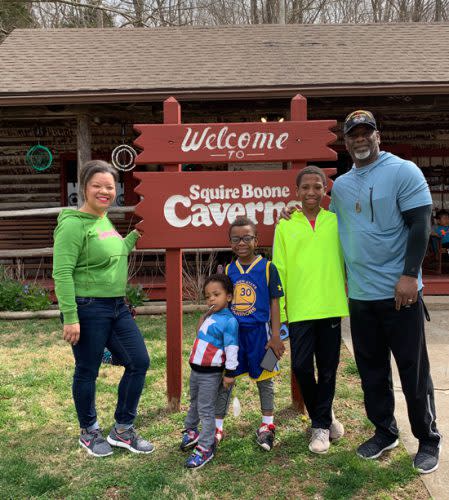 Squire Boone Caverns & Village The next morning, we woke up and enjoyed a complimentary hot breakfast in our hotel. In my opinion, there is always something the kids will enjoy at the Hampton. Plus, it is quick, easy and gives you time to make it to your next destination. After we ate, we headed to Squire Boone Caverns. Yes, our second cavern in two days. Squire and Daniel Boone discovered it in 1790. When we pulled up you can immediately see the Pioneer Village, which consists of several small buildings. While we waited for our tour of the cave to start, we explored the village and watched candle dipping and soap making demonstrations.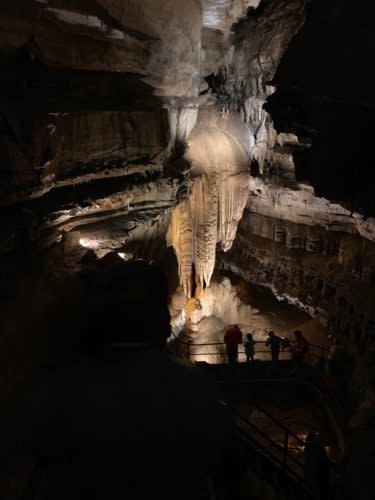 When it was time for our tour to start, we were given a pair of headphones that hooked into a device that allowed us to hear the tour guide. This was a nice addition especially because our group was pretty large and that can make it hard to hear the guide when you are in the cave. The tour of the cave lasts about an hour. A highlight for me in this cave was the rimstone dames. They were absolutely beautiful. And are the largest in the United States. You know you are near the end of the tour when you reach Squire Boone's casket. Yes, his remains are buried in the cave. There is an interesting story as to why this came to be, but I will not spoil it for you. You will have to take the tour to find out.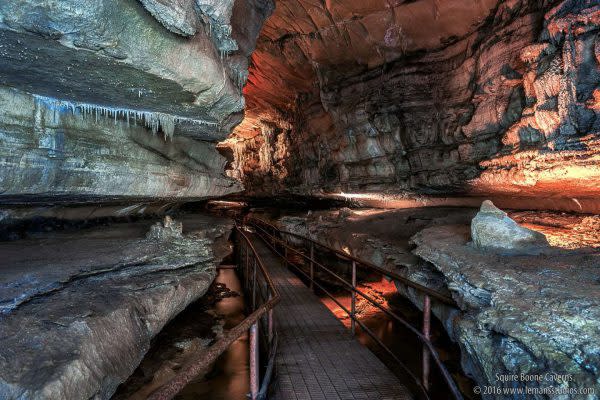 We ended the tour by climbing some steps and coming out into the gift shop. And, yes, we had to get the boys a few souvenirs before we left. We saw a lot of History Corydon and Harrison County in a short amount of time and look forward to coming back to take in more sites soon.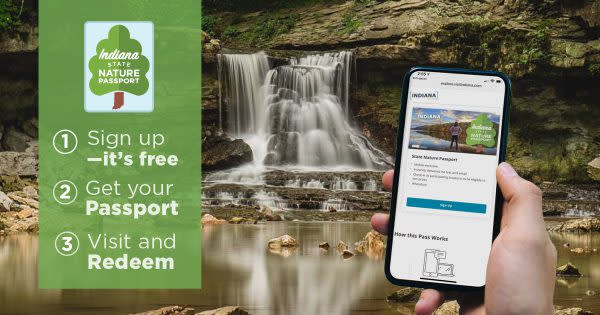 There are over 59 destinations on the Indiana State Nature Passport! Check-in and explore participating locations throughout the state to earn great prizes! The more you visit, the more you win. This program is 100% free, but property entrance fees apply when you visit. Learn More.