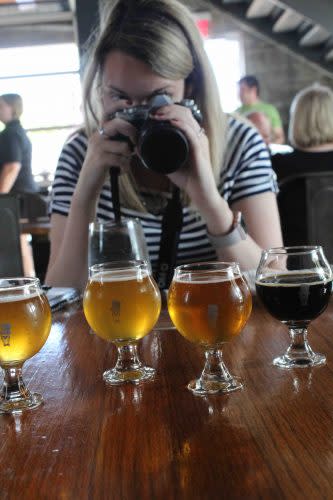 So, how do you entertain someone who travels the world looking for great craft brews, wine, cocktails and adventure?
If you're in Festival Country, just south of Indy, you introduce her to the growing craft brew scene, a great winery and attractions she can't get in New York. Oh, and you let her discover that sunsets are beautiful when they're not blocked by skyscrapers.
Julianne Kanter, author of the "It's Five O'Clock Here" travel and libations blog, joined me on a two-day adventure.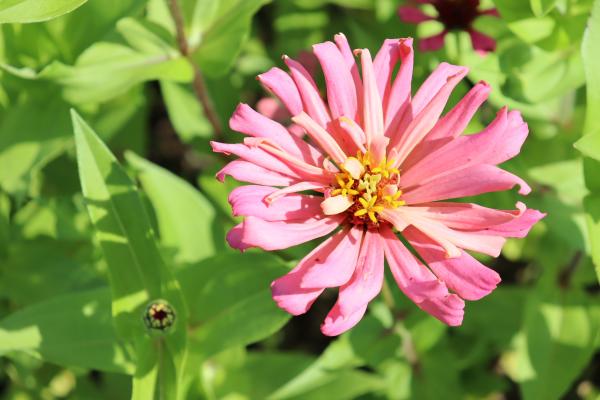 A pink flower at Dollie's Farm.
One of our favorite stops, in between all the craft beer and wine sampling, was at Dollie's Farm a U-pick flower farm in Franklin. Guests can create a magnificent bouquet of flowers and can bring a picnic lunch to enjoy the bucolic setting.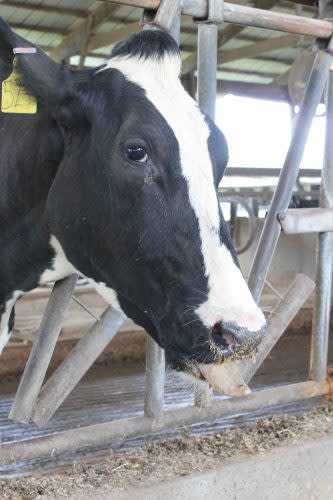 Kelsay Farms.
We also toured Kelsay Farms in Whiteland, which opens for five weekends each fall (in 2023 it will be Fridays, Saturdays and Sundays from Sept. 29 to Oct. 29). During those fall weekends, there is a great corn maze, straw mountain, hayrides and more. Don't forget to buy your pumpkins and try their famous milkshakes.
We ran out of time to hit another agri-tourism gem, "The Apple Works in Trafalgar," but it is a great place to visit now, and it is the place to get apples and pumpkins each fall, as well as spend time enjoying the animals, games and other attractions on the property.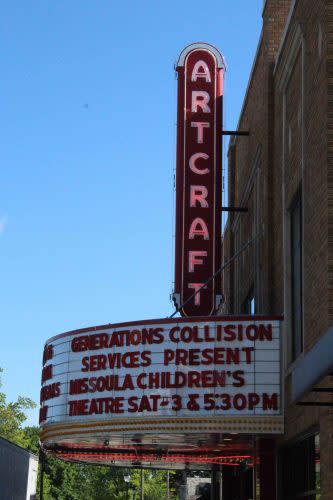 The Historic Artcraft Theatre.
The other attraction we checked out was the 1922-era Artcraft Theatre , which these days hosts classic movies, live theatre and concerts. We did a quick tour, but I can't wait to go back when there's time to take in a movie or performance.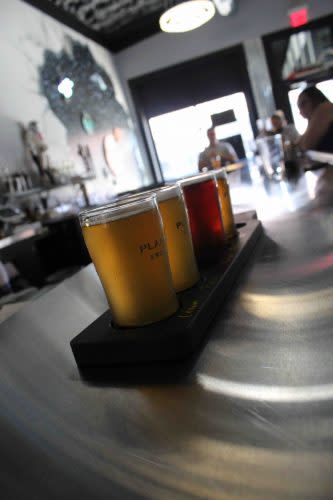 Out of this world brews at Planetary
Anyway, our first brew stop was Planetary Brewing Company in Greenwood, which Julianne was excited to visit to see the outer-space-themed brewpub and sample a flight of brews, including the IPA, which she liked best. The owner was onsite and explained the concept of the "Universe of Beer," in which every beer is a planet, and we're exploring them all.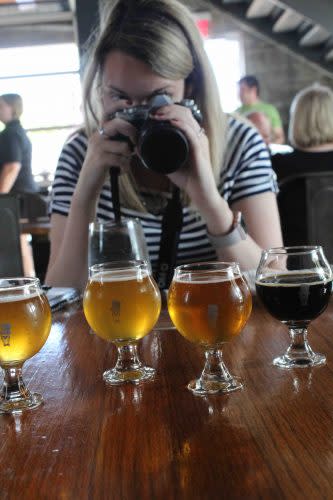 Julianne busy working at Taxman
Next, it was on to Taxman Brewing Company in Bargersville, which people in her craft brew circles were familiar with and recommended. She said the barrel-aged Belgian-style stout was "killer" and "unlike anything she'd ever had," and she had just returned from Belgium.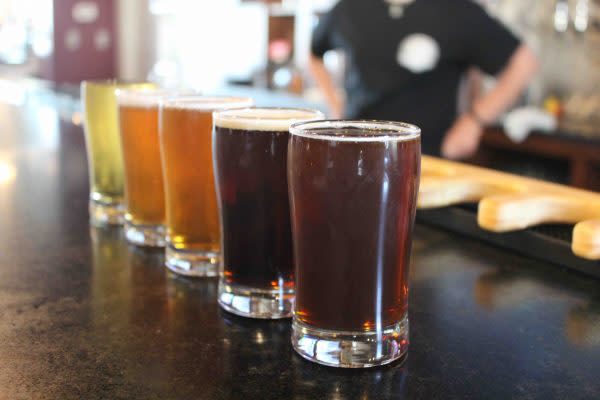 Great beers take flight at Shale Creek
Then there was a tasty flight of brews at Shale Creek Brewing in Franklin. Local craft brew guru Don Cummings joined us for a Johnson County Craft Brew 101 discussion, making it the perfect way to cap off a great first day.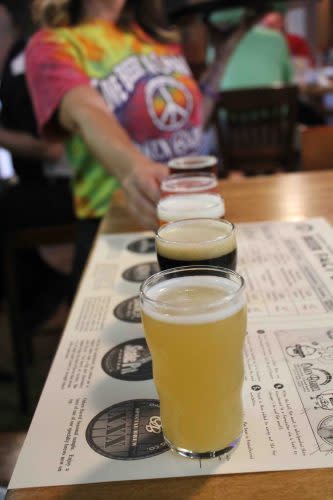 Serving up great brews at Oaken Barrel
On day two, we visited Oaken Barrel Brewing Company in Greenwood, which opened in 1994, making it the oldest craft brew place in Johnson County and the second oldest in the state. The Razz Wheat was a refreshing favorite among a flight of five unique and delicious brews.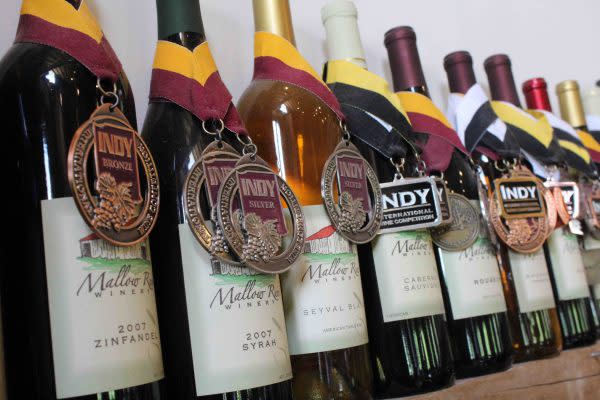 The awards confirm what your taste buds already knew. Mallow Run wines are awesome.
We also checked out Mallow Run Winery in Bargersville, where the vast array of wines provided something for every taste. It was easy to see (or taste) why the rhubarb wine is their best seller, but the Finale, a port-style wine, was another favorite. Their ciders are wonderful as well. The 1870s barn that serves as the winery's tasting room is the perfect setting for an afternoon of wine tasting, and don't forget to get a selfie next to the grape vines.
Click here to see all there is to do in Festival Country.