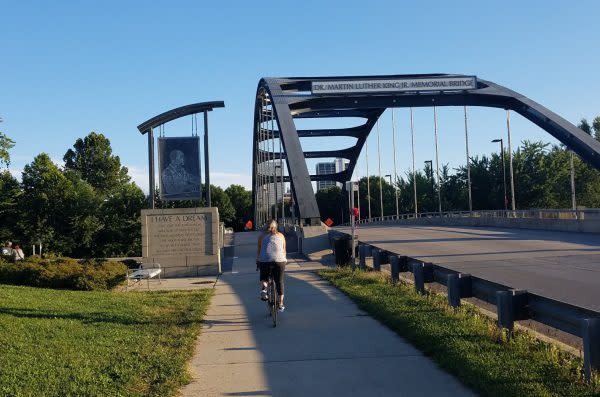 What better way to spend the weekend than biking and drinking brews in Indiana's second largest city. With over 105 miles of trails that twist and turn along three scenic rivers and a growing list of breweries to quench your thirst, Fort Wayne is a perfect destination for cyclists. 
Before heading out on my riding weekend, I checked the online trail maps and planned out three routes that were both scenic and were moderate in length. There's plenty of trails throughout the area but some of my favorite trails flow in and out of the downtown area.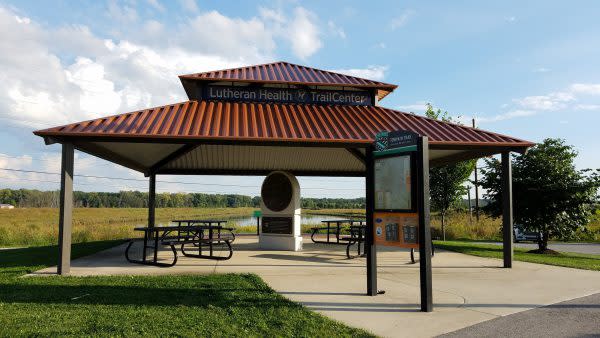 Park at the pavilion on Engle Road to access the Towpath Trail. You'll love the views of Eagle Marsh.
Towpath Trail to St. Mary's Pathway
There are several places that you can park and access the trails. My first suggestion is the Towpath Trail on the city's southwest side. Park your car at the pavilion on Engle Road, cross the street and get moving. Your first mile will be through Eagle Marsh with its expansive quiet grounds - it's a great place to relax before the ride and you might catch a glimpse of some of the water fowl that nest in the area. The trail winds up to Rockhill Park, continues to Sweeney Park on the edge of the downtown and then I took the St. Mary's Pathway to Foster Park. This path was about 14.5 miles.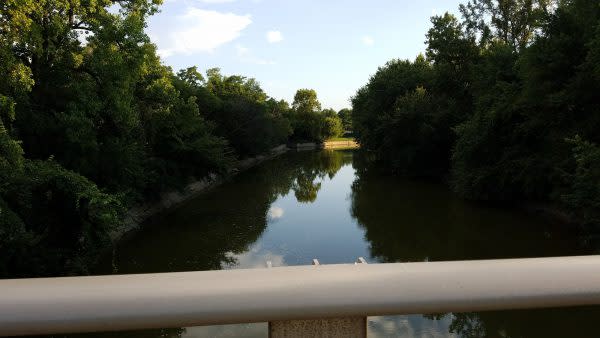 View of St. Mary's River near Foster Park
Downtown to Johnny Appleseed Park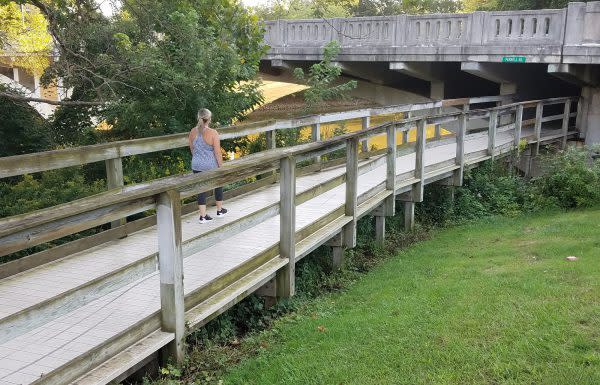 Find Lawton Park Downtown for parking and head out on the St. Mary's Pathway to the St. Joseph Pathway. The trail runs alongside of the river and follows Spy Run toward the the Memorial Coliseum and Johnny Appleseed Park. Take a moment when you arrive to check out the grave of John Chapman, "Johnny Appleseed." I love the energy of this portion of trail. When you head back downtown, make sure you ride by the Historic Old Fort. On occasion you can catch re-enactors who bring this historic site back to life. This ride is shorter with a round trip distance of a little over 7 miles.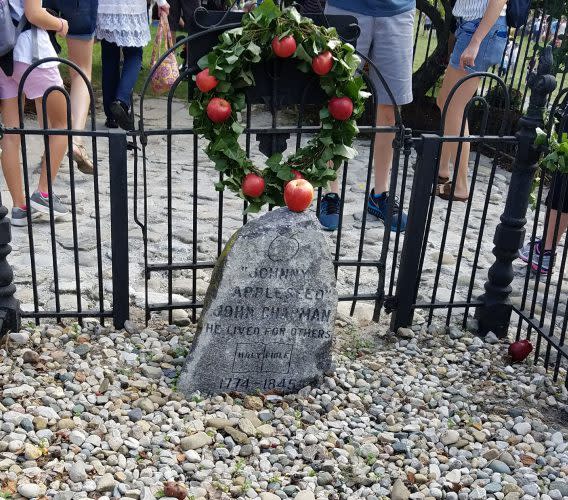 Johnny Appleseed's grave
Downtown to Kreager Park in New Haven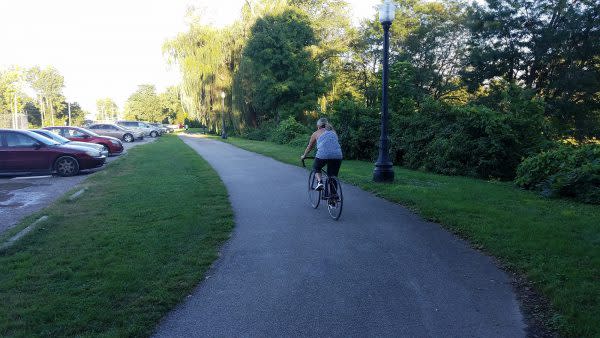 Head east from Lawton Park and head toward the Maumee Pathway.
Want to hit some nice flowing trail that's pretty well shaded and wraps along the river to the east? Then you will love the Maumee Pathway. You can catch the Maumee Pathway from the St. Joseph Pathway downtown and you can also access it via parking from Lawton Park. If you go down and back, there's a total riding distance of approximately 13 miles. This is a nice stretch of continuous trail and I will definitely want to hit this one again.
Riding Downtown
There are plenty of options to ride in the downtown and the city has bike lanes and plenty of artistic bike racks filtered throughout the area. One highlight is riding the Martin Luther King Bridge by Lawton Park. Take time to stop and read the quotes featured along the bridge.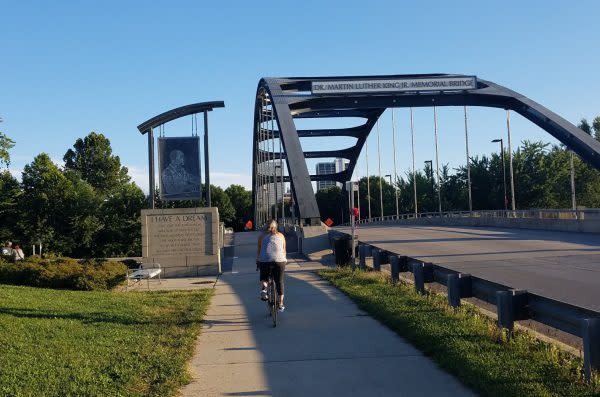 MLK Bridge
Cool Off with Craft Brews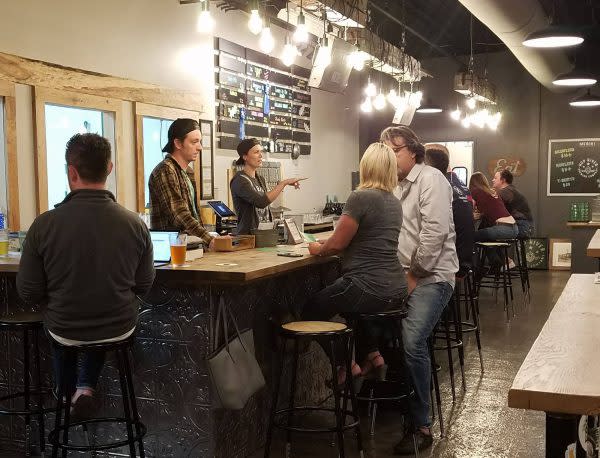 Hop River Brewing
Fort Wayne has a growing craft beer scene and there are multiple options if you want to relax after your ride at one of several breweries. We decided on Hop River Brewing Company and it was a solid choice. The brewery opened early in 2018 and already has a great reputation in the city. I had a flight that included their Harrison Street Wheat Beer - Hefeweisen, pilsner, light German ale and Witbier. Have a seat at the bar or take a place at one of their long tables for converstations. While there we met a few locals and found the beers to be refreshing after a long day on the trails.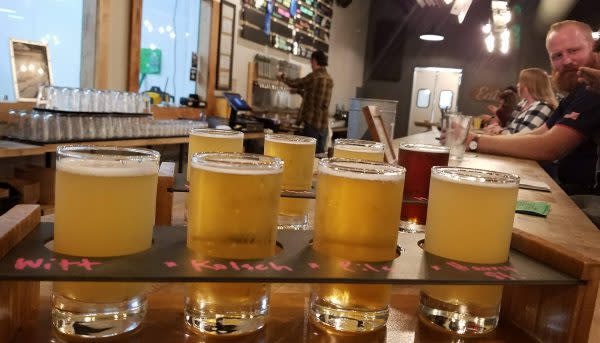 Get the flight so that you can sample your favorites! Mine was the Harrison St.
So what are you waiting for? Pack the bikes and helmets and head for the Fort for a weekend of riding. For resources on parks and trails, Fort Wayne Parks and Recreation has maps and details to plan your ride. The city has 12 breweries and growing so you'll have to come back again and again. For a list of all of Fort Wayne's breweries, click here for details.