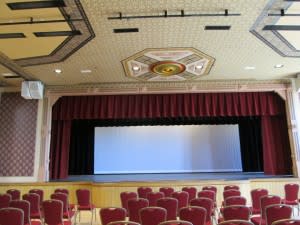 Indiana has so many charming small towns. I love discovering each new jewel! They affirm my family's choice to reside here—we're never bored!
Our latest discovery is the town of Delphi. Located in Carroll County, it is 20 minutes northeast of Lafayette in the western part of the state. From our home on Indiana's eastern side it was a mere 2.5 hours drive.
With a population of approximately 3,000, Delphi is blessed with a surprising number of outstanding goodies. I'm allotting two posts to describe them all.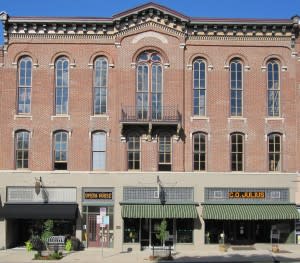 First is the newly remodeled three-story Delphi Opera House, located at 105-109 S. Washington St. in downtown Delphi. It opened in 1865 with a ball for returning Civil War soldiers. The opera house's last event was in 1914 and the stage has remained mostly unused until now.
During a recent tour, I was delighted at several things. First, that a community cared enough about one of its historic structures to put money and effort into helping it regain its youth. But the plans didn't stay in the 19th century. The community planned ahead for growth. While the original building measured 10,800 square feet, a recent expansion in 2015 at the back of the building doubled it to 20,800 square feet.
Various rooms throughout the building have been painted and carpeted and are now available for get-togethers. It is exciting to think of the events that will take place in the Opera House's attractive facilities – birthday parties, receptions, weddings, reunions -- the list is endless!
Second, what amazed me was the restored beauty of the building, especially the theater area. The stunning décor features reproductions of wall and ceiling papers which adorned the theater in its heyday in a rich palette of olive, maroon and gold. Architectural integrity has been maintained where possible, including cornices and other details.
Note: The stage is located on the building's second floor and an elevator is available for those who need assistance.
The Opera House seats 230 and has a full season of events scheduled for nearly every weekend from the season opening through August 2016.
Starting it off is the Grand Opening Weekend in keeping with the building's historic significance.
On October 16 the Vintage Brass Band of the Lafayette Citizen's Band will perform at 7:30. Tickets: $10.
The next day is another opportunity to celebrate Delphi's history – and a chance to dress up! A Grand Celebration Ball is being planned beginning at 6:30pm. Tickets: $100.
Other theater highlights:
On October 24 Jeff Daniels ('Dumb and Dumber') and the Ben Daniels Band will play musical selections at 8pm. Tickets: $75.
Although well-known as an actor, Jeff has composed 400 songs and played venues across the nation, preferring historic locales. He often tours with son Ben and his band.
An Evening with Poe, Oct 30
The Best Christmas Pageant Ever, Nov 20
An Afternoon with James Whitcomb Riley, July 16
If I lived closer I'd attend the FREE military-themed event on November 8. Entitled 'World War II: A View of the Homefront', the session is comprised
of a discussion by Vickie Maris Greeson about the relationship between a local couple – her parents Jim and Lucille Carr Maris. Vickie will talk to Lucille about how she and Jim sustained their affection for each other during the war and for 65 years afterward. I appreciate the opera house's administration recognizing our military by hosting this event and offering it at no charge.
Note: Street construction is finishing up outside the Opera House's front entrance. New curbs have been poured and additional work will continue through the middle of the month.
During a recent tour, my husband and I parked on a nearby street and entered the Opera House via a rear entrance which led directly into the building with no steps or obstruction. Opera House officials say guests will be able to enter the building during the Grand Opening weekend via front or back door.
Parking will be available in the Regions Lot on the corner of Washington and Franklin, while street parking will be available on surrounding streets.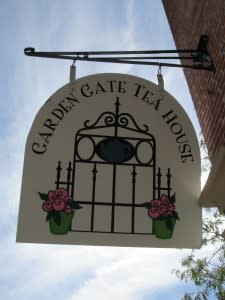 The second discovery I made about Delphi is its Garden Gate Tea House , 101 W. Franklin St. Located across the street from the Opera House and the courthouse, it's easy to find and a wonderful place to duck into for a respite.
This is a true tea house. In other words, my husband was the only male seated inside. Groups of women sat in clusters around the room which could seat approximately 30. It is a close, intimate atmosphere in which I instantly relaxed and felt pampered. Ahh!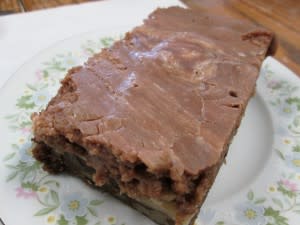 Oh don't worry about my husband. He thoroughly enjoyed his selection from the menu-- Turkey Sandwich on whole wheat bread. He finished half of my Coach's Club—turkey, ham, bacon, Muenster and American cheese with lettuce, tomato and house sauce. Our brownie dessert had to wait and was boxed up for later snacking.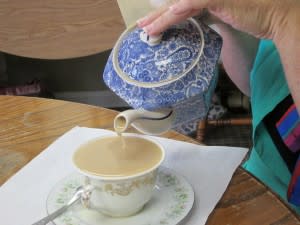 I especially enjoyed being served hot tea in a precious tea pot at our table. The Garden Gate has more than 40 types of tea. Having just converted to hot tea as an enjoyable drink (I watch a lot of British shows on Netflix—guess it rubbed off on me), I cherished the opportunity to sit and allow a simple chai to tantalize my palate.
The Garden Gate would be the perfect place to take a friend for breakfast or lunch. Or go alone and appreciate the quiet, friendly staff. By the way, I spied men carrying out orders—they know a good place to find delicious food! Next, I'll cover Delphi's canals.