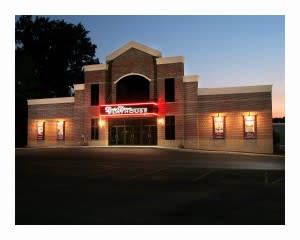 I love theatrical productions, everything from community theater to Broadway shows.
That's why one of my newest finds in the Hoosier state -- the Derby Dinner Playhouse is exciting! Derby Dinner, as per its nickname, is located in Clarksville across the Ohio River from Louisville, KY.
Derby Dinner Playhouse opened in 1974, making it now one of the oldest, continually-operating dinner theaters in the country.
Derby Dinner is southern Indiana's only professional theater. Theater officials say that nearly 200,000 patrons visit the theater each year from both Indiana and Kentucky. (Note: Locals refer to this area as 'Kentuckiana'.)
Tour buses carrying visitors from all 50 states and Canada patronize the Derby Dinner and often choose to spend the night in the area.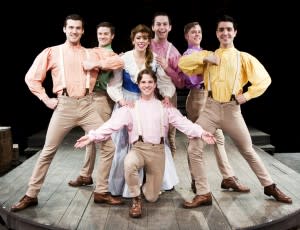 Seven Brides for Seven Brothers
Derby Dinner features the most popular Broadway musicals, i.e. "Oklahoma!", "The Sound of Music" and "Annie", with a live orchestra, lights, costumes – everything you expect to find in New York City but much closer and more affordable.
Derby Dinner's stage is 'in-the-round', meaning it is surrounded by dining tables and chairs. Seating capacity is approximately 500, making it the perfect girlfriend getaway, family outing or Mother's Day treat.
Beyond the glitz, what I especially like is Derby Dinner's emphasis on education. Since 1986, Derby Dinner has created programs that combine theater and education.
Not only are the shows appealing to younger audiences – example, "Legally Blond" -- the staff also produces a children's musical theater.
The children's theater shows like "Peter Pan" are performed weekdays for school groups and on Saturday for the public. The production staff even creates lesson plans that accompany the show and enhance the educational curriculum. Having worked in a public school, I know teachers are saying, "Thank you!"
The Derby Dinner schedule also includes 10 concerts per year.
Now that I've piqued your interest you're asking the important question—what is currently playing at Derby Dinner Playhouse?
"Southern Fried Funeral" is on for matinee and evening performances on Tuesdays- Sundays through Feb. 21. This comedy is just as funny as it sounds about a serious subject – funerals. I don't know about you, but I've seen some strange things happen at funerals!
That is followed by a hugely popular show – "Into the Woods". This Tony Award-winning musical features a score written by Stephen Sondheim. The plot is a modern fairytale about wishes, family, and the choices we make. Sometimes what we wish for isn't as great as we might have thought.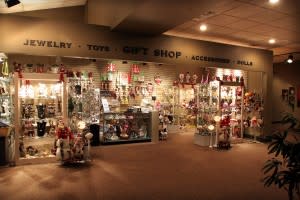 Lest we forget this is a dinner show, the menu deserves mention. Carved Pork Loin, BBQ Chicken, Derby Fried Fish, Derby Fried Chicken, Pasta Alfredo are the entrees with a full line of vegetables and choices from a salad bar. Dessert and drinks are not included in the pricing.
There is an extra- special incentive to attending Derby Dinner's Into the Woods. The Playhouse has joint with Olmsted Parks Conservancy to create a fundraising opportunity. Derby Dinner Playhouse will rebate $2 per single ticket purchase for "Into the Woods" from February 9 - March 13, to the Olmsted Parks Conservancy – an organization that restores, enhances and protects Louisville's 18 parks and parkways, all designed by Frederick Law Olmsted.
"Into the Woods" will be on stage at Derby Dinner Playhouse from February 23- April 3, 2016.
Derby Dinner Playhouse, 525 Marriott Dr., Clarksville, Ind.
Admission $37-$42, adults; tickets for children under 12 are 50% off Friday and Saturday evenings
Phone 812.288.2632