Devour Downtown is a treat for anyone in central Indiana who likes a good meal. It's a great opportunity to get to a place you've been itching to visit or try something new outside of your comfort zone.
My wife, Chelsi, and I had a chance to hit a few locations participating in the event on Groundhog Day. Unfortunately, unlike the movie, it doesn't keep repeating itself, but lasts for two weeks.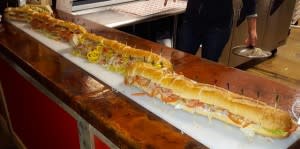 Big hoagies
First up were some delicious sandwiches at Hoagies and Hops. Adding their shop to the already cool space in Flat 12 Bierwerks was a tasty touch. The bread is shipped in from South Jersey and the meats are excellent - either Dietz and Watson or Seltzers. After a fresh brew and big sandwich with their homemade mustard, grab a couple of their dog treats or pepper shooter for the road, your pup and mouth will thank you later. They also serve Pat's Philly Pretzels, who make a strong pretzel and incredible beer cheese dip.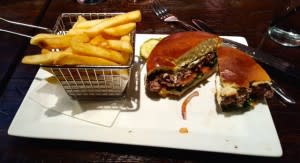 Tuscan burger and fries
Next, we grabbed a burger and fries at Burgerhaus. Founded in Valparaiso, but thankfully recently opened on the canal, they pride themselves on fresh and tasty burgers. We had the Tuscan burger, dressed with tomato, mozzarella, basil, spinach, balsamic and red onions. The onions were a little powerful, but the Italian-inspired toppings meshed well with the burger and the fries were served in a small fryer basket to round out a good looking plate.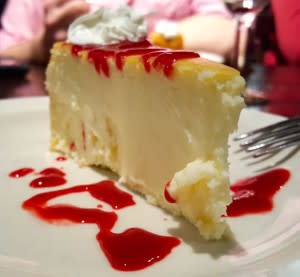 Cheesecake!
The final taste was a crustless cheesecake from St. Elmo. Thankfully this red sauce wasn't their famous cocktail sauce but a strawberry puree. Each of these restaurants is offering a special menu through February 7. Of course you can still eat at any of these spots throughout the year. If one of these places isn't in your wheelhouse, there are 92 (!) participating restaurants.
Downtown dwellers aren't the only ones who can get great deals on good grub. Northside Nights - featuring the best of Carmel, Noblesville, Fishers and other parts of north Indy - is scheduled for March. You can also check out the hotspots in the SoBro, Broad Ripple and Meridian-Kessler neighborhoods in mid-July during Chowdown Midtown.