After a day of visiting different Fort Wayne attractions — Vera Bradley Outlet Sale, Allen County Genealogy Library — it was time for some dinner and dessert, before we headed off to the Fort Wayne Tin Caps game.
While there are plenty of restaurants to visit around Fort Wayne, one of my favorites has always been Fort Wayne's Famous Coney Island. So I was very pleased when I learned that's where we were going for dinner — after all, it's not a baseball game without hot dogs, and a Fort Wayne Coney Island dog (or three) is just the ticket to get into the spirit of the game.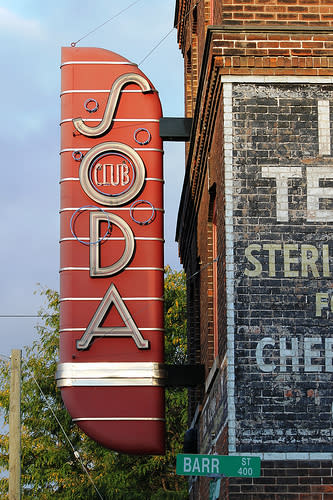 While there are several coney dog places in Fort Wayne, we were told this was the original. And while we were worried they weren't going to be able to seat all 14 of us, they had plenty of seats, which they needed, because it's apparently a Fort Wayne custom to stop by before a Tin Caps game.
Famous Coney Island steams their buns, and puts a peppery coney sauce — not chili sauce; that's something different — plus some pretty potent onions on its dogs. It was a good thing I wasn't traveling with my wife, because I tasted those onions for the rest of the night, and no amount of bottled Coke (they sell real Cokes with sugar, not high fructose corn syrup, in the little bottles) could cut the onions.
After dinner, it was off to Club Soda for dessert. I've been to Club Soda a couple of other times, and they always have good desserts. But I was still full from Famous Coney Island, so I was only able to eat a couple of bites of my cheesecake. But it was still dense, creamy, and oh so good.
Club Soda is big into local food, local entertainment, and hosting as many people as they can on their two outdoor patios. In fact, they love the nearby park, because they get to be a part of whatever festival is going on that day, and people can sit and watch the festivities while taking a load off and enjoying some great food.
Photo credit: OZinOH (Flickr, Creative Commons)