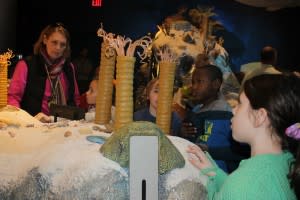 I'll bet when you think of winter outdoor activities in Indiana you never think of fossil hunting.
Well, you should consider it because examining 390-million-year-old fossil beds, which are among the largest, naturally exposed Devonian fossil beds in the world, is available year-round at the Falls of the Ohio State Park in the southern part of the state near Clarksville.
The 165-acre state park was established in 1990 and is slightly unique because it is a 'day-use only' park. There is no gate house so no admission fee (there is a $2 parking fee), campground, or inn.
But there are fossil beds and a quarter of a century ago these natural landmarks were preserved into something like a museum setting.
In 1994 an interpretive center was opened to allow the public to understand more about the history of the area. In 2014 the Interpretive Center was closed for renovation, though the state park stayed open year-round.
Normal admission fees apply for every day the center is open, but the good news is on Friday, Jan. 8 the Falls of the Ohio State Park's Interpretive Center will re-open and admission fees will be waived from 1-5 p.m. The public is encouraged to visit with its $6 million worth of new exhibits and gift shop.
These are truly hands-on exhibits. The models of coral and Native American artifacts look so real. But I did more than just look. I touched them! The exhibits are designed to teach visitors what it was like at periods of time when an ancient sea covered the area and when Lewis and Clark's Corps of Discovery got its start.
In one room it's possible to see underwater projections that appear as though fish are swimming and coral is swaying, and hear water sounds and see light fluctuations. It's a total immersive experience of what it would feel like to be under the ocean.
In another room a family of Shawnees, a tribe that once inhabited the area, speak to each other. I didn't know exactly what was being said, but from their modulations I could guess it was the same type of clashes of generations we have today!
I loved the trash wall. An artist made it his mission to pick up trash found on the fossil beds and makes sculptures of them. I've never seen such a beautiful display of trash with driftwood, rope, flip flops, glass bottles, plastic soldiers, dolls.
Of course, the emphasis is not to glorify trash on the fossil beds, but to be reminded that trash will pollute the environment.
Granted, late summer through mid-November may provide the best accessibility to the fossil beds when the Ohio River is at its lowest level, but during this so-far mild winter, it could still be a healthy outing.
There is much more to see at the new Falls of the Ohio Interpretive Center. This is a great place for a class or group to visit. And on Jan. 8 you can't beat the price!
Falls of the Ohio State Park
201 W. Riverside Dr.
Clarksville, Ind. 47129
Interpretive Center:
Mon-Sat 9 am- 5 pm
Sunday 1 pm- 5 pm
Admission fees:
$9 for age 12+
$7 age 5-11
Under 5 free
Fee for school groups: $7 per child and includes 2 interpretive programs