On my trip to Fort Wayne, a couple of us rode up a day early (in fact, we were ALL in town a day early on our travel writers' trip) so we could be at the Vera Bradley Outlet Sale at the crack of, well, 9:00. I had a choice of hotels to choose from this trip, including Don Hall's Guesthouse, which I had never even seen, let alone stayed in.
Several years ago, I worked in Fort Wayne, and had always heard the name Don Hall. But other than staying at the Courtyard in downtown Fort Wayne, had never stayed in any hotels there. So, when I was given my choice, I picked Don Hall to see what all the fuss was about.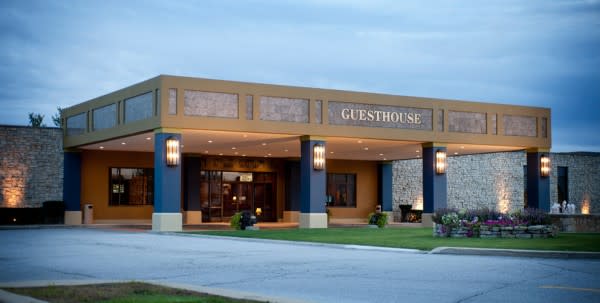 Don Hall's is an older hotel with some rooms that have outside doors (as opposed to hotels with inside doors only). My room had both an inside and outside door, and if I had to guess, I would wager all the rooms had that. Of course, outside doors on a cold day usually means a cold room, but my room was nice and cozy. I had to crank the heat a little bit, but it's not like I had a cold room to fight against.
Don Hall's Guesthouse is located in the northern part of the city, off I-69 and the Lima Road exit, so it's easy to get to. And it's just 5 miles north of downtown Fort Wayne, so if you're in town for a convention at the Grand Wayne Convention Center, you can get there in 10 minutes.
Don Hall's also has a banquet facility onsite, and there was an awards banquet of some sort going on that night. Plus, it seems to be a favorite of sports teams; I met some members of the Santa Cruz Warriors, who were in town the night before playing the Fort Wayne Mad Ants of the NBA D-league.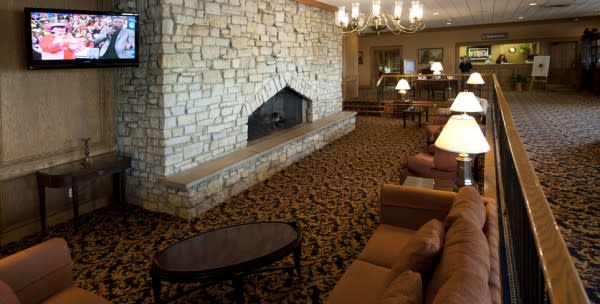 Don Hall's Guesthouse has a traditional look, and keeps it up beautifully.Don's has the look of an old hotel that is maintaining its classic decor, and keeping it in good shape. I've been to hotels that just look outdated, like they decorated 30 years ago, and couldn't afford to do it again so soon.
Don Hall's has managed to avoid that. It's not a problem at all.
Sure, it's a more traditional-looking hotel, and they make it work. It's well-maintained, and still looks nice. It reminds me of places my parents and I stayed when I was growing up. And on a cold April night, there's something comforting about staying in a comfortable bed in a warm room that you'll never find in a cookie cutter hospital-sterile room without any character.