It's been a tough season for the 2012 WNBA Champion Indiana Fever this year. Last year, they went 22–12, came in 2nd in the NBA Eastern Conference, and won the entire thing. This year, they're 1 – 6, and many people think they show no signs of regaining last year's glory.
That's because the Fever have been plagued by injury that is keeping their best players out for weeks and weeks. Last week, we heard that center Jessica Davenport will be out for the rest of the year to have surgery done on a left tibia stress fracture.
Add to that, Katie Douglas, Erin Phillips, and Jeanette Pohlen who are all expected to be out until at least mid-July. And last night, Tamika Catchings was out with a lower back injury.
So there were 9 players who took to the floor Saturday night against the Chicago Sky: Karima Christmas, Sasha Goodlett, Briann January, Erlana Larkins, and Shavonte Zellous were the five starters, while Jessica Breland, Layshia Clarendon, Jasmine Hassell, and Erin Thorn were on the bench (actually, the comfy padded folding chairs).
The Fever entered the game against the Chicago Sky at 1-and-6, and it was promising to be a tough matchup. At one point, Shavonte Zellous and Briann January were the most experienced Fever players on the floor, with four years experience each.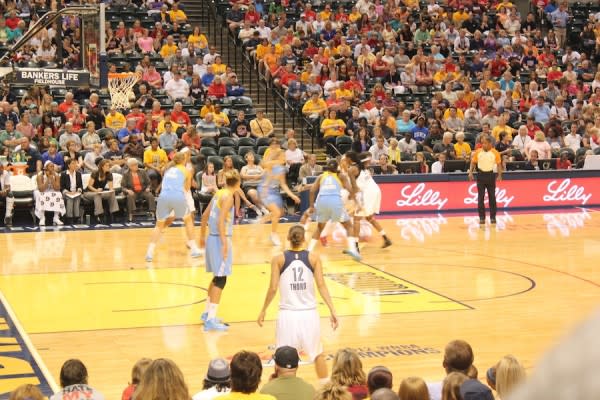 There were some tough plays and some signs that the Fever were struggling without their veterans. They were taking the shot clock down to 1 and 2 seconds, but they made up for it with hard defense that actually forced a couple shot clock violations by the Sky.
The Fever also made an impressive showing during the entire, holding on to the lead for most of the game, until the last four minutes, where the inexperience started to show. They ultimately let the Chicago Sky take the game and lead it by as much as 13 points, before finally reigning it in. They lost the game 71 - 61, dropping their record to 1–6, behind 2–5 Connecticut.
(Connecticut?! Seriously?!)
However, the Fever are hanging tough. The rookies are stepping up, and the free agents are learning how to play under head coach Lin Dunn's system. It may take a few more games, but look for the Fever to start showing more success as the season progresses. When you consider how long the team held on, you get the impression their breakthrough should come within the next few games.
A few miscellaneous notes I took during the game:
Of the four reserve players — Thorn, Breland, Clarendon, and Hassell — Thorn was the only player on a WNBA roster in 2012 (Minnesota Lynx). The five starters — January, Zellous, Goodlett, Christmas, and Larkins — all played for the Fever last year.
I saw one play between Erin Thorn (a 10 year veteran who came to the league through a hardship roster replacement) and Jessica Breland (a 2nd year player). There was a semi-fast break coming down the court, and Thorn whips a short pass to Breland who receives it in stride and takes it in for the layup.
Hassell needs to step up and not be afraid to shoot the ball. There were a couple of times she looked like she would rather pass, and once had a reluctant look on her face when she was forced to shoot.
You know we're in football country here in Indianpolis: I saw Briann January throw a beautiful stiffarm against a Sky player as January was going in for a layup. Somewhere, Edgerrin James cackled with glee.
One of the "timeout" games on the ginormous monitors is a race between two computer-generated tennis shoes. Conceivably, whichever section, upper or lower, cheers the loudest, that shoe will win. Frankly, I feel a little silly, since I know my shoe will never win. Also my personal favorite, the hiking boot, was eliminated in the prelims, so I've got no reason to cheer.
The Chicago Sky signed U of Delaware player Elena Della Donnes who made national news in 2008 when, after being ranked as the number one high school player in the country, she passed up a scholarship at the University of Connecticut to stay home with her sister, who has cerebral palsy and is blind and deaf. Then, when she did go to school, she attended Delaware, and went back into basketball a year later in 2009. Click the link on her name and read her Wikipedia page. It's an amazing story.
Zellous scored 17 points and had 3 rebounds, Christmas had 9 points and 5 rebounds, and Larkins, January, and Breland each had 8 points, while Breland hauled in a team high 7 rebounds.
There are actually not any prelims or hiking boots in the tennis shoe race.
The next home game for the Indiana Fever is on Friday, June 28 against the Tulsa Shock, and we'll be at the following game against the Seattle Storm on the 30th.