"One…two…..no, just one two-headed eagle guarding the cathedral," my friend said, shielding her eyes from the sun and gazing up at the towering Scottish Rite Cathedral above us.
My other friend wrote the number down on our packet of papers and said, "Ok, so now it's back to the library to find some giant jacks."
You might be thinking, "where on Earth were these people?" The answer is, in our very own downtown Indianapolis.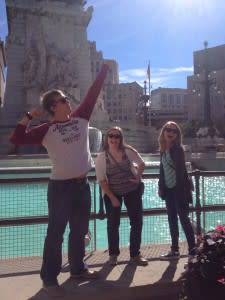 This past Saturday, three of my best friends and I went downtown and took part in what is called UrbanQuest. UrbanQuest is basically a scavenger hunt in a city. After signing up online for the Indianapolis quest, I received a clue packet that we followed until we had our final clue. Then we typed in our final solution on UrbanQuest's website and unlocked our final destination, a restaurant for lunch where UrbanQuest had made reservations for four under my name. A modern day adventure to be solved!
But the food and the destination were only half the fun. The two hours that we spent gallivanting around the city helped me, a girl from a small town in Ohio, learn the downtown better and look closer at downtown sites that I had previously only driven by.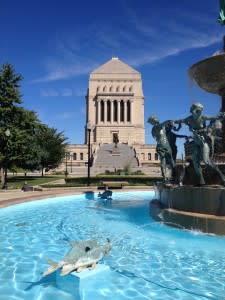 We began our quest at the Federal Courthouse and took a closer look at the statues of the women surrounding it and what they meant. Then, we walked past Christ Church Cathedral and all around Monument Circle, taking particular time to notice statues and details as instructed by our clue packet.  From Monument Circle we went to the courthouse, down New York Street to see the Musicians' Mural, to Depew Memorial Fountain, to the World War Memorial, to the memorials in front of Indianapolis Public Library, to the Scottish Rite Cathedral and lastly, to our secret restaurant destination of Barcelona Tapas.
By having to solve clues and take a closer look at places we thought we already knew, my friends and I saw downtown Indianapolis in a whole new light. It encouraged us to take a closer look at the Indianapolis we thought we knew. When we looked we found a rich history and beautiful sites and that we had previously taken for granted. The fountains held so much romance. The memorials held respect, appreciation, and love. The murals, memorials, and every building we saw held history. The mural showed the jazz music influence in Indianapolis. At the courthouse we learned that Lincoln's funeral train stopped there and that up 50,000 people came to see his open casket. The history went on and on.
We laughed and joked and had fun through the majority of the quest, but definitely experienced moments of serious sobriety at war memorials and other sites where we usually wouldn't read all the inscriptions. However, the moments of happiness and pensiveness balanced out to experiencing Indianapolis, that we thought we knew, with fresh eyes and seeing it for the bright, rich, historical city that it is.
If you aren't from the Indianapolis area UrbanQuest is a great family friendly way to experience the area. If you are from Indianapolis it's a great way to see your city from a new angle.
Needless to say though, with all that walking, by the time we got to Barcelona Tapas we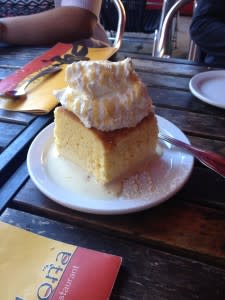 were ravenous. And boy, did they deliver. Tapas, for those who have never tried it, are small plates made for sharing. For example, when we ordered the meatball dish we got four meatballs so each of us got one. Tapas are perfect for sharing and trying a little of a lot of dishes. We ordered a plethora of delicious small plates that have me craving to go back less than a week later. We began with warm meatballs in tomato sauce, fried artichoke heart bites with lemon aioli, chicken and chorizo skewers, and tortilla española. One of my favorites was the goat cheese in a tomato sauce that was so creamy it melted in your mouth and spread as easily as the sauce across the bread pieces they provided. Finally, we finished with the grand finale of Tres Leche cake. The cake was light and fluffy topped with a perfectly sweet whipped cream and surrounded by a cream sauce that the cake soaked up to add flavor to each and every bite.
So next time you're in downtown, whether you quest or not, take a moment to look at it with fresh eyes and see the history and culture of the place we call home. And then head straight to Barcelona Tapas for a cultural experience that your taste buds will thank you for.