Anyone who loves A Christmas Story will remember the family's trip downtown to see the Christmas parade and to see Santa Claus. Back in the 1930s and 1940s, this type of holiday event was a regular tradition in most cities.
We don't have anything like that in Indianapolis (and I haven't heard about it in other cities either), so Downtown Indianapolis is creating a new holiday tradition, or at least resurrecting the old one, with their City Sidewalks event on Georgia Street.
The event takes place on Friday, December 13th from 5:00 – 9:00 pm, and Saturday, December 14th from noon – 9:00 pm. Highlights include holiday performances, a visit from Santa, free ice skating on the Pan Am Pavilion on Saturday (rental skates are available), a live nativity, kids' activities, fresh Christmas trees for sale, and of course, holiday shopping throughout the area.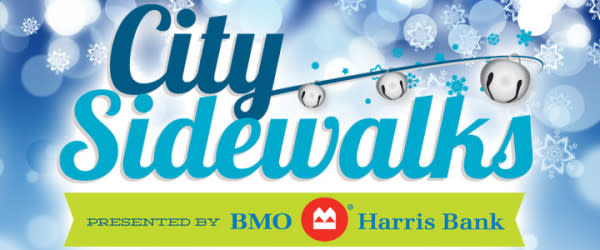 The street will also be decorated with holiday wreaths and lights, while Christmas music plays up and down the Georgia Street Boardwalk. People who live on the east block of Georgia Street are even having a window decorating contest to add to the holiday ambience.
Mulled cider, hot chocolate and traditional holiday spiced wine will be available at St. John Catholic Church, and you can even take a tour of the church and view their live outdoor nativity scene. There will also be several local artists and artisans selling holiday goods, like jewelry, candy, popcorn, hot sauces, wine, and several pieces of art.