I realize the early part of this summer hasn't provided the perfect weather for sunbathing and splashing, but I have no doubt that will soon change.
With that in mind, you may not know about a true hidden gem in Hendricks County.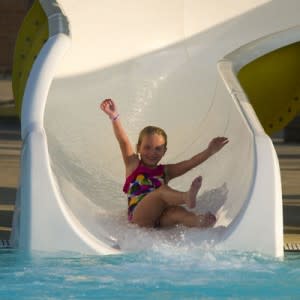 Another satisfied customer at Splash Island Family Waterpark.
Splash Island Family Waterpark, 651 Vestal Road in Plainfield, continues to entertain guests daily from all over the region and even other states as it has for nine years. Some water park lovers from as far away as Terre Haute even visit weekly because of its affordable prices, family-friendly environment and seemingly endless amenities.
The tropical-themed, outdoor oasis boasts 4 ½ acres of water fun including three waterslides, an interactive play area for all ages including kiddie slides, water jets, ropes and guns, a gentle winding river, lily pad crossing and two pulsating vortexes.
But that isn't even the best part.
Last year, the park completed its first expansion, a $3.6 million project that included the addition of a 900-foot leisure (or lazy) river.
My family and I tried it out last summer, and what an addition!
Leisure River at Splash Island
The 12-foot-wide winding river has plenty of water features, including waterfalls and buckets of water dumping on the heads of those floating by on a tube. The river includes a zero-depth entry making it easy for any age to enjoy.
Those in the leisure river also have the option of getting off their tube as they pass a new water basketball area. That 30-by-50-foot space allows users to shoot some hoops or even start a game while keeping cool in the 3-foot-6-inch water playground.
The new expansion increased Splash Island's total capacity from 1,500 to 2,300 and included additional deck space for about 400 more deck chairs and a few more giant umbrellas that are scattered throughout the park.
But the Plainfield Parks and Recreation Department refuses to rest on their laurels as they already have another expansion planned for 2016 or possibly sooner. That expansion would include three more waterslides including one of those giant bowl features that funnel each rider around and around almost like you are being flushed down a toilet bowl.
Sound like fun? Want to learn more? Here are a couple insider tips from the staff at Splash Island that will help make the most of your trip.
Arrive early — Splash Island officials have a policy that they do not schedule large group outings any sooner than noon.  So, if you want to lock down one of those prime, shady locations underneath one of their massive "funbrellas" arrive in the morning.
More for your money — Many visitors don't realize that a pass to Splash Island also gets them into the adjacent Plainfield Recreation Center, which has a number of additional amenities including a children's play area, an indoor water park, a running track, exercise equipment and more.
Want more? Click here to check out all 10 of our Splash Island insider tips on our All Access Hendricks County blog or click here for more places to get wet in Hendricks County as well as hours and prices for Splash Island.