If you ever wished that you could go to Mayberry, you'll have a chance to do so May 17-19 when the Mayberry in the Midwest festival takes place in Hendricks County. For one weekend each spring the town of Danville is transformed into the idyllic town that was the setting for the Andy Griffith Show, the feelgood television series that featured the funny antics of Deputy Sheriff Barney Fife and other Mayberry residents, including Sheriff Andy's son, Opie. Whatever mischief he got in, there was always a peaceful, loving resolution within the half-hour and a life lesson from the sheriff.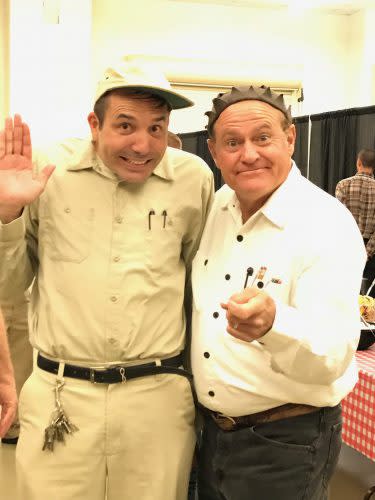 You'll encounter a number of characters from the Andy Griffith Show during your visit to Danville during the Mayberry in the Midwest Festival.
Last year my husband and I attended some of the weekend's events and it was one of my favorite things we did all year. The weekend begins on Friday night with a Meet & Greet Dinner full of tribute artists representing all your favorite characters from the show. During the delicious buffet dinner, you'll have photo opportunities to pose with some of Mayberry's most colorful characters.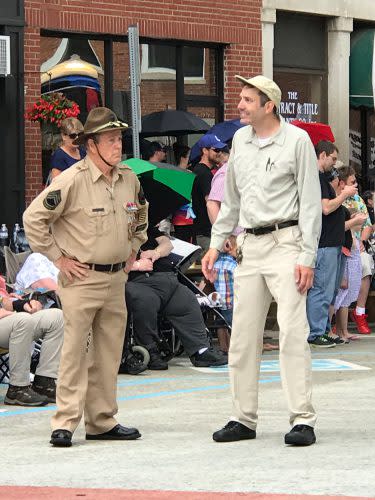 Actors portray several of the cast members during the annual Mayberry-themed parade.
Mayberry in the Midwest continues Saturday and Sunday with a number of free performances, a tractor show, pancake breakfast, a Mayberry trivia contest, dance demonstration, kids' play area, vendor booths, pickle eating contest, an Ope look-a-like-contest and the highlight of the festival, the Mayberry Themed Parade. The parade features actors portraying Barney, Goober, Gomer, Otis, Aunt Bee and others. Special guests during the weekend include Maggie Peterson Mancusso, who played Charlene Darlene; Andy Griffith's daughter, Dixie Griffith; George Lindsey, Jr., the son of George "Goober" Lindsey and Ronnie Schell, who played Duke Slater on Gomer Pyle, U.S.M.C.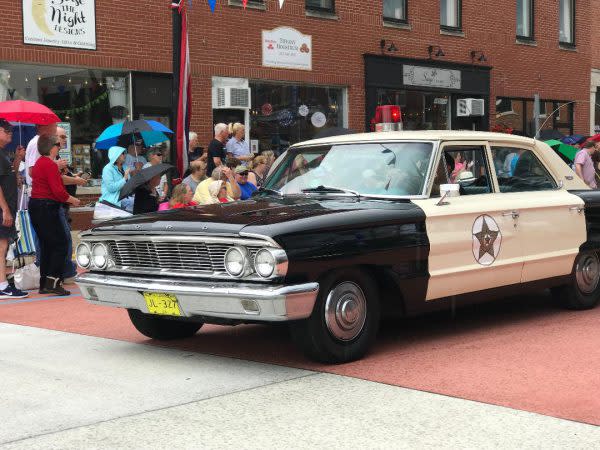 The parade is the highlight of the Mayberry in the Midwest Festival.
Visit mayberryinthemidwest.com for more details on the schedule of events. If you plan to make your trip to the area into an overnighter, consider visiting the Marmalade Sky Bed & Breakfast, which is within walking distance of the downtown square where the festival events take place. 
Enjoy a meal of hearty country-style comfort food at the Mayberry Cafe while you're there. The cafe opened in 1989 and it's a touch of Mayberry that you can enjoy year round. Enjoy good home cooking like Aunt Bee would have made while you watch clips from the show and peruse Andy Griffith memorabilia. Visit mayberrycafe.com for more information.
Also happening the same weekend in Danville is the Inaugural Central Indiana Enchanted Fairy Festival on May 18 at the Hendricks Country 4-H Fairgrounds & Conference Complex. Spend the day among fairies, unicorns, mermaids in this magical immersive experience. The day culminates with the Ethereal Ball later that evening. Go to centralinfairyfest.org to learn more.
For more information on the area, go to visithendrickscounty.com.