Working alongside someone who has been actively involved in the Indiana Short Film Festival for the past two years, I have been amazed at how far this event has come in a short time.
I can remember when the committee never turned away a film because they needed every submission to fill the weekend showings.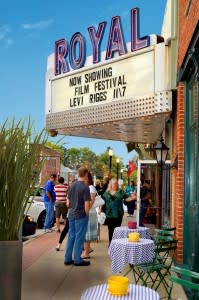 Royal Theater hosts the Indiana Short Film Festival, Oct. 10-11
Now, in its fourth year, those days seem like a distant memory as the Indiana Short Film Festival, scheduled for Oct. 10-11 at the historic Royal Theater, on the east side of the Courthouse Square in Danville, Ind., has truly become an event, in which filmmakers hope to make the cut and movie lovers flock to for the experience.
Consider this: A record 217 films from across the globe, including the U.S. and as far away as Spain, Belgium, United Kingdom, India and Argentina, were submitted to be included this year, but only 47 made the cut to be shown during the two-day festival. Additionally, this festival was named the 4th Best Short Film Festival in North America by AudienceAwards.com, in other words, by those who attended the festival.
If you've never been before, you may be wondering what you can expect. To qualify as a short film, each movie must be no longer than 40 minutes. As a result, the organizers divide the films into six showings or series. Anywhere from 6 to 10 movies will be shown during each series on the big screen with each series lasting about 90 minutes.
If you blink, get up to get popcorn or simply need to use the restroom, you might miss the shortest film this year, which clocks in at less than 2 minutes, the longest film lasts 37 minutes and the average of all 47 films is right around 13 minutes.
A number of different genres, including documentaries, science fiction, comedy and drama, among others, will be mixed in every series. However, the last showing of the event, designated as "Saturday Night Frite," includes films that aren't suggested for younger viewers. That series also will last a little longer, closer to two hours.
This year's showings include:
One of the unique and fun aspects of the Indiana Short Film Festival comes at the end of each showing when some of the filmmakers, actors and directors in attendance step onto the stage and answer questions from the crowd. This unlimited access has become quite popular as ticket holders get to pull back the curtain and venture into the minds of these talented artists.
You can choose to watch a series of your choice for $7 a person, or you can purchase a weekend pass for $35 that covers the entire weekend including access into a VIP Filmmakers Meet and Greet gathering between showings at 4:30 p.m. Saturday, Oct. 11. Also, beer and wine will be sold for the first time during the event after 6 p.m. both days.
Finally, two, admission-free "Hoosier Only" screenings at 1:30 and 4 p.m. on Sunday, Oct. 12 will not be judged as part of the competition but instead give Indiana filmmakers, who didn't make the cut, an opportunity to meet each other while introducing local audiences to the talent in their own backyards.
For more information, go to the Indiana Short Film Festival website. To purchase tickets, click here.