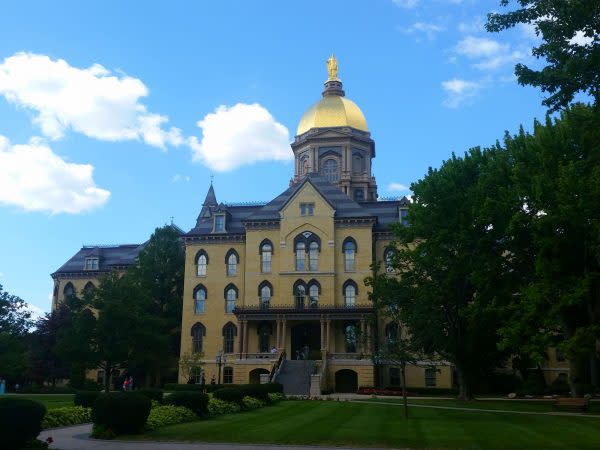 I hate to admit that in the past I've only been to South Bend to attend a Notre Dame football game. During the visit we rushed in to tailgate and then back out after the game. What I've realized after a recent day trip is that I have missed out on a city that is teeming with great destinations, gastropubs and an impressive set of trails and bike ways that create an abundance of picture perfect moments. Based on my visit, here are some great ways to get out and explore South Bend.
Head to the River
I headed to the river front area in South Bend first. I texted a friend soon after I arrived stating, "OMG, I'm in LOVE with South Bend." And I meant it. The views of the St. Joseph River are spectacular.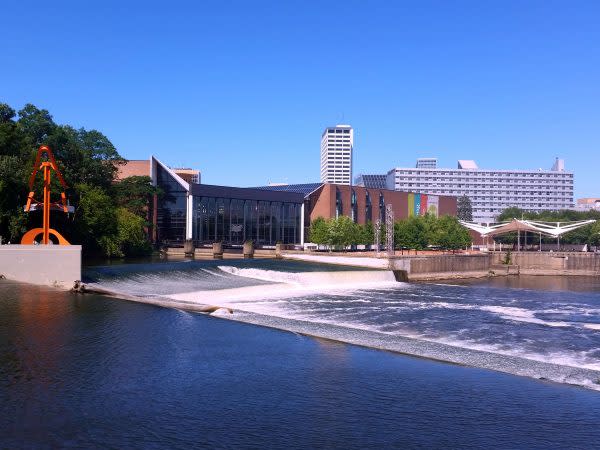 The view on this photograph is even more impressive in real life. Absolutely gorgeous place on the St. Joseph River to take in the views from the Seitz Park area.
What's great about South Bend is that they have a number of trails that you can hit to take in the scenery and/or get in a solid run or walk. (Trail map) I happened to start my journey at Seitz Park at the East Bank Trail that runs about 1.7 miles. The views in this area are breathtaking, and most impressive is the waterside view of the South Bend Museum of Art (pictured). That same trail also provides you with places to view the East Race Waterway, South Bend's water rafting experience.
Who knew you could actually white water raft in Indiana? The East Race experience is available during the summertime and you can find details on the City of South Bend Parks and Venues page. My impression of the East Race after watching several groups is that it looks like serious fun and that it does require at least a modest set of skills to navigate down the river couse.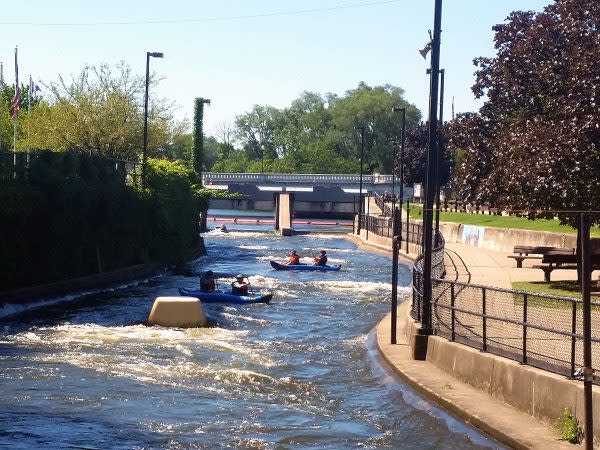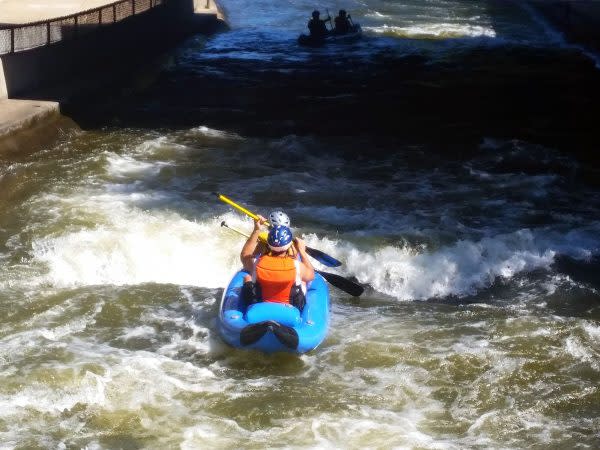 The city's trails are shared by runners, roller bladers and bikers and were busy with plenty of activity on the day of my visit. A visit to South Bend must include time along this beautiful stretch of trail. An added bonus is that you can burn off some calories before indulging in their fabulous cuisine later in the day.
See the Sites on Two Wheels
South Bend has been through a recent transition in their downtown roadways, creating "Smart Streets" with the elimination of one way streets and the addition of very prominent bike lanes. So in addition to a great offering of trails along the river, you could easily take your bike and explore the city as well. I found it refreshing to see a large amount of riders in the downtown area and applaud the city for making it a priority.
Don't have a bike with you? No problem! South Bend has also initiated a new program called "LimeBikes" that allows you rent bikes right in town and from what I witnessed, the bikes are plentiful and easy to notice. Just download the app, get your account set up and get riding. The bike share program appears to be very popular and I saw people out riding them all over town.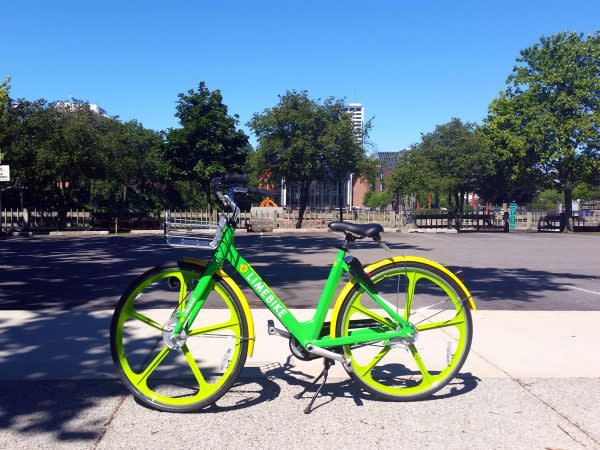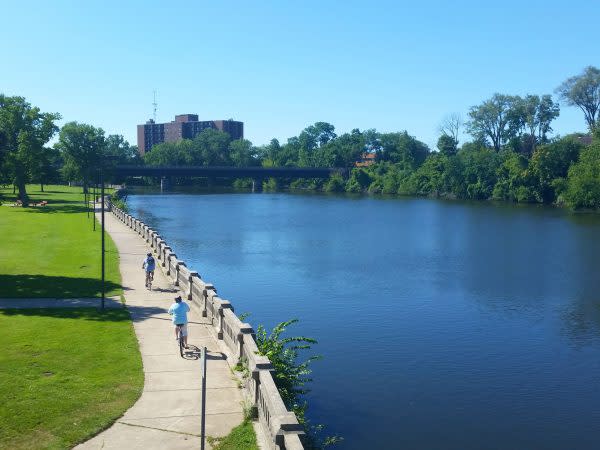 South Bend is a bike friendly city so feel free to explore on two wheels.
Tour Notre Dame 
I wasn't sure exactly what I was going to do when I drove over to the campus at Notre Dame but that changed quickly when I stopped at the Eck Visitors Center near the Main Entrance of the university. I asked for a MUST DO list of things to see on campus and was promptly provided with multiple stops and a helpful map.
The campus of Notre Dame is absolutely beautiful, from it's carefully manicured landscape to carefully placed art and it's style of architecture, it truly is an experience to walk the grounds and it was one of my most favorite parts of the day in South Bend. My first stop on my walking tour was the Snite Museum of Art. The gallery is free to the public and consists of three floors of galleries that hold an impressive collection of ancient and modern works of art.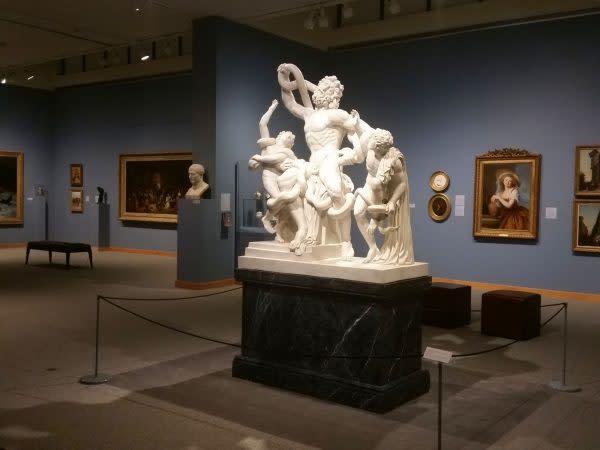 The Laocoon marble statue depicts sea serpents sent by Athena to kill Laocoon and his sons. It's housed in the 18th-Century Art Gallery on level 2.
From there, I strolled over to the other points of interest - the Library and then to the Main Building with the gold dome that you see in all of the photos. There were multiple weddings going on the day of my visit so I wasn't able to tour the Basilica but I did visit the grotto off to the side of the building. The tour was perfect in length for me. Consider renting a LimeBike if you want a more extensive look at campus. I saw several people riding around and enjoying the afternoon.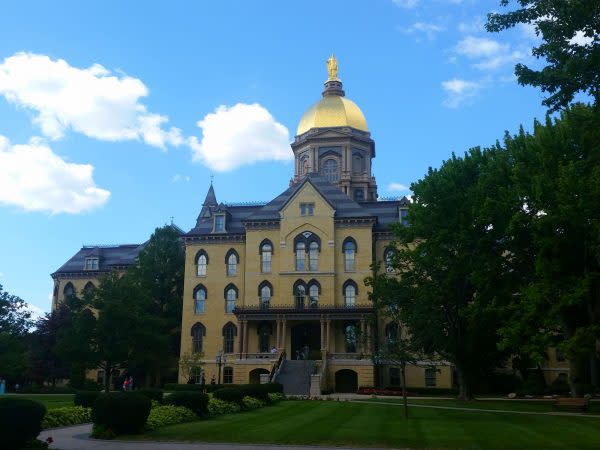 The Main Building is stunning as the afternoon light reflected off the gold dome.
Do The Chocolate Tour
Just a few minutes outside of the downtown area is the South Bend Chocolate Company where they offer both 20 minute and 45 minute tours of the factory. Grab a hair net and be escorted back into the main part of their operations where most of the work is still done by hand. Not to spoil the surprise, but they give you a sample of their delicious chocolate. In the 45 minute tour you also get to make your own treat and then view their onsite museum with antique chocolate boxes and memorabilia. The factory shop also sells imperfect candies at a reduced rate so stock up. (make sure you bring a cooler on a hot day so that your goodies don't melt in the heat)
This Indiana business, founded in South Bend in 1991, has grown into 11 Indiana stores and now has franchises in Indiana, Ohio and Michigan. They have over 500 different products that are sold in their stores and across the country.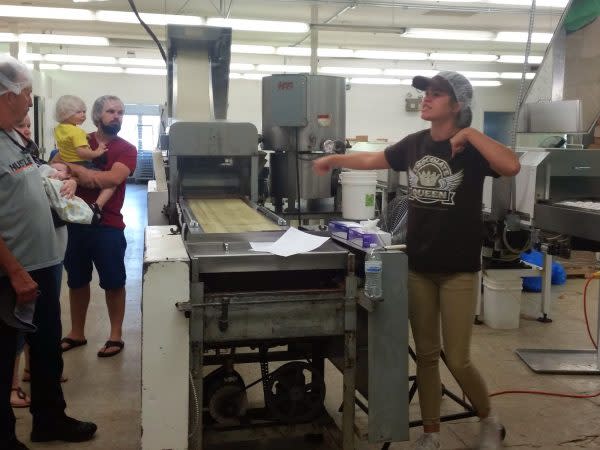 Our tour guide showing us how they cool the chocolates after dipping.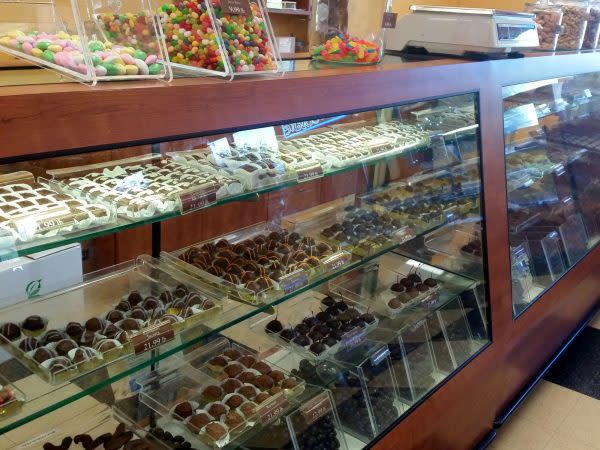 Make sure you stock up in the South Bend Chocolate Factory shop after your tour.
Go for the Gastropubs
My first dining experience of the day was a recommendation from a foodie friend, The Crooked Ewe Brewery. There were already several people waiting outside for them to open for lunch so I took that as a sign that it was going to be good. They had a great selection of craft beers made onsite and the menu offered a selection of smoked meats, poutines, wings and lots of vegan options. I had the Post 1167 Cream Ale on the nitro tap and the Little Smoke Plate with brisket and pulled pork. The meal, while sophisticated in its flavors and combinations, was casually served on a wood platter. Perfection.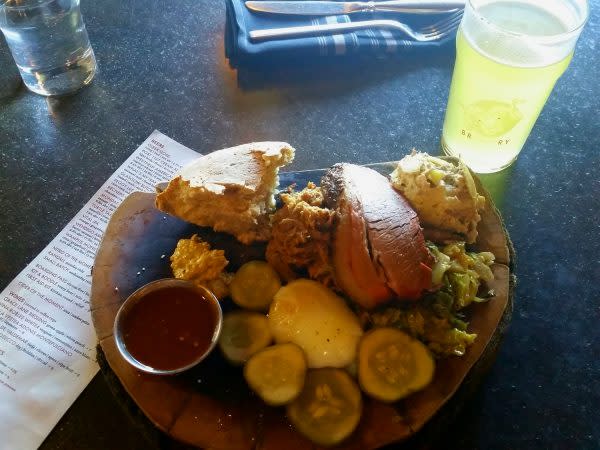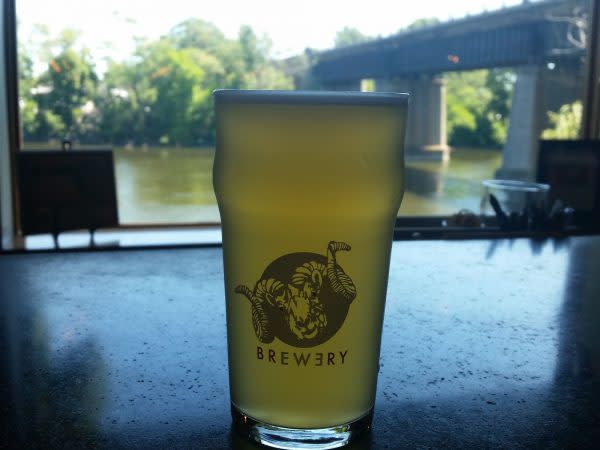 The Crooked Ewe is located right along the river and if you sit at the bar you are treated to another picture perfect view of the river while you finish your drink.
For dinner I hit up another local gastropub, the LaSalle Kitchen and Tavern in the downtown area. The tavern is located upstairs from the Lasalle Grill fine dining restaurant and provides a more relaxed environment with live music and a long list of craft brews on tap. The menu includes plenty of shareable items like charcuterie boards and flattop seared bacon steaks. They also serve up amazing entrees such as braised bison short rib tacos -yum. I had a caprese pizza and out-of-this-world mashed potato croquettes with a gruyere cheese gravy.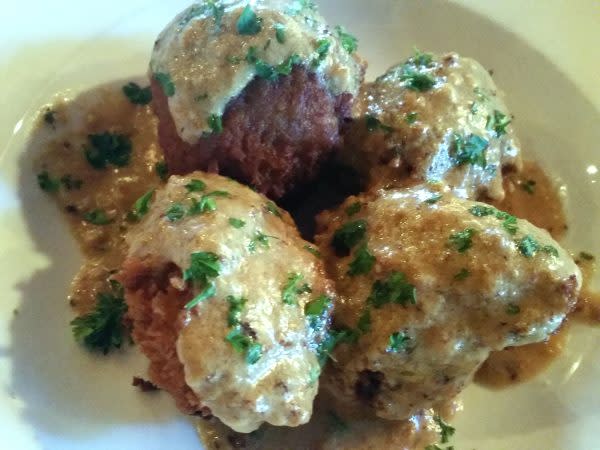 These mashed potato croquettes with gruyere gravy were are meal all by themselves.
South Bend truly impressed me on my recent visit. I would highly recommend that you get out and discover all that this great city has to offer.  Visit South Bend/Mishawaka has plenty of helpful information and trip ideas to get you started.