Long story short, in 2004 the city of Indianapolis gave permission to the cultural development commissioners to use the city right-of-way to build a walking/biking trail through the city. Local legends (Eugene and Marilyn Glick) committed $15 million, grants came in and $63 million and nine years later voila! There was a grand opening of the 8 miles of the cultural trail throughout the city. (More history here if you are interested.)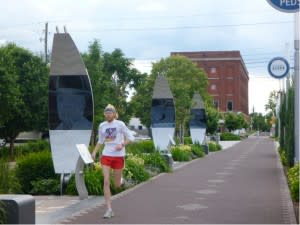 So what does this mean? There are six cultural districts located around Indy. Each offers a different feel with restaurants, shopping and more. Now all of them are connected by trail making it easy to visit/walk/bike each of them and enjoy all Indy has to offer. My husband and I took advantage last month. We borrowed some friends bikes headed downtown and had a grand time!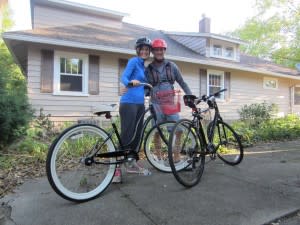 The path is easy to navigate. There are maps available online (I printed one in advance) if you want to plan your route a little more carefully. We didn't get to all of the districts that day, but we started at Mass Ave ...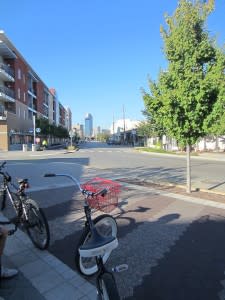 Rode through the city ...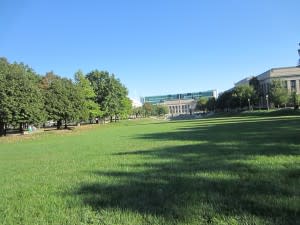 And ended up at White River State Park (shameless plug - you can read about that adventure we had here.)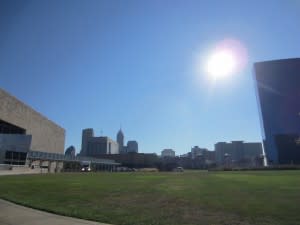 Other districts you can visit: Fountain Square, Wholesale District and Indiana Avenue. I think it would be a blast to do several visits and just focus in one one or two areas ... there is so much to see - even at night!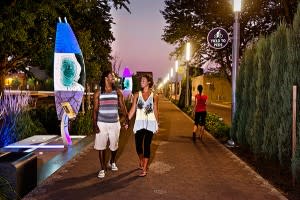 You might be saying, "But I don't have a bike." Well, no worries there. Just recently the Indiana Pacers Bikeshare began. It offers over 250 bikes around town at 25 different locations (conveniently located on the Cultural Trail!) at a reasonable cost. So, you don't have any excuses now, right?
Oh and I almost forgot to mention the art! There are seven pieces of public art on the trail. Part of the trail is the Glick Peace Walk which celebrates 12 luminary individuals who made peaceful progress.
Be sure to Visit Indy to pair this with one of the MANY events and attractions in the area. There is always something going in one of my favorite cities to explore.