One of the many reasons that I love Indianapolis so much is the large amount of beautiful parks, bike paths and running routes. The city is extremely outdoor friendly, offering an escape from the bustling everyday city lifestyle. Downtown Indianapolis has a pictueresque walkway along the canal that just happens to be my favorite place to explore the city.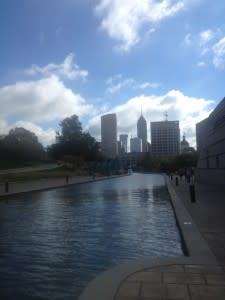 The canal was originally dug in the 1800s. It has since been refurbished and updated in the past few years. It has great views of the city skyline and is often a spot for wedding pictures because the backdrop is so gorgeous. There are always people jogging, biking or catching up with friends. If interested, you can rent paddle boats, bikes or take a gondola ride. As you might have already guessed, the canal is a great location for date night.
While the canal itself is something to do, there are plenty of activities along the water that will keep you busy for days. The NCAA Headquarter is a great place to explore the hall of champions. There are two museums along the walkways of the canal: the Indiana State Museum and Eiteljorg Museum of American Indians and Western Art.
For those who love animals, the Indianapolis Zoo is a must see in the city. It is a wonderful place to explore and play all year. Want to take in a baseball game in July? Then head over to Victory Field and watch some minor league baseball.
The canal offers endless amounts of fun. From relaxing gondola rides to educational museums to roaring animals and homeruns, there is something for everyone in every season.