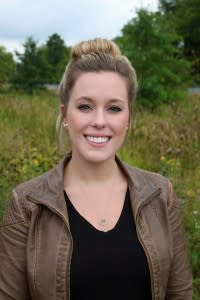 Sarah Maddox
By Sarah Maddox
Fall is one of my favorite times of the year and Northwest Indiana has so much to offer. I always try to come up with different activities to do every fall, to make each year more memorable than the last. Growing up, one of my favorite things to do was search for fallen hedge apples along a road of red and orange trees. Whenever I get the chance, I love to drive along wooded roads to view the changing leaves. Although the leaves have just begun to change, the landscape has already begun to transform into a beautiful mosaic of color.
Drive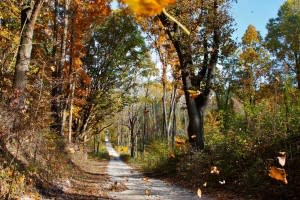 Indiana Dunes Country is the perfect place for a fall drive or hike.
Driving around and seeing all the changing leaves should be relaxing, but I invariably turn that feeling of relaxation into nonstop action by bringing my three dogs along for the ride.
Here are two perfect fall drives in Indiana Dunes Country:
The Dunes & Lake Driving Loop – Start at the Indiana Dunes Visitor Center at 1215 N. State Road 49, Porter, IN.
This driving loop is great because it allows you to see the changing colors of the trees along the road, but also gives you the opportunity to see beautiful Lake Michigan. If you get hungry during your drive, you can stop off at pet-friendly (outdoor dining only) Bartlett's Gourmet Grill and Tavern for a bite to eat. Later on, you can stop at Coffee Creek Watershed Preserve or Indiana Dunes State Park for a nice hike.
Downtowns & Country Roads Driving Loop – Start at the Indiana Dunes Visitor Center at 1215 N. State Road 49, Porter, IN.
As you venture through downtown Chesterton and Valparaiso, you will experience the history behind each town. Visit Orville Redenbacher's statue in downtown Valparaiso and grab a bite to eat at one of the many great restaurants in either downtown.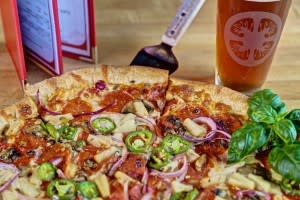 Tomato Bar in Valparaiso.
Eat
Every Halloween, we go to my grandparents' house and get an original thin crust cheese pizza, and then trick-or-treat or pass out candy. Warm pizza always tastes better when it's chilly outside.
Duneland Pizza, 520 Broadway, Chesterton, IN.
Duneland Pizza shares it's building with Dunes Photography, which offers guests the opportunity to be surrounded by images of our beautiful dunes. Duneland Pizza makes every customer feel important, by the owner checking to make sure everyone is pleased with their meals. Duneland Pizza won the Pizza Wars contest in the area.
Tony's Place, 218 E Lincolnway, Valparaiso, IN.
Deep-dish pizza is a treat, especially when all the ingredients are made fresh daily. Tony's Place had been inducted into the national Pizza Hall of Fame, and their original recipes and amazingly friendly service is why they are the longest-running pizza parlor around. They have a homemade gluten-free pizza crust.
Tomato Bar Pizza Bakery, 2310 LaPorte Ave., Valparaiso, IN.
Tomato Bar offers their guests an insider view into what goes into their pizzas through an open kitchen, so guests can see how their pizza is made. One thing that really stands out to me about Tomato Bar is their outreach to customers who have a gluten intolerance, by having a gluten free menu. The names for the pizzas are very creative, making them stand out.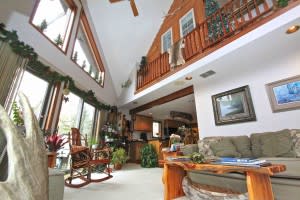 At Home in the Woods.
Sleep
This fall I would like to plan a few getaways and experience all that they have to offer. Here are a few places that are located among the reds, yellows and oranges of fall.
At Home in the Woods, located at 898 N. 350 East, Chesterton, IN.
This B&B stuck out to me for many different reasons, one being that I love visiting Smoky Mountain National Park. This B&B is unique because it offers guests the opportunity to experience different national parks through themed décor. This would allow me to feel like I'm visiting a national park without having to travel out of state. At Home in the Woods also has many great opportunities for couples, offering different sweetheart packages, couples massages, romantic settings and cooking classes.
Finding a nice place like this at an affordable price is always a struggle, especially since I have a college student's wallet. At $159 a night and reasonably priced extras, I feel like this would be a nice getaway without breaking the bank.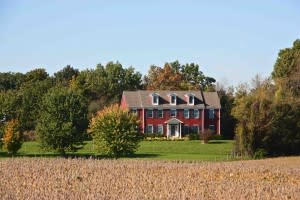 Songbird Prairie.
Songbird Prairie Inn and Spa, located at 174 N. 600 West, Valparaiso, IN.
The bluebird suite is calling my name. The beautiful décor and in-room accommodations, make this inn stick out to me. As the air begins to chill, nothing sounds better than a room that has heated floors, a fireplace, plush bathrobes and a whirlpool tub that massages your entire body. This inn also brings the beauty of nature to you, offering a gourmet breakfast in a sunroom that allows you to hear the birds singing and see the changing fall colors. They also offer spa services. Rooms range from $249-$269 a night, with extras at an affordable price.
Inspiration Wood, located at 642 E. Inspiration Road, Westville, IN.
This inn offers privacy and comfort, housing guests in their own cottages. There is much to see and do while visiting Inspiration Wood, including, bonfires, outdoor movies, hay rides and beautiful views. My parents live out in the country and on cool nights, we love to have a bonfire and an outdoor movie. I would love to stay at this inn, because it offers everything that my boyfriend and I enjoy. Prices are comparable to other cabins I've been to ranging from $260-$412, but the upscale nature of these cabins make it worth the cost.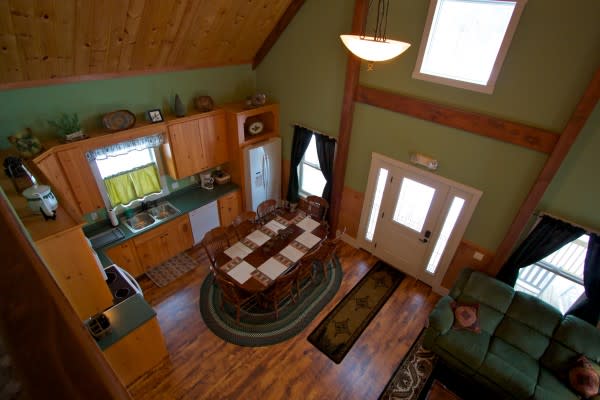 Inspiration Wood.