Fall is one of the best times of year to explore what Hamilton County has to offer, just north of Indianapolis. Find inspiration for your family adventure with the 10 top things to do this fall. From traditional activities like pumpkin picking and festivals to concerts and train rides, you'll be recharged from making memories together.

Whether you like food, music, art, or all of the above, there's a fall festival for you to check out. Spend the weekend in Hamilton County and check out the Atlanta New Earth Festival and Carmel International Arts Festival, both on Sept. 25 – 26. Browse hundreds of artist booths and enjoy food, live music, and fun for the whole family.
Click here to learn more about Festivals in Hamilton County.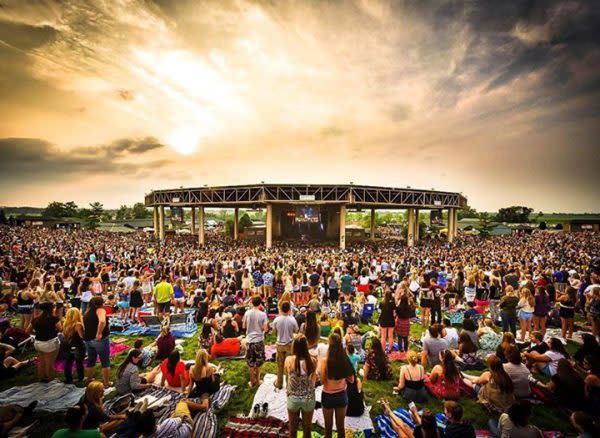 "Wait…isn't summer concert season over?" While summer is technically in the rearview mirror, there are still plenty of rock and country concerts on the schedule at Ruoff Music Center in Noblesville. With a seating capacity of 24,000, it's the largest outdoor amphitheater in the Indianapolis area! This fall, don't miss popular artists like Thomas Rhett, Florida Georgia Line, Lynyrd Skynyrd, and more.
See Ruoff's concert schedule here.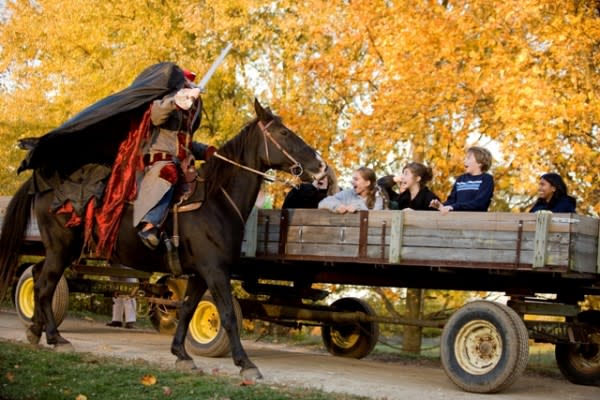 Headless Horseman at Conner Prairie
Spooky season is upon us, and there's no better place to visit than Conner Prairie in Fishers. Treat yourself to a hand-dipped caramel apple and apple cider slushie in the Apple Store. Then, take a voyage high in the sky aboard the new 1859 Balloon Voyage, where you'll get a glimpse of the corn maze from high above. After you conquer the corn maze, hop on the hayride for a scary (or not-so-scary) journey through the grounds as the Headless Horseman chases you through the woods.
Read more about the Headless Horseman festival.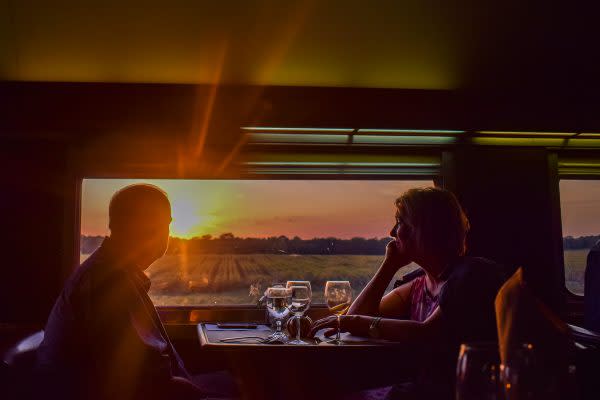 All aboard! If your kids love trains and locomotives, they'll love riding on the historic Nickel Plate Express. Seasonal excursions include the Pumpkin Express and the Wizard Express. Board the train in Forest Park in Noblesville and explore the city before or after your trip.
Buy tickets for Nickel Plate Express here.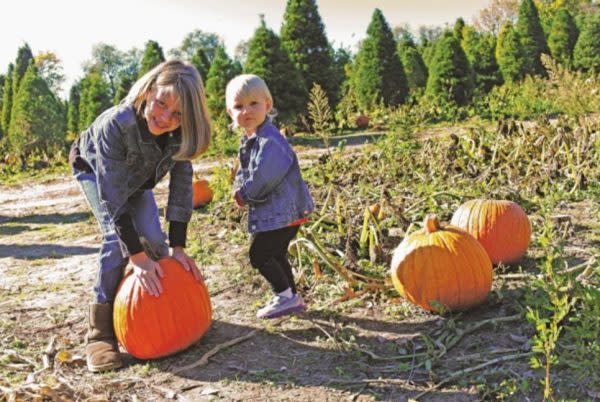 It's not truly fall without a trip to the pumpkin patch. Choose from local favorites like Stuckey Farm Orchard and Cider Mill (with apple picking, too!), Spencer Farm, and Russell Farms Pumpkin Patch. Each location has family-friendly activities on weekends now through the end of October.
See the guide to pumpkin patches in Hamilton County.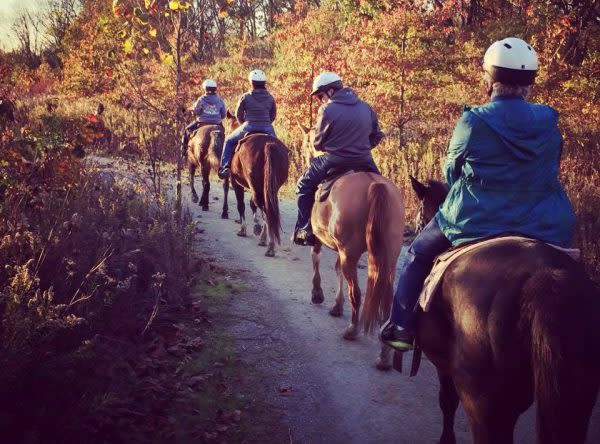 K-Trails Equestrian Adventures at Strawtown Koteewi Park
Enjoy the changing fall scenery at Strawtown Koteewi Park in Noblesville, an 800-acre destination park with many outdoor amenities. Besides hiking the countless trails, you can zipline through the trees at Koteewi Aerial Adventures Treetop Trails, go horseback riding or book a pony ride at K-Trails Equestrian Adventures, try your hand at archery with the kids' fun zone at Koteewi Range, or canoe and kayak down the scenic White River with White River Canoe Company.
Learn more about the activities at Stawtown Koteewi Park.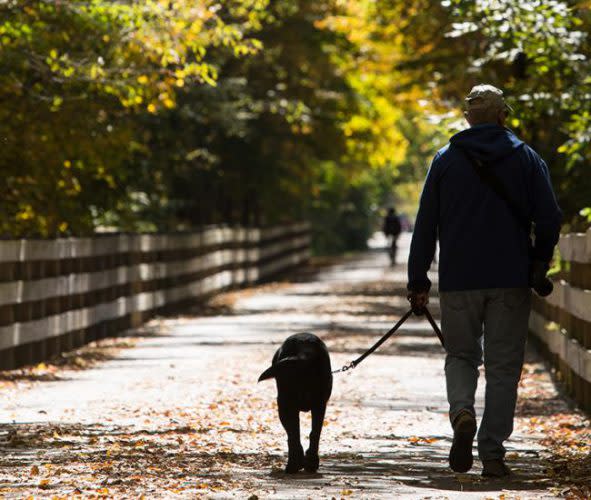 The Monon Trail is a rails-to-trails paved path spanning through Central Indiana, connecting to downtown Indianapolis. The Monon Trail starts in Hamilton County at the 96th Street trailhead in Carmel and stretches more than 20 miles north through Westfield to the town of Sheridan. Bring your own bike or rent one from the bike share stations located along the trail.
Read more about the Monon Trail.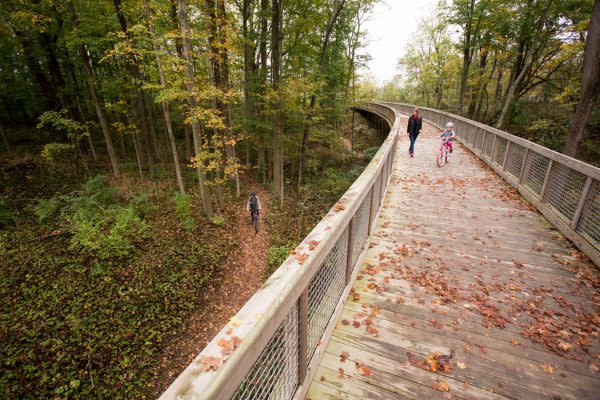 One of the best fall activities is "leaf-peeping," which is exactly what it sounds like: looking at the changing leaves (and snapping photos, too). Check out Flat Fork Creek Park in Fishers with its picturesque boardwalk and three hidden treehouses or Potter's Bridge Park in Noblesville with beautiful views of the White River from the historic covered bridge.
Learn more about outdoor recreation in Hamilton County.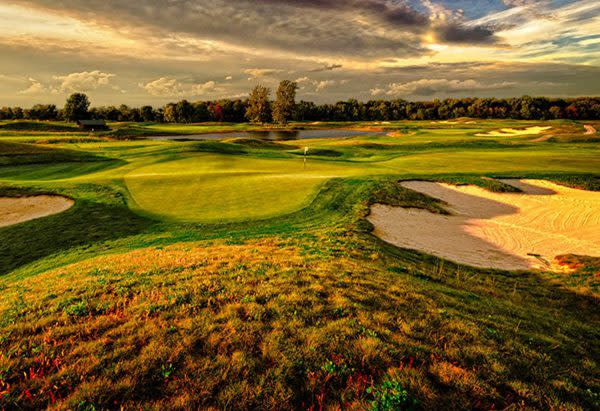 Purgatory Golf Club in Noblesville
Book a tee time on one of Indiana's Premier Golf courses in Hamilton County, like Bear Slide Golf Club or Purgatory Golf Club. Beautifully manicured, affordable, and golf-traveler friendly, the local courses are located within minutes of each other, making your next golf trip easy and jam-packed with great golf.
See all the great golf courses in Hamilton County.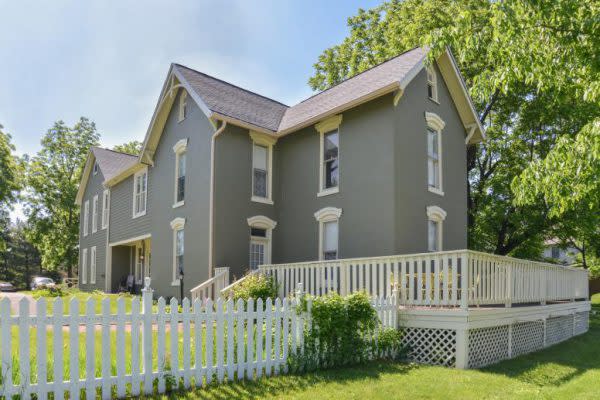 Prairie Guest House in Fishers
There are so many things to see in Hamilton County this fall, so why not make a weekend of it? Retreat to a comfy bed and breakfast like Prairie Guest House, settle into a spacious hotel suite, or get reacquainted with nature at a peaceful, well-equipped campground like White River Campground.
Browse a full list of hotels in Hamilton County.
To learn more about things to do, dining, and lodging in Hamilton County, request a free copy of our Travel Guide. And, be sure to follow us on Facebook, Twitter, and Instagram to see all you can do when you #VisitHC.