After interning in downtown Indy for a year, I have "fall"en in love with Georgia Street. Georgia Street lies at the heart of Indianapolis' historic Wholesale District. It was completely revamped before Super Bowl XLVI and transformed into a unique, outdoor urban space.
Planning on coming to downtown Indy soon? Already live downtown? Here is a list of reasons why you will "fall" in love with Georgia Street this season.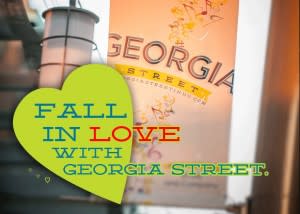 Events: That autumn crispness has finally arrived, but that doesn't mean you have to go inside.
Cheer on another season of the Colts at a Georgia Street tailgate! Enjoy food, drinks, corn-hole and good music before going to the game. Head on down Oct. 6 & 20 and Nov. 10 to the west block of Georgia Street. Bring the whole family or a big group of friends to share in the fun.
Enjoy the next few weeks of perfect weather by taking your meeting or meal outside. Food trucks will be lined up on the west block of Georgia Street near the Indiana Convention Center on Oct. 18 and Nov. 15 from 11 a.m. - 2 p.m. for Cluster Truck. Comfortable seating and overhead covers are provided on all three blocks of Georgia Street for you to take advantage of. Keep an eye out for my personal favorite food truck: Scratch Truck.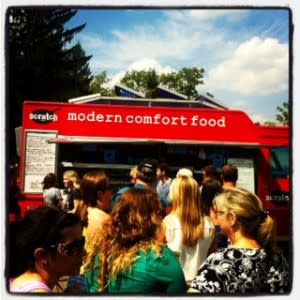 Try the Scratch Grilled Cheese, you won't regret it!
Tastes: Fall weather gives you an excuse to order some of your favorite food and drinks on Georgia Street.
Celebrate the start of fall by treating yourself to a pumpkin spice latte from Starbucks. The perfect blend of espresso, freshly steamed milk, whipped cream and spices will be the perfect start to your day.
After the Colt's tailgate, take the crew inside to watch the game on one of the 32 high definition TVs at The Pub. With lunch and dinner specials, music and live entertainment, good times will be had by all!
Sushi is my go-to restaurant choice and it's even better when I can sit outside in these enjoyable fall temperatures. Mikado Japanese Restaurant & Sushi Bar is located on the West Block of Georgia Street and offers awesome patio seating. The menu consists of traditional Japanese dishes, Sushi and French-Japanese fusion creations.
There's no better way to celebrate fall than by enjoying a seasonal beer. Head over to the Tilted Kilt after a long day of work and try the annual Beer of the Month. October is the month to try the Samuel Adams Oktoberfest. This seasonal beer is the perfect transition from light summer ales to the rich, golden tastes of fall. I haven't tried it yet, but it's definitely on my list.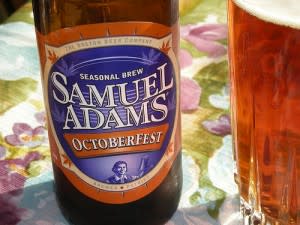 Shopping:  With new weather, comes new clothes! Check out Circle Centre Mall on Georgia Street for all of your fall shopping needs. Some of my personal favorites include: Aldo, Banana Republic, Brookstone, Francesca's, H&M, and Loft.
What's your favorite part about Georgia Street?  Next time you're there, snap a photo and post it with the hashtag #downtownindy to share it with everyone! Check out a full Georgia Street calendar of events and list of restaurants and attractions here.