Some of Indiana's best corn mazes, pumpkin patches, and leaf-viewing opportunities are in Festival Country Indiana. Don't miss out on all the fun of fall South of Indy.
Start your adventure at the Festival Country Indiana Visitor Center in downtown Franklin. You can get your photo in their free photo booth, as well as get copies of their self-guided walking tours or their Activities Guide, which features an autumn drive and a list of fall attractions.
Here are some of the fall attractions that locals love:
Kelsay Farms
Experience the autumn wonderland at Kelsay Farms in Whiteland. This farm offers a complete fall experience with a seven-acre corn maze, a straw bale mountain that the kids love to climb, kiddie train rides, farm animals to interact with, hayrides, pumpkins, and a barn full of corn grain to roll around in. The farm is open Fridays, Saturdays, and Sundays From Oct. 1 to 31. It is also open weekdays from Oct. 11 to 22.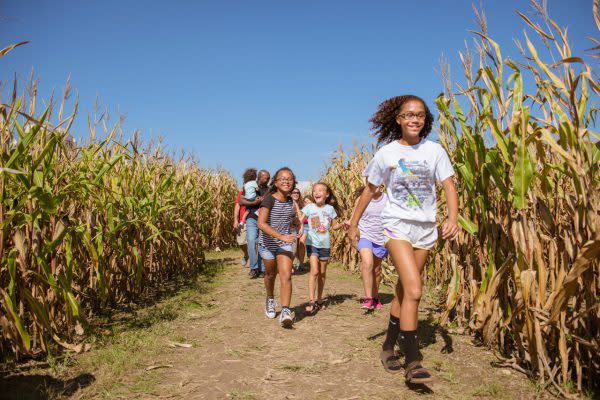 Kelsay Farms
Waterman's Family Farm
Another spot for fall fun is Waterman's Family Farm in Greenwood, where their Fall Harvest Festival is daily in October. They offer hayrides, miniature train rides, farm animals, a pumpkin patch, a straw bale playground and fort, the human hamster wheel, and more.
Jenkins Farm Market Corn Maze & Pumpkin Patch
In October, Jenkins Farm Market in Franklin offers a pumpkin patch, corn maze, hayrides, and fall market every Saturday and Sunday.
The Apple Works
People also love heading to The Apple Works in Trafalgar for fresh-off-the-tree apples, as well as apple dumplings, caramel apples, apple pie, pumpkins pie, and pumpkin bread. This orchard is also home to concerts each weekend in September and October. Add in a U-pick pumpkin patch and kid's attractions like a super slide and a bamboo maze, and it all adds up to a good time.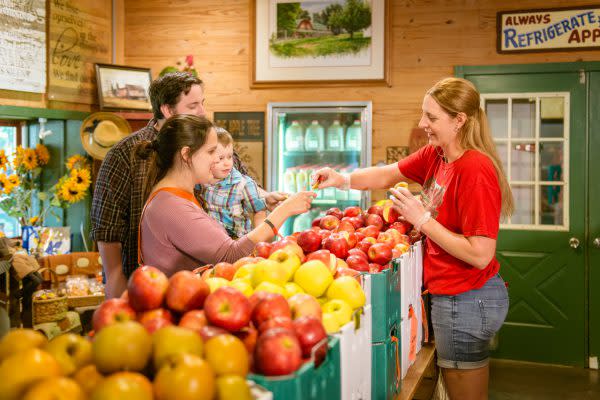 The Apple Works
Fall Drive
There's no better way to enjoy the season than a Fall drive south of Indy, between Indy and Brown County. Check out this fall drive put together by locals who know Festival Country.
The leaves usually start changing color in late September, are at peak color from mid-October to mid-November.
Scarecrow Madness
While you're driving around Festival Country to view the fall leaves and find the perfect pumpkins, be sure to check out the hundreds of scarecrows that decorate the communities as part of Scarecrow Madness. The entire area turns plain scarecrows into works of art, creating everything from a Dolly Parton scarecrow to an E.T. scarecrow to amazing recreations of the Beatles.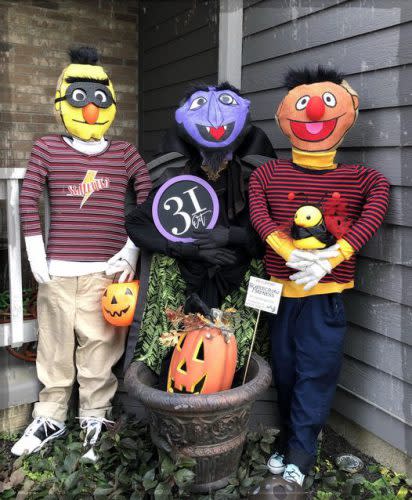 Scarecrow Madness
Fresh Air
If you want to get out of the car and enjoy the colors more actively, enjoy a nature walk at Atterbury Fish and Wildlife Area, Johnson County Park, and Laura Hare Preserve at Blossom Hollow.
Mallow Run Winery
Autumn is also the perfect time to head out to Mallow Run Winery and enjoy some wine and cider on a crisp autumn day. Festival Country is also home to a thriving craft brew scene. You can find the wineries and brewpubs here.
The Festivals
Finally, Festival Country Indiana earned its name by being the place for festivals and events, so check out the many great fall festivals and events.
Stay
Enjoy a fall weekend getaway by staying at a hotel in Festival Country. Don't miss out on all the fun of fall South of Indy.