With the summer sun beating down and the weeks since school let out mounting, it won't take long for kids to get restless. A fun-filled weekend away can be just the ticket to break the summer boredom. Fort Wayne offers a number of different family-friendly attractions that won't break the bank, and as Indiana's second largest city, there is something for everyone! For something different, try doing Fort Wayne like a local by going to these must-sees.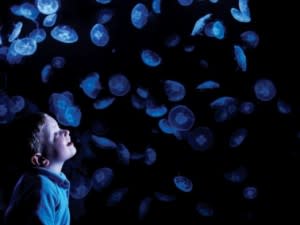 Jellyfish exhibit at the Fort Wayne Children's Zoo
First, a trip to Fort Wayne isn't complete without a visit to the Fort Wayne Children's Zoo. Ranked one of the top ten kids' zoos in the nation, the Children's Zoo will not disappoint. Trek through the trails of Africa and feed the giraffes, or get the bird's eye view from the sky safari; cool off with the sharks at the Great Barrier Reef in Australia; and ride the carousel, watch the tigers prowl, and see the orangutans swing from their branches in the Indonesian Rain Forest. The petting zoo is also worth a stop for a bit of hands on fun. Sit back and relax on the historic train ride. Get there early to snag the seat in the back that faces backward, and watch out for the dinosaur that roams the tracks!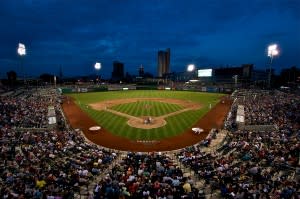 Parkview Field in downtown Fort Wayne
Hit up a TinCaps game in the evening for some exciting fun. Grab a hot dog and some peanuts and settle in for a great time. The fan-focused stadium in the heart of downtown was ranked one of the best fan experiences in minor league baseball. Plus, check the schedule and head down for a game with fireworks!
Another few places that are great to add to the itinerary are Science Central, the Botanical Gardens, and the trails. Science Central offers a wide variety of hands on experiments that will bring science to life and there is something for kids of all ages. Don't miss Science on a Sphere or the high rail bike! The Botanical Gardens has a number of different gardens; wander through lush foliage and tranquil waterfalls. Experience the gardens of different climates all in one building. And to top off the visit, check out some of our 80+ miles of trails. Rent a bike and pedal down to one of our splash pads to beat the heat, or grab a canoe or kayak to experience our three rivers in a new way!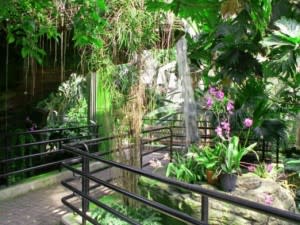 Freimann-Foellinger Botanical Conservatory  
With so many fun activities, there is something for every family in Fort Wayne. Don't worry about finding a good place to eat, either. Fort Wayne is becoming a town of foodies and there are so many great local places as well as your favorite national chains. Come into downtown and try some of the locals' favorites – Coney Island, 816 Pint and Slice, and on Thursdays, drop by Lunch on the Square at One Summit Square and grab lunch from one of our many food trucks – I recommend Brava's Hot Dogs, even for the pickiest of eaters!
And, we want you to feel at home in Fort Wayne, so check out all our great hotels and pick the one with all the comforts and amenities your family needs. With over 50 choices, there is sure to be something that will fit your family's wish list and your budget. I'd check the downtown hotels for easy access to activities and walking distance from some great shops and restaurants.
Fort Wayne is a great place to bring the family for a weekend away that's easy on the wallet, and that they will never forget!
Check out Visit Fort Wayne for more ideas and vacation planning made easy!