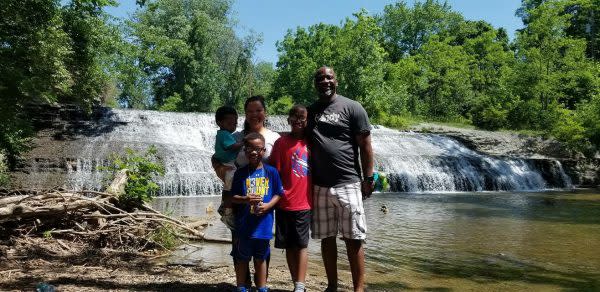 My family and I were back on the road again the first weekend of June. This time, we decided to explore Richmond, Indiana. While I have heard about this city, I had no idea there were so many fun things to do there. Our two-day family getaway was pretty jam packed with places to see and food to eat. Our first stop was the Indiana Football Hall of Fame.
Indiana Football Hall of Fame If anyone in your family is a football history buff, be sure to put the Indiana Football Hall of Fame on your to do list. The Hall of Fame showcases the best of the best of Indiana's football history ranging from the late 1800's through the present. Our boys were determined to find inductees from our neck of the woods. It was nice to see the Hamilton Southeastern High School football team among the honorees. Please note: There is no admission fee, but donations are appreciated.
The Olde Richmond Inn Restaurant Just a few blocks away is a quaint little restaurant called The Olde Richmond Inn. From the moment we walked in the door, we were greeted and seated a short time later. It was nice to see the day's specials on a blackboard set-up at the end of our table. After we placed our order, the waitress brought us some breadsticks. Let me just say that our boys absolutely loved them. They even pleaded with us to ask for a refill. Our food was out quickly and the portions were huge especially for the kids. Everyone enjoyed their meal and we were all so full that we didn't have room for a dessert.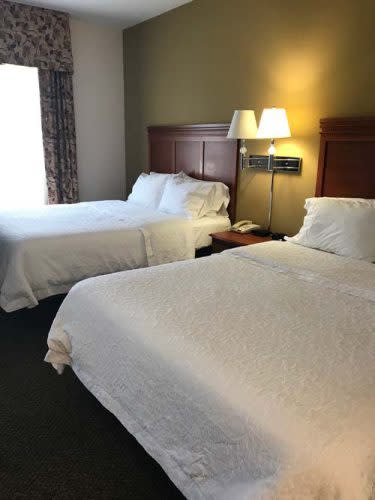 Hampton Inn & Suites After lunch we decided to check-in to our hotel room. We were very happy to see a modern hotel complete with a nice sitting area at the entrance. Our spacious studio suite with two queen size beds was located on the first floor. The boys had to stop by and see the heated indoor pool and made plans to swim when we came back later in the evening. And, we were happy to find out that a complimentary breakfast would be provided in the morning.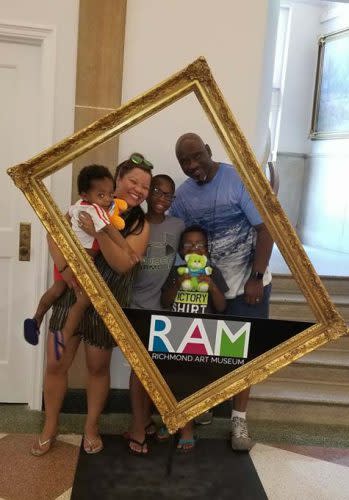 Richmond Art Museum After dropping off our belongings, we headed to the Richmond Art Museum. This fine art museum is located within an active public high school, the only one of its kind in the United States. I'll tell you that I was pleasantly surprised when we walked through those front doors.  The newly renovated museum did an amazing job displaying their permanent collection.
And, I loved the photo-op frame on display. We had to take advantage of this opportunity and snap a family photo. Please note: RAM is open to the public year-round except for Sundays and Mondays and national holidays at no charge.
Joseph Moore Museum of Natural History Our next stop was the Joseph Moore Museum located on the Earlham College campus. One of the things that attracted us to this museum was their planetarium show. We thought the kids would love this experience and we were right. The boys loved learning about the stars and planets, especially our oldest son, Jayden, who's done several school projects on planets. On the lower level of the museum we found an Egyptian mummy, one of only two mummies in Indiana. There were also several living reptiles on display including a huge bow constrictor that we could see had just ate lunch and/or dinner that was bulging through its skin. Yikes!!! On the main level, our youngest son, Kaleb was attracted to the huge mastodon fossils. Please note: This museum employs Earlham students and is open to the public at no charge.
Further Reading: From Egypt to Indiana: The Story of Richmond's Two Egyptian Mummies
Rec Plex After hitting two museums in a row, we headed to the Rec Plex, which was located right across the street from our hotel. The boys were excited and ready to burn off some energy. They ran straight for the bouncy houses and slides. After conquering them all at least four times, Jayden and Chase decided to tackle the rock walls. I'm pretty sure Jayden beat them all and Chase came close. It was nice to see their determination to reach the top. I think Kaleb was first to try out the gymnastics center area. Although Kaleb is only two and a half, he is fearless and jumped right into the square sponge pit. All the boys had fun and it was not an easy task to get them to leave.
Firehouse BBQ & Blues Club For dinner we headed to the Firehouse BBQ & Blues Club. This restaurant is located in Richmond's oldest surviving firehouse. From the moment we parked we could hear the distinct sound of rhythm and blues coming from the building. We ended up getting a table right in front of the stage. There was a guy performing solo that evening and he was really a great talent. I loved that he started taking requests from the guests in the restaurant.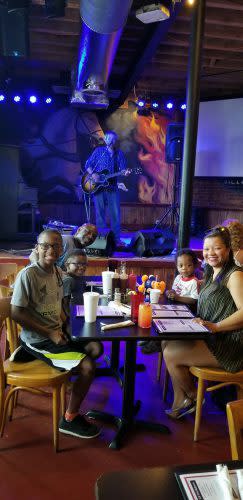 While we waited on our food, we all enjoyed the music especially our little Kaleb who started dancing to the beat in his booster seat. A fun sight to behold. We all decided to try the BBQ and it did not disappoint. The meat was so tender; it just fell off the bone. Plus, our sides of baked beans and sweet potatoes paired perfectly with the BBQ. For dessert, we tried the banana pudding, which had a good mix of wafers and banana pudding. The combination of great food, great service and great music was the perfect way to end the day.
Thistlethwaite Falls On Sunday, we woke up early and enjoyed a satisfying breakfast at the Hampton Inn, then headed to our first destination of the day, Thistlethwaite Falls. I was really excited to experience this with my family. We parked right across the entrance of Springwood Park and walked a short distance to the entrance of Thistlethwaite Falls. As soon as we saw the top of it, the boys started running. There's a looking area at the top of the falls where we decided to snap a few family photos. Then, we walked down a few dirt/wood steps to the bottom of the falls to take it all in. We were all captivated by the beauty of this rock formation. I highly recommend this destination. It's hard to imagine how beautiful it is until you see it.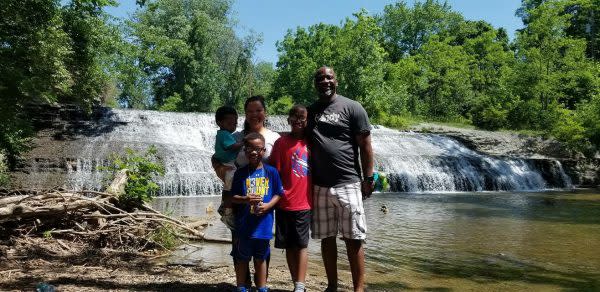 Model T Ford Museum Our next destination was only a few miles away, the Model T Ford Museum. At first, we thought the museum was just one building, but we quickly found out that two buildings across the street were a part of the museum as well. It was really cool to see so many different versions of the Model T Ford, "The car that put the world on wheels." We were pleasantly surprised when we were given the opportunity to ride in an old Model T Ford. I think it was hard for our boys to imagine the days when cars didn't have windows, radios or air conditioning. Thankfully, it was a gorgeous day. The tour of this museum was fabulous. We all learned a lot and the memory of riding through town in this old Model T Ford will last forever.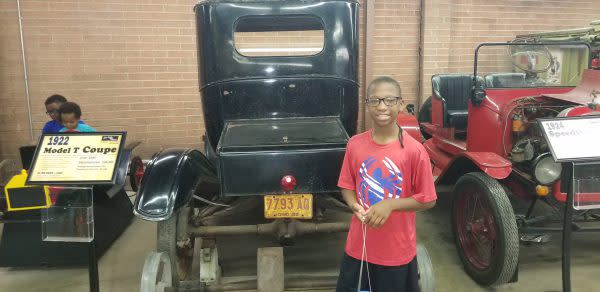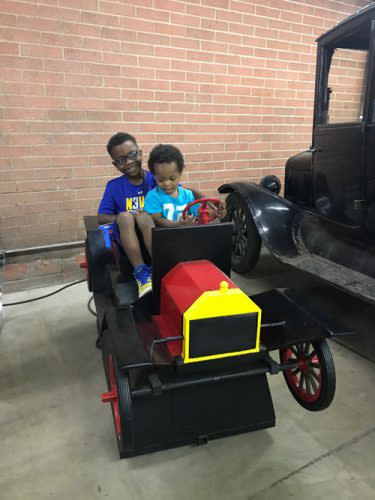 Galo's Italian Grill For lunch we picked an Italian restaurant called Galo's Italian Grill. The interior design of this restaurant was breath-taking. We felt like we were transported to Italy when we walked through the door. We were pleasantly surprised to see a menu with a nice selection of Italian foods and non-Italian foods. Our boys can definitely be picky eaters at times. Everyone was able to find something they wanted on the menu from pizza to chicken fingers to shrimp scampi. We all enjoyed our meals. And we even had room for dessert. We tried their cheesecake and cannoli's and they both were so good. I would recommend both.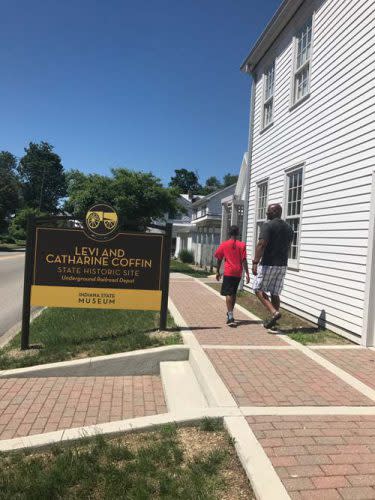 Levi & Catharine Coffin House Our second to last destination was definitely a moving one for our entire family. We had the wonderful opportunity to visit the Levi & Catharine Coffin House, also known as the Grand Central Station of the Underground Railroad. I'll tell you that just being in the Coffin house made me emotional. I'd recommend taking part in the tour that's offered several times a day. We learned a lot about the Quaker couple while touring the house. It's hard to imagine more than 1,000 slaves journeyed their as they sought their freedom. The interpretive center was very interesting as well. There were quite a few interactives. I remember our oldest son trying to lift a bale of hay. I think he was shocked to see how much it weighed. Although the visit to the Coffin house was emotional and brought on thoughts of a terrible time in this country's history. Mike and I want our boys to understand this country's history and what black people had to go through during that time. While there is a lot of tragedy during that time, there are also stories of triumph and selflessness. There were people that were willing to risk their lives to help slaves. It's a powerful true story that I would recommend everyone, no matter your race to experience.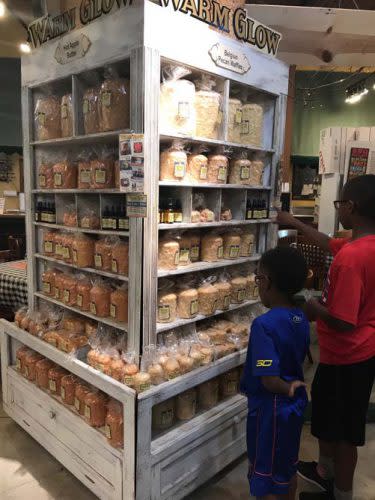 Warm Glow Candle Company We decided to end our trip at the Warm Glow Candle Company. You definitely know you've arrived when you see the world's largest candle sitting within the roof of the building right off of I-70. As soon as you walk through the door expect to be hit with the wonderful aroma of an assortment of lumpy and bumpy candles. The boys and I decided on the Belgian Pecan Waffle scent. Yes, the smell will probably make you hungry. And, we also snagged our free chocolate-scented votive candle. Richmond has a Chocolate Trail Passport with quite a few stops on the trail. Unfortunately, we weren't able to do most of them, but that's why we're already looking at when we can come back and experience more of what Richmond has to offer. So, if you're looking for a great destination to take your family in the Hoosier state. We highly recommend Richmond, Indiana.