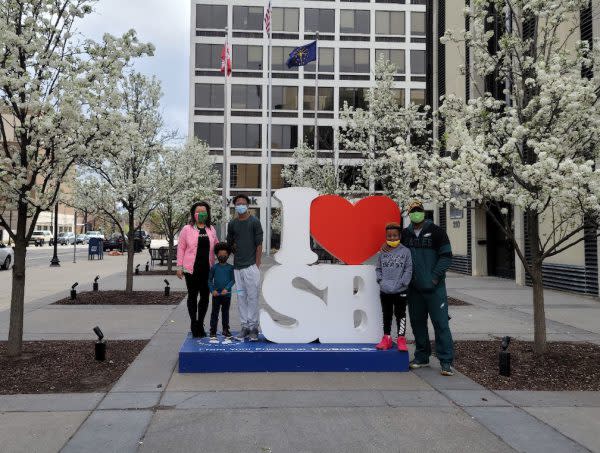 Have you been considering traveling again? If you are, you are not alone. It had been a year and a half since my family had been on an overnight stay when we decided to give it a try again. I worked with Visit South Bend to plan a weekend getaway during our boys' spring break. We really needed to physically get away from our house, the everyday grind and experience something new.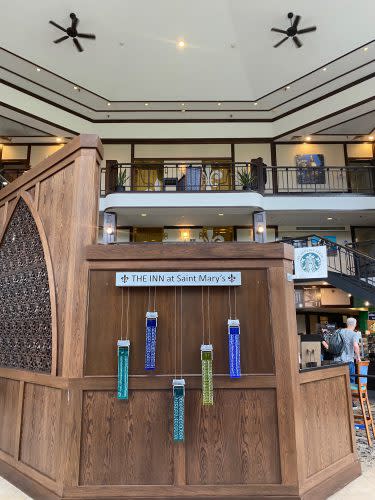 The Inn at St. Mary's
The first thing we did when we arrived in South Bend, Indiana was check in to our hotel. It's hard to pack light for five people, so it's important to get all our stuff out of the car so we can be more comfortable and actually see out of the back window. The Inn at St. Mary's is a cute boutique hotel located on the St. Mary's College campus. It's also just two miles away from the University of Notre Dame. We loved our suite which included a family sitting area with a big screen TV, plus two bed rooms, one contained two twin size beds which made our boys feel home away from home and another room with a king size bed for my hubby and I. There was also a spacious bathroom with an oversized shower. I think it is important to note, because I love coffee that there is a Starbucks inside the hotel located on the first floor. Plus, the hotel offers complimentary breakfast, which is always a nice way to start your day.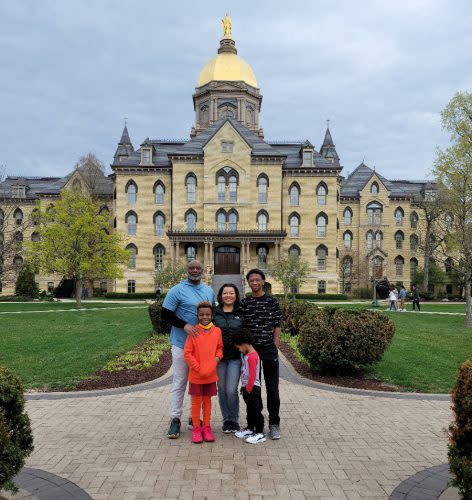 University of Notre Dame
Our first stop during our trip has been on my bucket list for some time now, the University of Notre Dame. My former co-worker is a huge fan and attended football games their regularly. Of course, I've seen the games on TV along with glimpses of the campus, but nothing I saw on TV or heard from my co-worker could really explain how beautiful the campus really is in person. Unfortunately, the university is not offering guided tours due to the pandemic, but you can do a self-guided tour. We decided to stay in our car while touring most of the campus, but we did decide to get out and see the Golden Dome which was absolutely breathtaking. Our oldest son will be a freshman in high school next year and I know he is already thinking about where he would want to attend undergraduate school. I love that he along with our two younger sons were able to see what an iconic university/campus looks like. I have no doubt that hard work can open so many doors for them.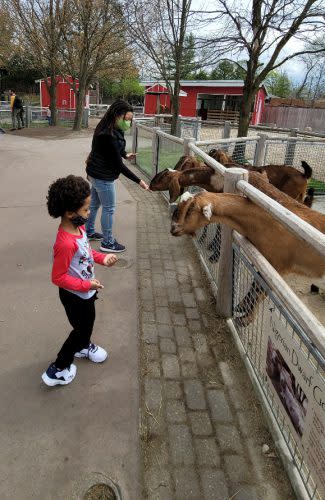 Potawatomi Zoo
Another must-see whenever possible is a visit to the local zoo. When I saw that South Bend is home to the oldest zoo in the state, I knew a visit there had to be on our to do list. Did you know? Only 20-25 zoos in the country have okapi, an endangered relative of the giraffe. I remember seeing this animal and thinking how beautiful it was and that I'd never seen one before. The Potawatomi Zoo is home to more than 500 animals. We tried to see as many of them as we could and really enjoyed feeding the goats and taking a ride on the train, which showed us a lot of the areas we weren't able to walk to. Masks are required for anyone 8 years old and over and social distancing is recommended inside and outside.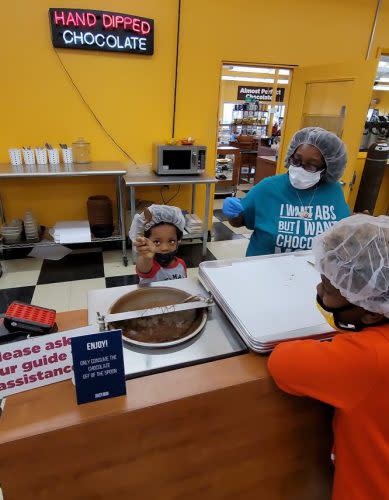 South Bend Chocolate Factory + Museum
As we headed to our third stop it felt like we couldn't get their fast enough. The boys couldn't wait to get to the South Bend Chocolate Factory. I mean who doesn't love chocolate. Plus, the golden tickets they give you for the tour really makes you feel like you've been invited by Willy Wonka himself. I love that movie so much!!! Our tour guide, Carmela was super friendly and really made us feel at home. We all loved learning about where chocolate comes from. Did you know? It takes a cacao bean 8 years to mature. The process just to get to the point you can make chocolate is intense. The best part of the tour hands down is your choice of one of the freshly made chocolates at the factory. Following the factory tour and a look at the Chocolate Museum, your golden ticket gets you 10% off your purchase in the store. My favorite candy is the AMAZING milk chocolate toffee squares. OMG!!! The boys loved the chocolate covered Oreos! Those did look really good too!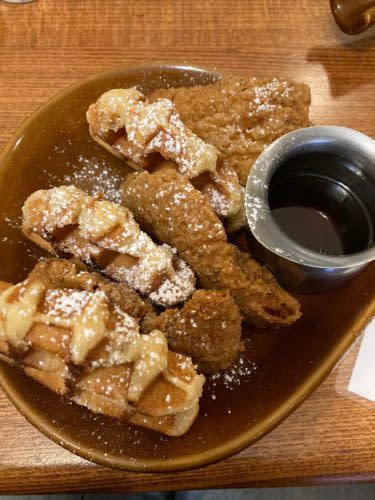 PEGGS in the heart of downtown South Bend
For a late lunch we headed to PEGGS, which offers breakfast, brunch, or lunch. I don't know about you, but I can eat breakfast any time of the day. And apparently my family felt the same way. We all ordered the chicken and waffles on the menu and they did not disappoint. We all walked out full and ready to head to our next destination.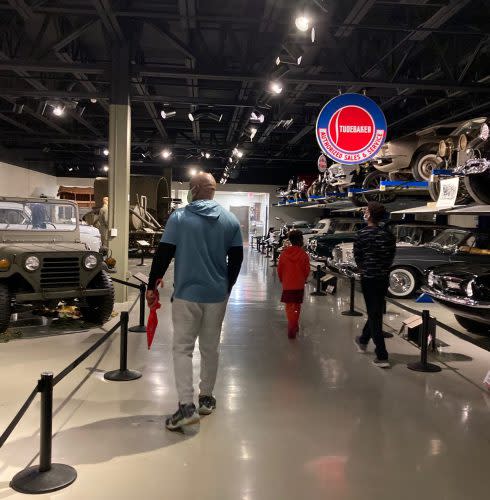 Studebaker National Museum
I love seeing history through our sons' eyes. They were absolutely amazed at what people used for transportation 150 years ago. The Studebaker National Museum does a great job of showing you the humble beginnings of the Studebaker Corporation, as well as its many years of innovation and impeccable design to become known around the world for its iconic automobiles. The museum is also home to the largest Presidential Carriage collection in the country. It was moving to see the carriage Abraham Lincoln rode to Ford's Theatre the night of his assassination. Visitors are required to wear mask and social distance while inside the museum.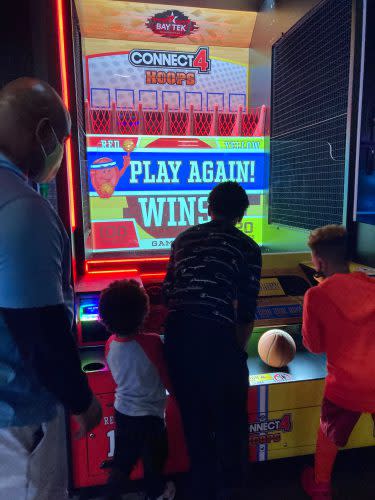 Generations Adventureplex
We ended our first full day in The Bend at Generations Adventureplex. I'll be honest, we had not been at an amusement attraction since the pandemic hit. I really appreciate that they pride themselves in having something to offer every generation something fun to do. We decided to play laser tag since Mike, Kaleb and I had never done it before. We all had a blast! You can also choose from bowling, axe throwing, bocce ball, corn hole and the arcade. The boys decided to spend the rest of their time playing in the arcade. We all wore masks, practiced social distancing, and used hand sanitizer to protect ourselves.
After a long day on the go, we headed back to the hotel and later in the evening we decided to go to the pool. I think it is important to note that the hotel only allowed one family at a time in the pool at 30-minute intervals. It was cool to have the pool to yourself because that really doesn't happen most of the time, but the short time limit was an adjustment.
Chicory Cafe
The next morning, we woke up and enjoyed breakfast at a New Orleans inspired café called the Chicory Café in the heart of downtown South Bend. We were looking for something quick and delicious and this café fit the bill. There were so many yummy options on the menu, one item we all enjoyed was the beignets. And I really loved the lavender and honey latte. It was sooo good.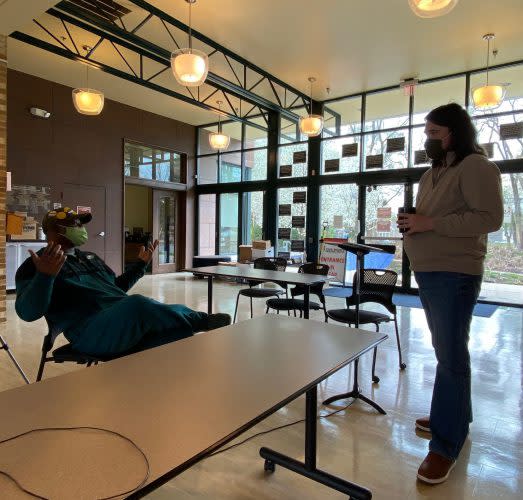 Civil Rights Heritage Center
After breakfast we headed to the Civil Rights Heritage Center. Mike and I are intentional about teaching our boys about the history of black people in America. The Civil Rights Heritage Center used to be the home of a segregated community pool. Today, it is an active learning center. A safe place to explore civil rights struggles in the past and the journey to the present. 
We really enjoyed talking with the assistant director and curator, George Garner, about the history of the center, as well as our hopes for a better future. No more than 15 people are allowed in the building at one time and masks are required.
Our last stop brought us full circle to where we began, the University of Notre Dame. My hubby wanted a better glimpse at the stadium and to be honest I think we all just wanted to take in the beauty of the campus one more time. This time we saw the Hammes Notre Dame Bookstore and we decided to go in and grab a souvenir. As you can imagine, the bookstore was huge and there was so much to choose from. We decided to grab some shirts, socks, footballs, and I love getting ornaments for our Christmas tree. It was a great way to end our trip in South Bend, Indiana.
(See all the fun from our getaway in The South Bend in Hyacinth's IG story highlight)
If you're looking for a fun place to get away this spring or summer in Indiana, the Bend should definitely be on your to do list. Plan your trip on Visit South Bend's website.