Fans of the hunky Hollywood heartthrob who tragically died at age 24 in a car crash in 1955 will be happy to know that this acting legend - James Dean - lives on in his hometown of Fairmount, Indiana. His first few years were spent in the town until his family relocated to Santa Monica, California when he was 5. His mother died unexpectedly when he was just 9 and he then returned to Fairmount where he was raised on a farm by his Uncle and Aunt, Marcus and Ortense Winslow.
The Winslow Farm remains largely as it was when James Dean lived there and a family member still owns the property. It's one of over a dozen sites within the area that make up the James Dean Trail and where you can stop and visit places that were significant in his life, snap a quick picture or pay your respects.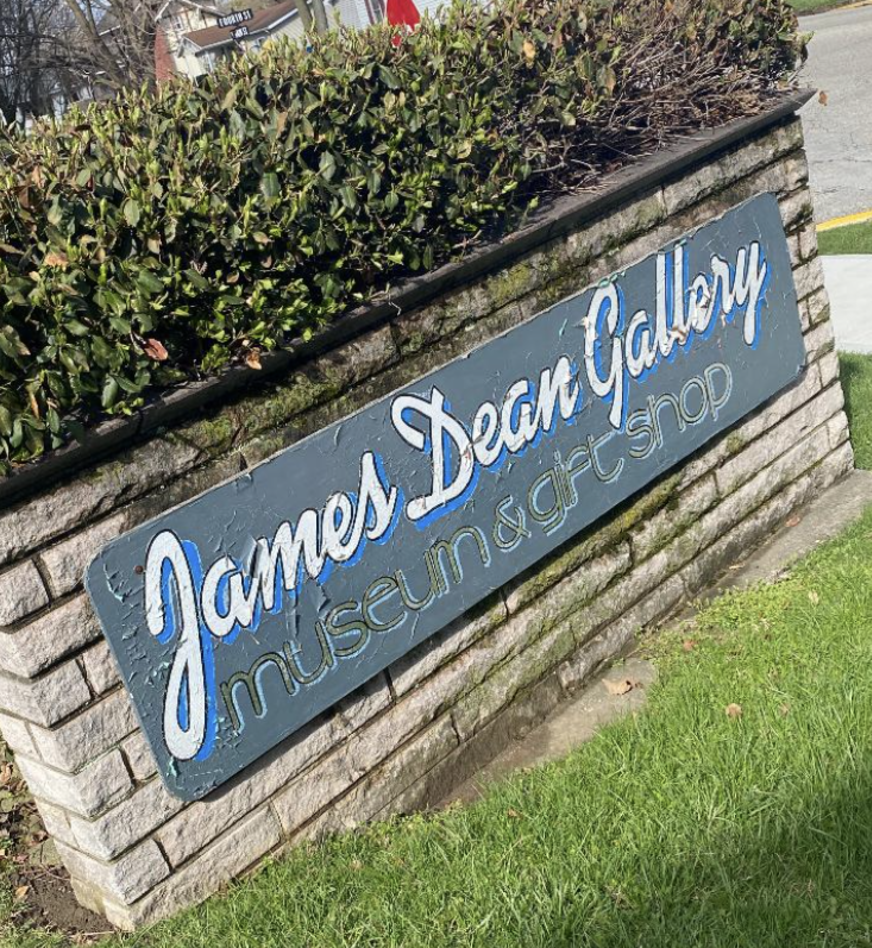 On a recent visit, I made my way to many of the stops along the trail, but one that I would recommend making your first stop as you get to town is the James Dean Gallery at 425 N. Main Street in Fairmount. It serves as a museum and gift shop dedicated to the beloved television and movie star.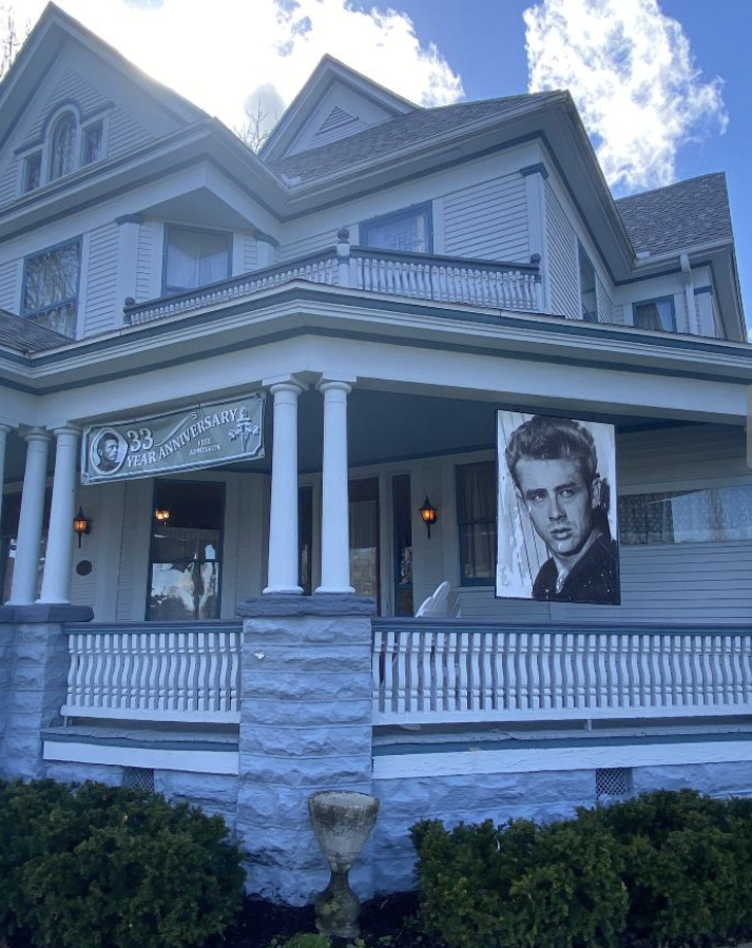 Even though you may pass other places on the trail on your way into town, the James Dean Gallery is your best starting point. Here you'll see the private collection of David Lehrer that includes rooms full of memorabilia, a gift shop, a little theatre that shows about 20 minutes of footage from Dean's television appearances playing in a loop, and a collectibles room.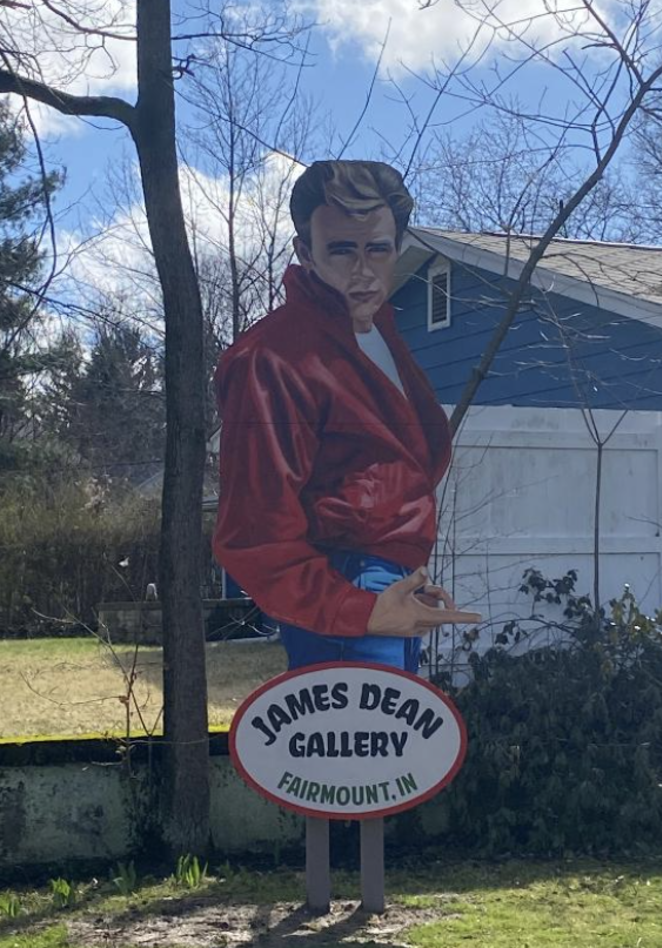 Housed in a large, historic home that was built for a local doctor in 1903, the gallery is open daily from 9 a.m.-6 p.m. year-round and there's a friendly, knowledgeable staff that can answer any questions you might have and fill you in on the city's big annual event - a festival honoring Dean held in late September around the time of his September 30 death. It includes a huge car show, street fair, bands playing 1950s music, a James Dean look-alike contest, and more. By starting at the James Dean Gallery you can get background on Dean's career and life and find out more about the area before you venture out on the trail.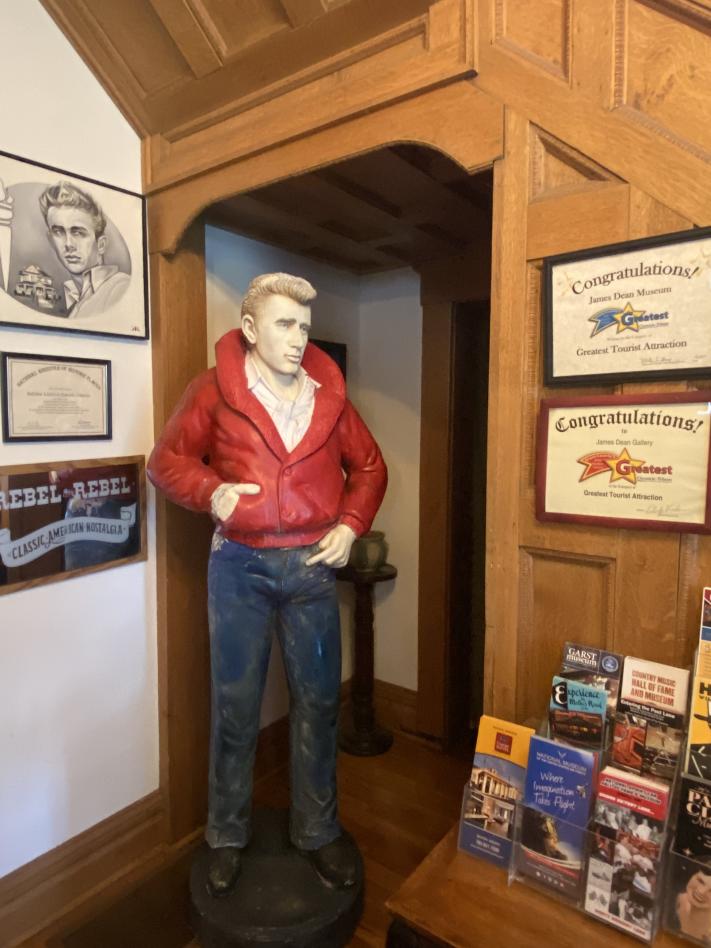 From there, you can see his boyhood home, the church he attended as a child, the site of his old high school, the motorcycle shop where he bought his first cycle, the church where his funeral was held, and his burial site. There's a bust on display on Main Street that is the twin of one that resides in California, made by artist Kenneth Kendall. A local park houses the actual stage removed from the old Fairmount High School before the demolition where Dean performed. Beside it is the municipal water tower that has an image of Dean painted on it.
For more information, visit jamesdeangallery.com.