A couple of years ago, I had planned to take my visiting brother & sister-in-law to The Restaurant at Walhill Farm in Batesville but they ate so much lunch that they decided to forego dinner. It's taken me a while but I finally had the chance to check it out. And…I loved it so now I'm really miffed at my brother for making me wait so long. The décor is quirky (just my style), the food is delish (fresh, made from scratch with farm-to-table & locally sourced ingredients, beautiful) and their story is as unusual as the décor. In addition to The Restaurant at Walhill Farm and the Barn Event Center, there's a new Inn with 4 rooms. Walhill Farm is easy to find – it's just about 2 miles from I74 exit 149 at 857 Six Pine Ranch Rd in Batesville.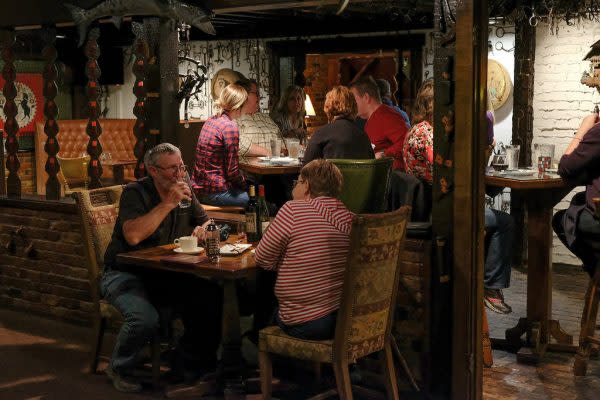 Good Friends, Good Food, Good Fun!*
In 1958, George Carl Hillenbrand lost his Greensburg Pony Farm to a fire. In 1960, he and his wife decided to rebuild the pony farm (complete with race track) just outside downtown Batesville where it remains today. The chicken coop became the Sulky Lodge and expanded to include The Hex Bar, The White Stallion Dining Room, The Be a Good Sport Billiards Room along with living spaces for all their family. That's why you'll see all these little nooks & hidden spots for dining and relaxing.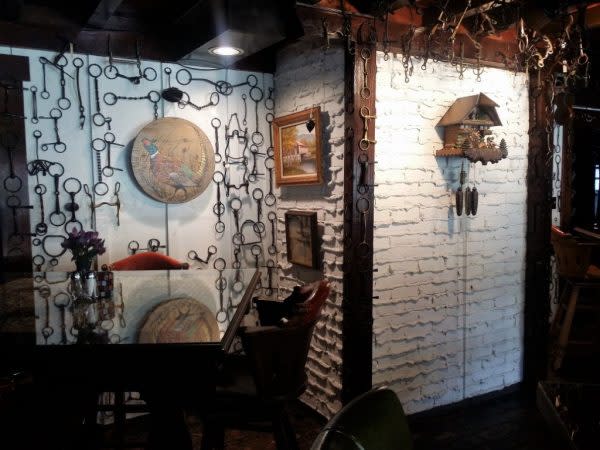 Homage to the Pony Farm!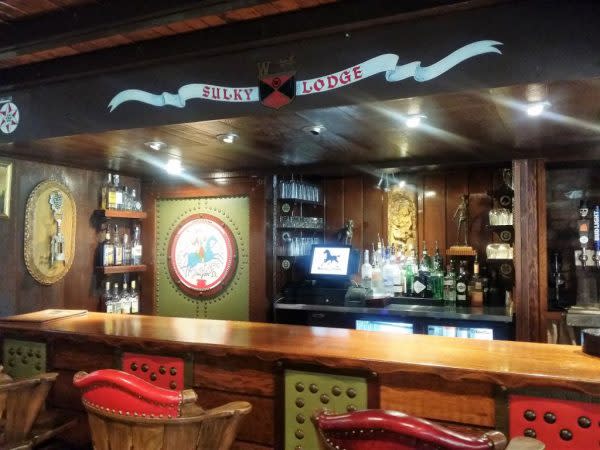 Cocktails, Anyone?
In 2004, George Carl's great nephew, Peter Hillenbrand, purchased the farm. In 2008, he converted the 12,000 sq ft horse barn into an event center, seating up to 700 people. In 2012, Pete started a restaurant in the Sulky Lodge which is now The Restaurant at Walhill Farm and in 2013, he purchased the adjoining farm expanding Walhill Farm to 250 acres. So what do they do with all that acreage? They grow their own produce, pasture raise Berkshire pigs, raise free range chickens and are building a herd of Black Angus cattle.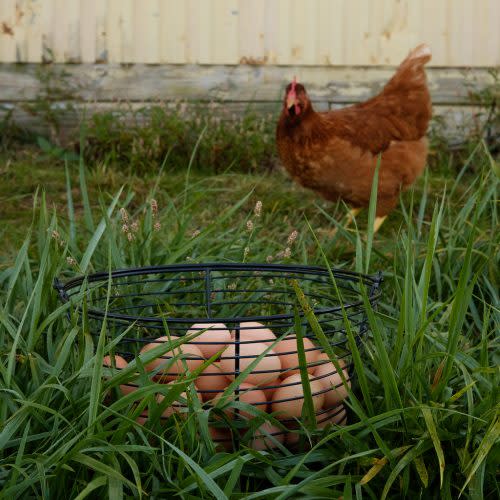 Fresh Eggs*
Home Grown*
The Restaurant at Walhill Farm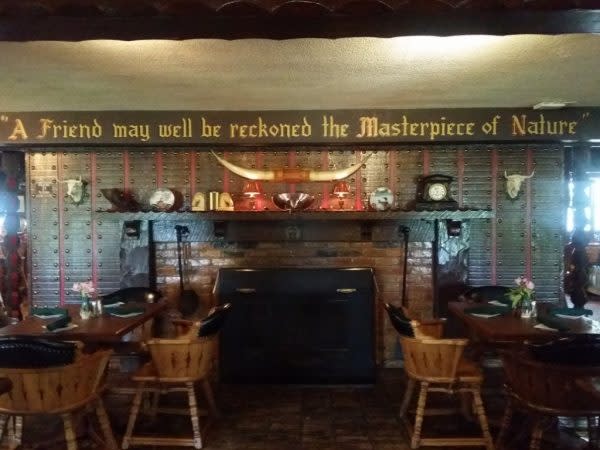 The Dining Room
First, they make their own bacon, use their own eggs, bake their own breads, make their sausage and cured meats (They have a Sausage House!), grow their own fruits, veggies and herbs, raise their own pork and hand cut the meats… Most of the items on the menu are grown sustainably on the farm or are sourced from local providers and prepared from scratch.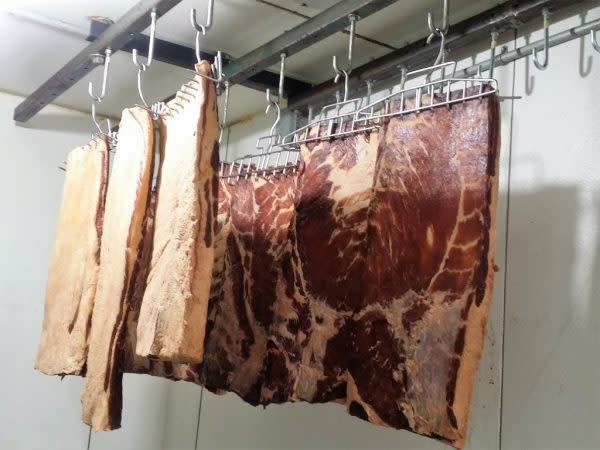 Bacon!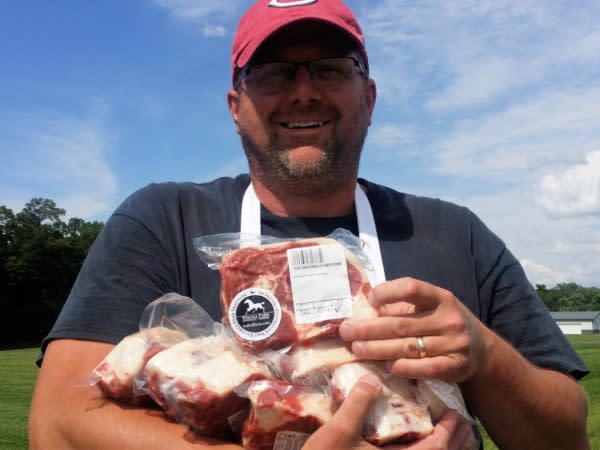 Hand Cut Meats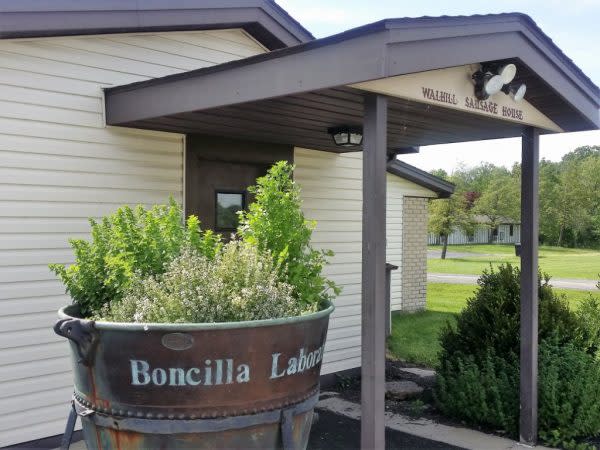 The Sausage House
The menu features fresh soups, salads, starters, sandwiches, entrees, sides and desserts. They offer a selection of micro brews, American wines and cocktails. The Cheese and Charcouterie platter was a huge hit – cured meats, local cheeses, pickled peppers, Blue Moon Pickles, coarse mustard, caramelized walnuts and assorted crackers. I could eat this everyday!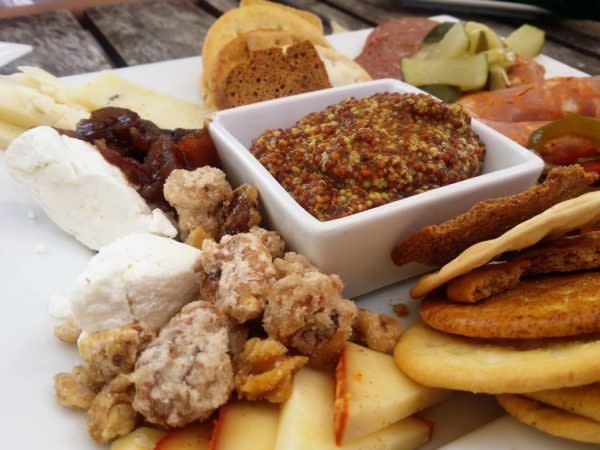 Love This!
I tried the Walhill Root Cellar Salad with mixed greens, carrots, red beets, kohlrabi, blue cheese and candied walnuts – yummy. You can even get half portions of the salads.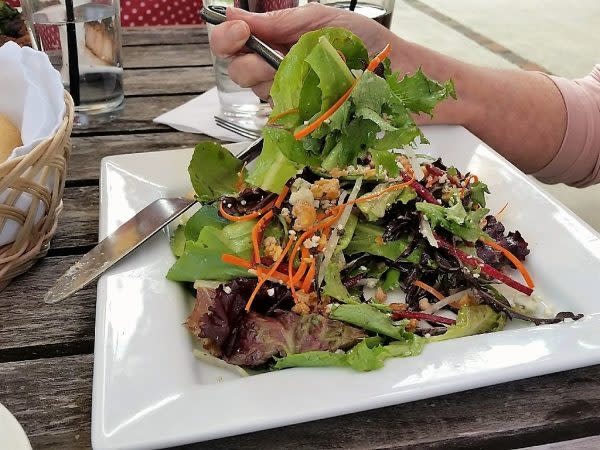 Fresh & Yummy
You had better be hungry if you order the Berkshire Pork Chop – absolutely huge and delicious.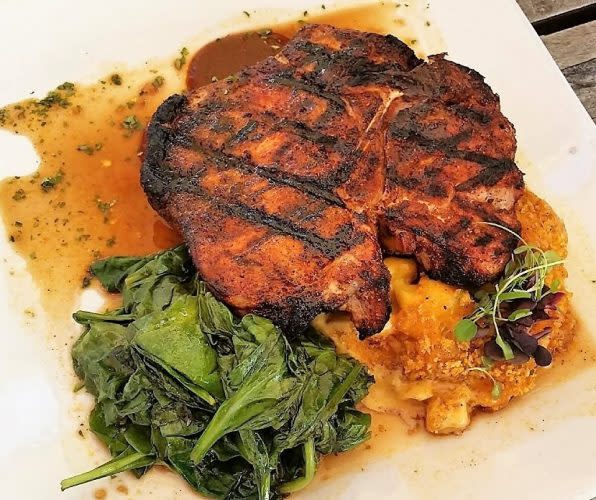 Big Enough to Share
Two of my friends ordered the Shrimp Scampi. They said they didn't think they could eat it all but I noticed there was nothing left on their plates. Oh, you also get a basket with house-made breads and yes, we ate that too.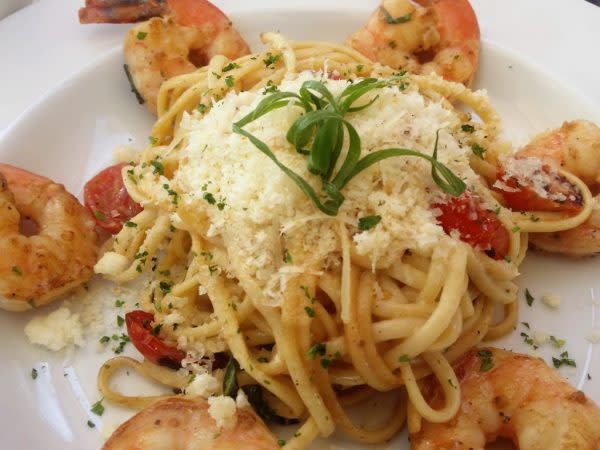 Shrimp Scampi
Just to be thorough, we ordered 3 desserts; Crème Brulee, Flourless Chocolate Torte and the seasonal dessert (fresh strawberries, chocolate, mousse, whipped cream). I'm kind of sorry we didn't try the Cranberry Walnut Bread Pudding.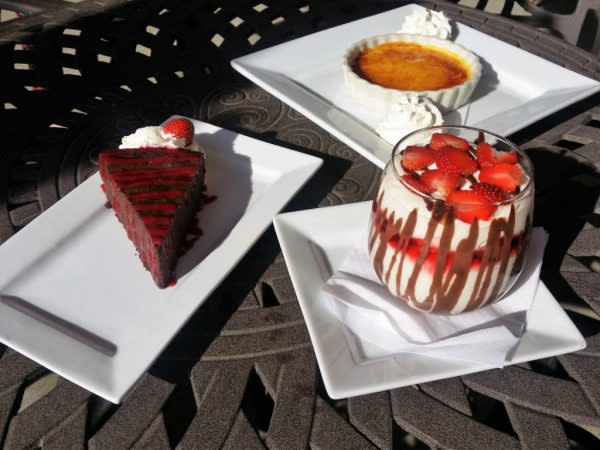 We Ate It All!
The Restaurant at Walhill Farm is open for dinner Tuesday-Thursday 4pm-9pm and Friday-Saturday 4pm-10pm.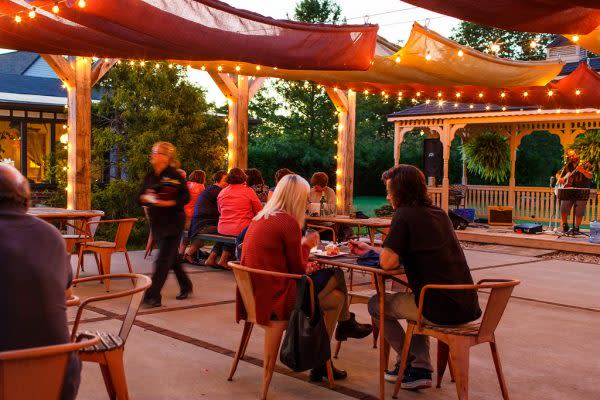 Live Music on Friday Night*
They offer live music on Friday nights from 6-9pm.
The Inn (formerly the pony farm's jockeys' quarters) Recently opened, the Inn has four rooms (all with king beds – 2 with an additional day bed, showers, cable tv, wifi) including The Hoosier Room which is ADA compliant. All the rooms are newly renovated and beautifully appointed with all the amenities you expect. There is a common Hospitality Room for a complimentary self serve light breakfast.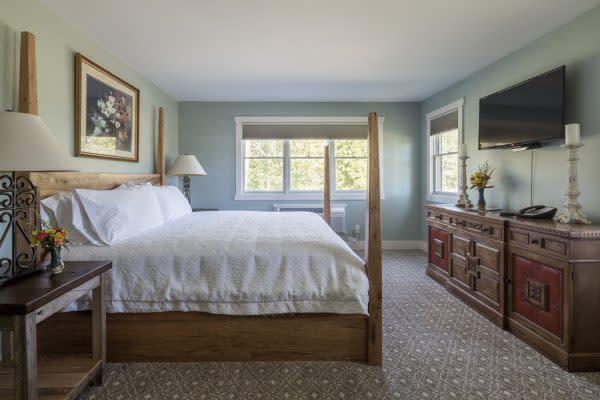 Cozy*
The Barn Event Center This 12,000 sq ft barn can accommodate up to 700 people – it is huge! It's a great place for weddings, corporate events, festivals, concerts and more. It even has a bride's dressing area, the Blacksmith's Pub, a staging/prep kitchen and plenty of restrooms.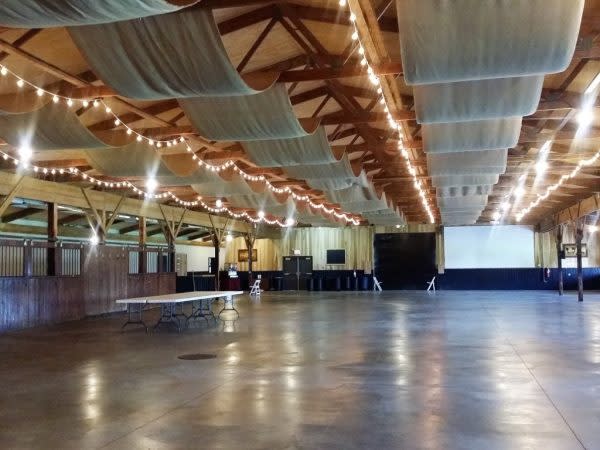 Barn Event Center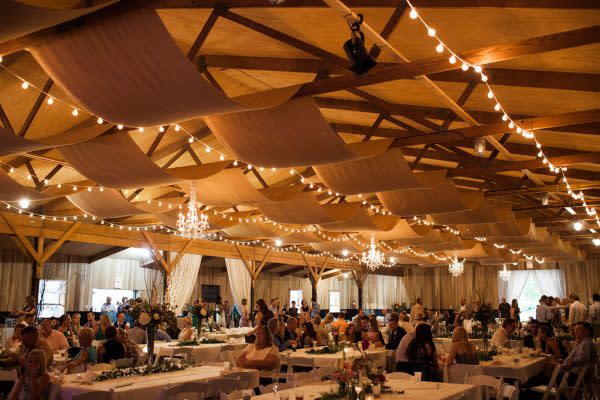 Beautiful Venue*
On July 28 & 29, 2017, Walhill Farms will host their annual Bacon Blues & Brew, music and arts festival. Free music on Friday night; free music, art, entertainment and a classic car show all day on Saturday and Music in The Barn on Saturday night for just $25.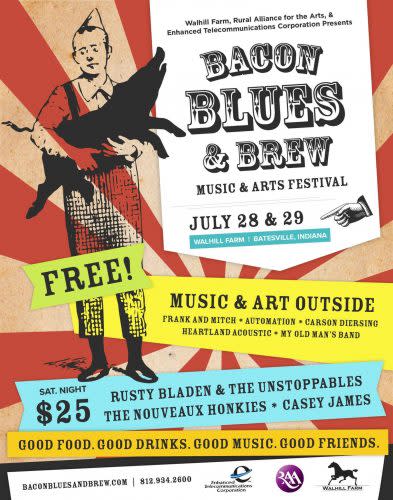 Bacon Blues & Brew!
*photo courtesy of Walhill Farm
Check out more farm-to-table dining  in Roanoke and Converse.