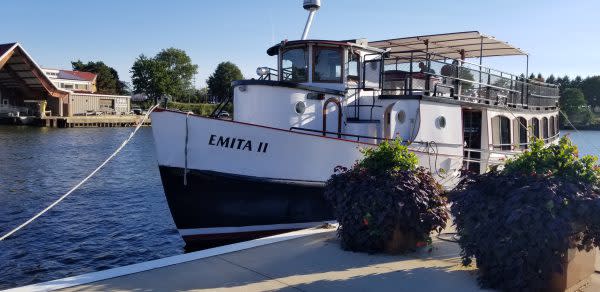 My family recently hit the road to experience a beautiful area of the Hoosier State called the South Shore. The area along Lake Michigan in Northern Indiana is the perfect place to find an adventure, enjoy some delicious food and experience the arts.
Rucker Family zip lining adventures.
Edge Adventures NW Indiana - Deep River in Crown Point 
Our first stop, Edge Adventures NW Indiana - Deep River in Crown Point, Indiana. Although I've gone zip lining before, this experience took zip lining to another level for me. You can expect to literally be taken to the edge of adventure while zip lining among the treetops.
After signing-in, we were instructed on how to put on our gear correctly. Then, we were led to a practice zip line area that was close to the ground. The trainer showed us how to maneuver our clips from zip line to zip line, as well as how to disconnect from a zip line. For me this was not easy, but I definitely need to work on my arm strength. My oldest son, Jayden, didn't have a problem at all moving from zip line to zip line. I know for a fact that he had a blast and completed the most zip line obstacles out of all of us. My husband, Mike, and our middle son, Chase, teamed up with each other and were able to do a lot more zip lines than I expected. My husband is deathly afraid of roller coasters and I thought heights, but he was able to battle his fear and complete several zip line obstacles. I spent the majority of my time with Kaleb, our 2-year-old, who was to young to participate. However, there are easier obstacles made especially for younger children, but a child must be at least 4-years-old to participate. Kaleb and I had a blast cheering our family along. There are two other locations; one in Noblesville and another in South Bend. Book your adventure today.
El Taco Real in Hammond
After working up an appetite, we headed to one of the best Mexican restaurants in the area for dinner. El Taco Real, a family owned restaurant since 1974 in Hammond, Indiana. We met our cousins and my sister and nephew from the Chicago area at the restaurant. They arrived a short time before us and told us the wait would be about 15 more minutes. It seemed like the time passed quickly because we were seated before we knew it.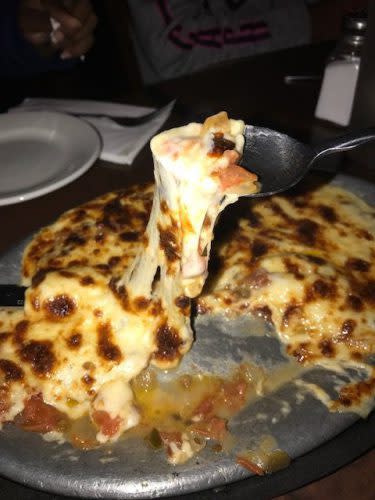 Queso Fundido
Our waitress brought us some fresh salsa and chips and we ordered the Queso Fundido, which has sauteed onions, peppers, tomatoes and spices with bubbly melted Chihuahua cheese on top. When the waitress sat it down on our table, I couldn't wait to dig in. And, it didn't disappoint me. It was cheesy goodness. I also ordered a frozen strawberry margarita with two of my cousins. They arrived just a little bit before dinner and we took a moment to toast to spending time with family. For dinner, I ordered two cheese enchiladas with rice and beans. Our boys ordered chicken and cheese quesadillas and Mike ordered two beef enchiladas with rice and beans. Everything was fresh and delicious. I would definitely come back. 
Home2 Suites by Hilton in Merrillville
After dinner, we headed to our hotel room for the night. We stayed at the Home2 Suites by Hilton in Merrillville, Indiana. As we pulled up to the hotel, I could see a fire pit going with guests sitting around it. I had never seen that before and I knew this hotel would be different than others that we've stayed in.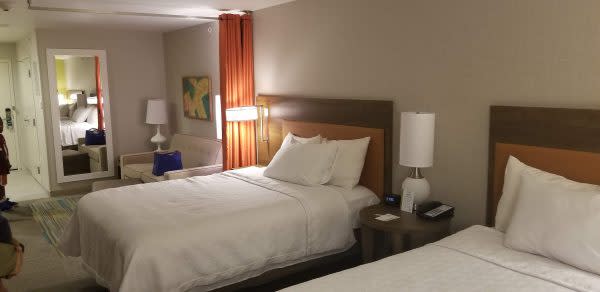 When we walked in I noticed that coffee, tea and hot chocolate are available 24 hours a day. I'm always excited to see this, because I love coffee and can drink it at any hour of the day.
We checked in and took the elevator to our room. We were pleasantly surprised to see a very modern room. It included a full size refrigerator, microwave and dishwasher along with real dishes, cups and silverware. There were two queen beds, a sofa bed, a nice wall desk unit and a big flat screen. The hotel also had a pool, workout room and business center, as well as a complimentary breakfast. 
The next day we woke up and enjoyed breakfast at the hotel, then headed to Michigan City, Indiana. When we arrived in Michigan City, we decided to find out where to board the boat we would be on later that afternoon. Since we've never been here before we wanted to make sure we knew where to find it. As we got closer to Lake Michigan, we could see signs telling us where the Harbor Country Adventures boat ride would be. So, we followed the signs, which led us right to a parking lot by the bridge. You could see all these beautiful homes/townhouses built right off the lake. We could also see hundreds of boats docked on the other side of the parking lot. After we located the loading spot, we drove around for a while to take in the sights.
Lubeznik Center for the Arts
Our first stop, the Lubeznik Center for the Arts. I was excited for my family to see the current exhibit on display, Warhol: Icon & Influence. I really love Warhol's work and enjoyed seeing his original works on display. On the second floor, we saw art work by several invited artists whose work was influenced by Warhol. I think our boys really enjoyed this part of the museum, which was very colorful and the artwork was extremely creative. Also, all the work on display except for Warhol's was available for purchase.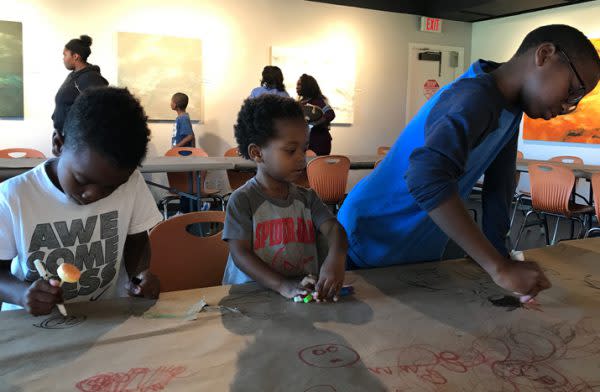 The Rucker boys create their own work of art.
The kids were also able to leave there own work of art on a piece of paper that was as big as the table in a lower level room. Admission to this museum is free, but donations are appreciated. Check the museum's website to find out the latest exhibits on display.
Harbor Country Adventures
And, our last stop, was a family favorite, a boat tour aboard the Emita II, which is owned by Harbor Country Adventures. We boarded the boat about 20 minutes before it was supposed to start and were able to grab a great seat on the second floor of the boat. It quickly filled up and we promptly set a sail at 3 p.m. The owner of the ship, Victor Tieri, welcomed everyone aboard the Emita II and began sharing history of the surrounding buildings as we pulled away.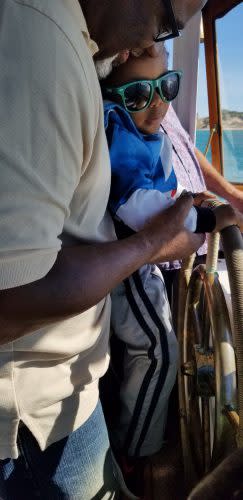 Mike and Kaleb steering the boat.
As the boat made its way out of the harbor, we could see all the boats docked nearby. There were too many to count. We could see people on the beach and walking down the shoreline to the lighthouse. We were told is was the only lighthouse in Indiana.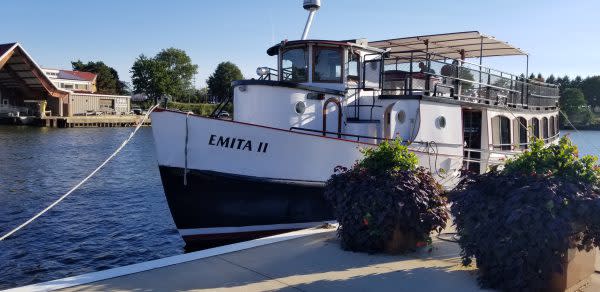 As we made our way down the lake, we could see the dunes, then some beautiful homes built right off the lake and within the hills. We all were mesmerized by the beauty. During the tour, the captain invited anyone that wanted to come up and steer the boat to do so. So, we all made sure we took advantage of that wonderful opportunity. I think Kaleb, our youngest, loved it the most. After about 30 minutes of riding down the coast, we turned around and began the trip back to the dock. Mike and I grabbed an adult beverage from the cute little bar on the first floor of the boat and water for the boys. We came prepared with a few snacks for them as well. We all enjoyed the ride back, which seemed to go too fast. The tour lasted about an hour and a half. For times and prices be sure to check their website.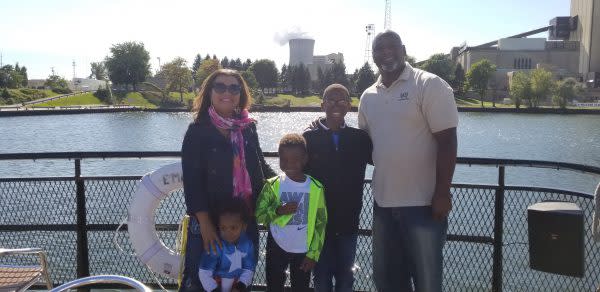 What a way to end our visit to the South Shore. We truly had a blast experiencing several of the must-see sights in the area, but there is so much more to see. For the latest happenings in the South Shore area visit their website. We're looking forward to coming back soon.