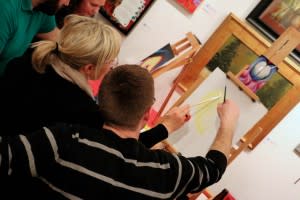 If the weather turns south (and it will!), head to the Nickel Plate Arts Campus in Noblesville for a little indoor therapy. That's art therapy.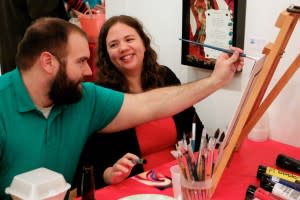 Beginning January 2, the Nickel Plate Arts campus will feature a month of displaying its latest exhibit that will feature an interactive art assemblage of emotional significance with a local art therapist. The exhibit is called 'The Healing Power of Art'.
The exhibit ends January 30. Local art therapist Gina Baird is leading the exhibit. For this year's exhibit Baird encourages visitors to bring a small item, such as charm, piece of fabric, copy of a photo, obituary, poems, that is symbolic to them as an item of courage and bravery. The donated items will be connected with those of other people's to create an item to promote emotional healing.
The Nickel Plate Arts Campus 'Healing Power of Art' exhibit is a repeat of an exhibit the gallery ran in 2015. It was such a success that the decision was made to do it annually.
Though 'The Healing Power of Art' project launched earlier this month, there is a reception on Friday, January 8, from 6-9 pm at Nickel Plate Arts Campus. The open house is free and all ages are invited to participate throughout the month.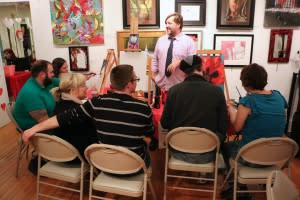 Nickel Plate Arts is a non-profit arts organization that is fairly new as it just began in 2012. It is located in two historic homes situated next to each other in downtown Noblesville (I love old buildings!).
The main floors contain galleries and main exhibits, while upper levels feature the work of different artists each month. The program supports art of all forms from six Hamilton County communities—Fishers, Noblesville, Cicero, Arcadia, Atlanta, Tipton.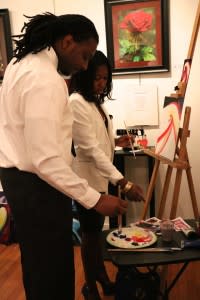 The Nickel Plate Arts Campus is already planning for another big event for February with Valentine's Day. As the Big Day falls on a Sunday, the gallery is planning for a full weekend of events to celebrate love!
Couples are invited to attend that weekend. In addition to romantic couples, others such as parents with children, two girlfriends, and everyone interested in art can attend on February 12-13 for hands-on activities. Depending on the amount of artwork groups want to create, costs could range from $10-$50 for the evening.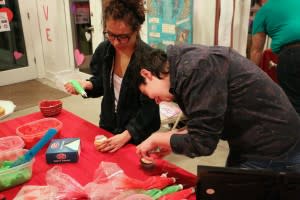 On Sun, February 14 from 1-5pm the campus is featuring a free art day for families! Online reservations are encouraged.
Nickel Plate Arts Campus
107 South 8th Street, Noblesville, IN 46060
Admission: FREE
317-452-3690