On a short getaway recently to the South Bend area, we were getting ready to head home and decided to have one last meal before leaving town. It was storming on and off that day, and we figured rather than grab something quick, we'd have a leisurely dinner and hopefully sit out the storms while we had a good meal. What we discovered in South Bend's East Bank was a meal we won't soon forget.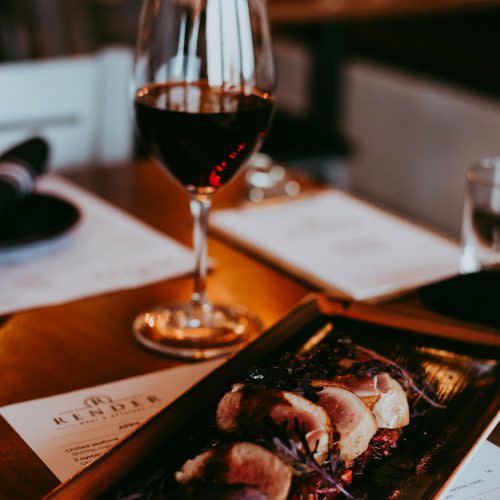 A little online searching led me to Render Meat & Potatoes. The food images on social media looked good, and we made an online reservation to go right when they opened for dinner at 5 p.m. This area of South Bend's East Bank neighborhood had several dining options. I immediately loved the vibe that made me feel like I was at a trendy spot in Chicago's River North.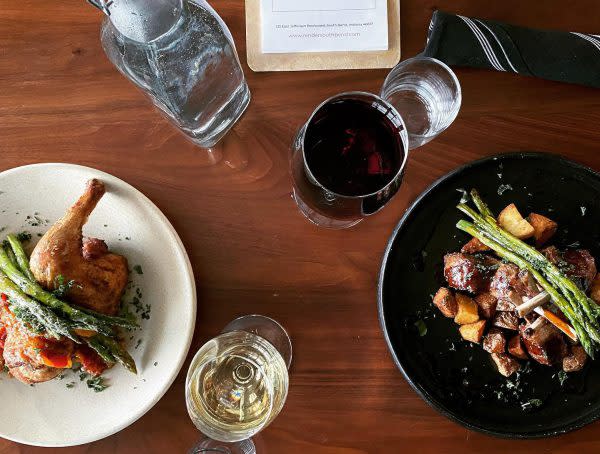 The decor is modern and upscale with very cool artwork, which an employee told me is painted by a friend of one of the owners and rotated regularly. When we were there, the paintings were all portraits of well-known chefs, among them Anthony Bourdain, Stephanie Izard, and Grant Achatz. It was fun to enjoy such a good meal under the eye of such legendary food artisans - even if they were simply on canvas.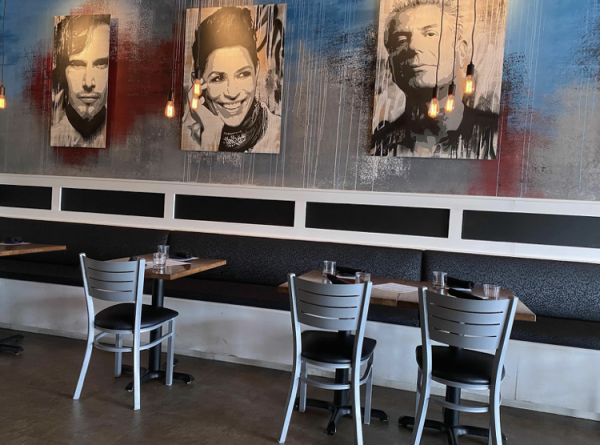 My husband had his favorite classic cocktail to start with, an Old Fashioned, which he gave a thumbs up and was just pretty for the eyes to behold. I learned that the menu changes weekly and so you may have a different array of options on each visit. I had looked online before the visit and planned out what I would order, but the actual menu that evening was abbreviated, so I had to switch gears.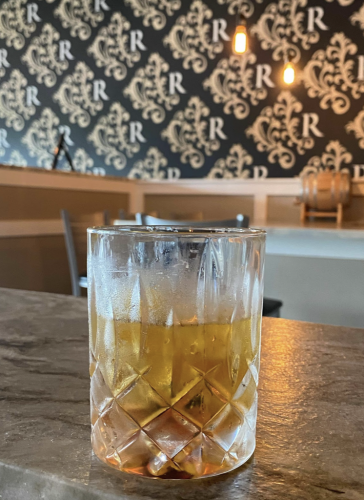 I ended up going with what turned out to be one of the most amazing salads I've ever had. It was a Ceasar Salad like none I had ever had before. The lettuce was slightly warmed and topped with a perfectly charred chicken breast that was so tender and crunchy croutons. It was set atop some perfect parmesan crisps and some creamy dressing. I would make the drive back there to have this salad again.
Hubby went for a steak - the New York Strip along with sautéed vegetables. The steak was so well-seasoned and cooked to a perfect medium with a lovely crust to it. I tried a few bites, and it was about as perfect as a steak could get. We split the veggies - a blend of fresh broccoli, cauliflower, and carrots - that, again, were cooked to perfection.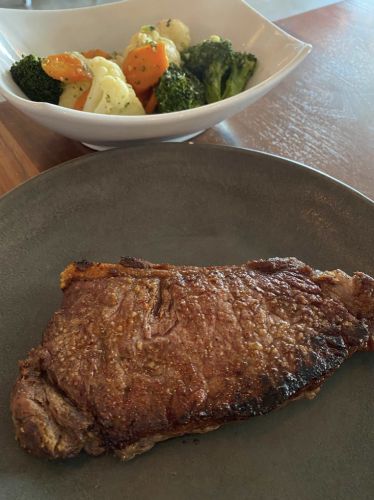 I am so glad we made time to visit this spot, and I was surprised to have never heard of it before. I've added it to my list of favorite restaurants in the Hoosier State, and it's one you should add to your dining bucket list. Don't have one? Start one now with Render Meat & Potatoes at the top.