Seriously, no one has done this one? I just put my head on the chopping block by declaring six of the best five hamburgers in Indianapolis (yes, you read that right) for anyone visiting Indianapolis during the month of May.
Yet, when I check the Indiana Insider site, I see none of my fellow bloggers have gone out on a limb to declare the best pizzas in Indianapolis yet.
1. Bazbeaux
Located in Broad Ripple, downtown on Mass Ave., and up in Carmel, Bazbeaux was one of the first pizza joints I became acquainted with when I started visiting Indianapolis 25 years ago. Whether it's their all-meat Colossus, the vegetarian Margherita, or even the seafood-based Neptune (crab, shrimp, pea pods, and black olives), these are some of the best pizzas you'll ever hoist to your lips. Even my least favorite pizzas on their menus beat some of the best pizzas in other joints.
While the prices are a little, well, pricey, this isn't your 30-minutes-or-less place. These are high-quality ingredients, many of them locally sourced (not the seafood, of course), and made with a gourmet flair. If there is one fancy-schmancy pizza joint in Indianapolis, this is it. But it's still pizza, so use your fingers.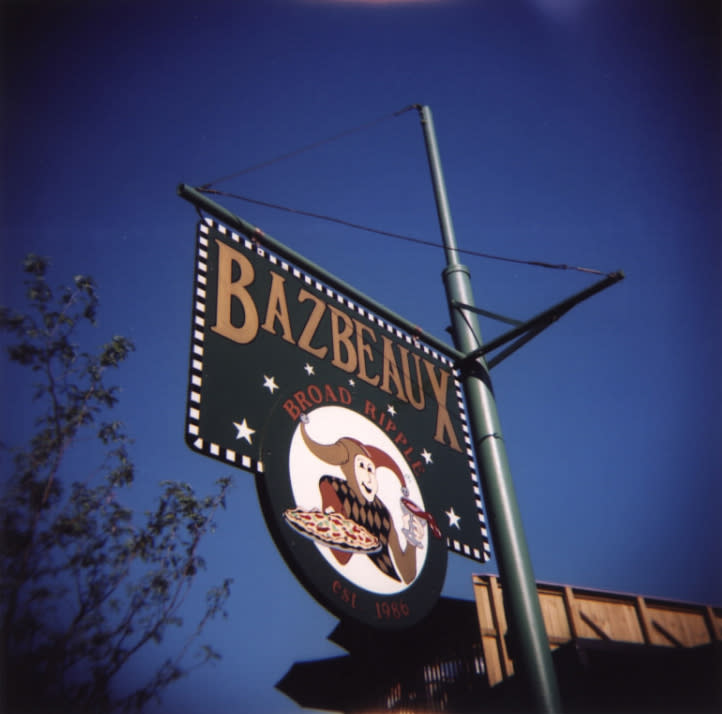 Bazbeaux Pizza in Broad Ripple
2. Jockamo
Located in Irvington, just a couple miles west of I-465 on Washington Street, Jockamo's came to the neighborhood almost five years ago, and it was an instant hit. Some of Bazbeaux's folks started the restaurant, so you know they do it right. My family's favorite is the Slaughterhouse-Five, the darkly-named pizza for Indianapolis' favorite son, Kurt Vonnegut, and his novel of the same name. This all-meat pizza is a must for anyone who's not a big fan of veggies on pizza. Plus, they try to locally source as many of their ingredients as possible.
These guys get really creative on their pizzas too. They have the Hangover Pizzas — Denver Omelette, Farmhouse, and Huevos Rancheros — as well as the vegetarian pizzas, and even shrimp or chicken pizzas. And if you've got gluten issues, they offer a gluten-free crust on 10" pizzas.
3. Arni's
I had a chance to visit Arni's before I ever visited the first one in Lafayette, Indiana. Pizza King fans will recognize the square cut and diced spicy pepperoni style of Arni's, mostly because that's where Pizza King got the idea (at least that's what the folks at Arni's tell me). The pizzas are thin, crunchy, and smothered in ingredients. The pepperoni has a spicy-but-sweetish taste to it, and tastes great with barbecue sauce instead of tomato sauce.
Arni's is on the northeast side of Indianapolis on 96th Street. Take Keystone north, and turn right on 96th. They're just down the way from Scotty's Brewhouse.
4. Thr3e Wise Men
Speaking of Scotty's Brewhouse, Scott Wise started his own micro-brewery in Broad Ripple, Thr3e Wise Men (note the number 3 in the name), and decided to make pizza to go with it. But Scott never does anything halfway, and he created one of my absolute favorite pizzas in the city.
It never fails: if you go to lunch with me, we're going to get the pepperoni and spicy sausage with an extra crispy crust, or you're not eating. This is cooked in an extra hot oven that, if you leave it in for a few extra minutes, is crunchy like a cracker. The pepperoni is at least two inches in size, and the chunks of sausage are big enough to choke you if you don't chew your food. And if you go, be sure to try one of Scotty's beers, or pick up some Triple XXX root beer, from right up there in West Lafayette.
5. Greek's Pizza
This is another personal favorite. I used to go to Greek's all the time when I was at Ball State University in the late 80s. Rumor has it that John Schnatter of Papa John's fame worked at Greek's for a while.
There are Greek's Pizzas in Fishers (take I-69 to exit 205, and turn west/left), Broad Ripple, near Greenwood on South Emerson, and now downtown on Pennsylvania Ave.
They just do basic pizza, but they do it very well. I introduced my wife to her first barbecue sauce pizza when we were dating in graduate school at Ball State — pepperoni, onion, and barbecue sauce instead of tomato sauce. And make sure you get the garlic butter crust.
Bonus: Pizza King
As a sentimental favorite, I have to include Pizza King. Yes, it's a chain, but it's a Hoosier chain. I grew up on Pizza King in Muncie, and was pleased to no end when they finally opened one up in Syracuse, Indiana when I lived there. There was one in Warsaw, about 25 minutes to the south, and I used to arrange with the delivery driver to meet me out at the county highway department for a delivery.
There are Pizza Kings all over the city and surrounding area. But don't let their wide-spreadedness fool you. This is good pizza, especially if you're throwing a party for five dozen of your closest friends at an Indianapolis 500 party. Get the Pepperoni Lovers; you won't regret it.
So what are your favorite pizzas? I know I left someone out, including a few of my other favorites. Leaving out a favorite pizza joint is almost worse than insulting someone's mother. Someone somewhere is going to have a strong and loud opinion one way or another.
So leave your (civil) choices in the comment section, and give me a suggestion of a new pizza place to try. I'm always up for a new pizza, so I'd love to hear your recommendations.
Photo credit: tstrayer76 (Flickr, Creative Commons)