When figuring out what to write this blog about, I asked my friend what she'd like to read. She told me to write about the one restaurant in Indianapolis that I would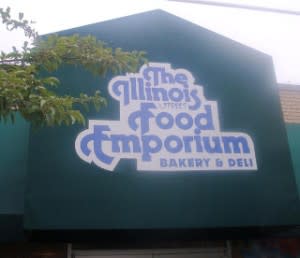 Photo Credit goes to http://indyrestaurantscene.blogspot.com/2010/08/illinois-street-food-emporium-revisit.html.
recommend if I could only give someone one place to go. Now, you should know that in my three years of living here I have become on of Indy's biggest fans. From the Hoosier Hospitality to the city's options of things to do no matter what the time, I love this city. So, picking one place to recommend was a struggle. But! I am a foodie at heart and if I could recommend only one place to go in the city for food, I would say go to The Illinois St. Food Emporium. This restaurant is my personal guilty pleasure and my secret getaway. When I need a place that feels warm and homey to eat delicious food, I head for the Illinois Food Emporium. It's a perfect place for studying and eating, eating a leisurely meal with friends or family, or a place for business lunches.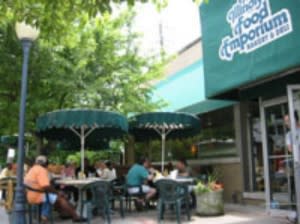 Photo Credit goes to TripAdvisor at http://www.tripadvisor.com/Restaurant_Review-g37209-d399606-Reviews-Illinois_Street_Food_Emporium-Indianapolis_Indiana.html.
Everything you order at the Illinois Food Emporium tastes as homemade as my mother's cooking. They also manage to have food that is remarkably healthy for as delicious as it tastes. With options ranging from grilled delights, sandwiches, salads, subs, croissant sandwiches, soups, macaroni and cheese, and quesadillas there is something for everyone at the Illinois Food Emporium. I am always tempted by the turkey and avocado croissant sandwich.
With the light, fluffy croissant bread and the perfect blend of avocado with turvey, bacon, and monteray jack cheese it is, in my opinion, the perfect sandwich.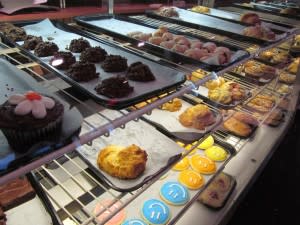 Photo Credit goes to indygrilledcheeseblog at https://indygrilledcheeseblog.wordpress.com/2012/07/02/the-illinoise-street-food-emporium/.
To finish off your meal, they offer an incredible, mouth watering assortment of pastries and desserts. They can do specialty cakes and cookies for events but I strongly recommend getting a dessert to go with your meal. My personal favorites are the creamy, gooey, giant rice crispy treats and the homemade warm chocolate chip cookies.
The Illinois Food Emporium also offers box lunches, carry out, and catering. So if you fall in love with the Illinois Food Emporium as much as I have, you can have them cater an event or have box lunches for the office.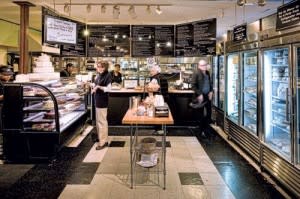 Photo Credit goes to Indianapolis Monthly at http://www.indianapolismonthly.com/
PhotoPages/Photo.aspx?PhotoID=809456.
The Illinois Food Emporium always has a warm happy glow that reminds me of home or Christmas. Either way, I love every visit.
The Illinois St. Food Emporium is open Monday and Saturday from 7:00 am to 4:00 pm and Tuesday through Friday 7:00 am to 7:30 pm. Check out their website for more information, directions, and take a look at all of their menus, including the dinner menu, dessert menu, holiday menu, and catering menu.