Bring your appetite on Foodie Friday, as 28 Indiana eateries will offer discounts on May 11 in celebration of Visit Indiana Week. From Artisan marshmallows, chocolates, olive oils and sausages to fine dining, barbecue, 50s diners and even ice cream, Foodie Friday will be a culinary celebration of the Hoosier State that everyone can enjoy. See all 28 Foodie Friday discounts below.
Find more of the 200+ Visit Indiana Week discounts!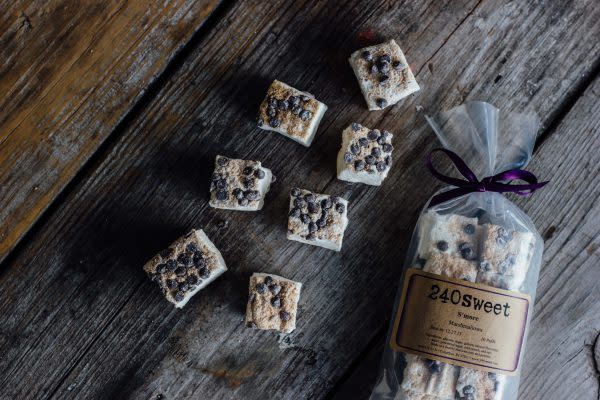 240sweet, Columbus Stop by our studio and stock up on gourmet marshmallows. Buy one bag and get one free. Offer valid in studio (not online). All of our marshmallows are hand-crafted by using natural ingredients to ensure the best taste for each flavor. We like to call them "little puffs of happiness"
The Barrelhouse on Market, Jeffersonville Enjoy 20% off any entree. We have several slider meals on our menu: The Barrelhouse Burgers, Philly Cheesesteak, Buffalo Chicken, Chicken Salad, BLT, and BBQ Chicken. We also have buffalo/BBQ wings and chicken tenders. All entrees are served with fries. Offer valid May 6 - May 12, 2018.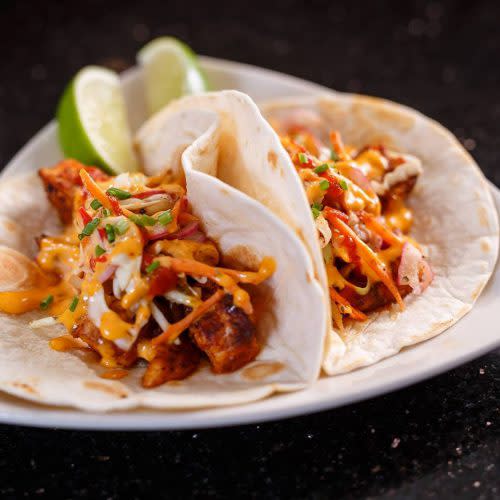 Bistro 933
Bistro 933, South Bend Buy two entrees and chose from a made from scratch dessert, a scrumptious appetizer, or a bottle of our house wine on Foodie Friday! Bistro 933 located in the Hilton Garden Inn on the campus of Saint Mary's College is a great place for a romantic dinner, to meet up with colleagues after work, or grab a great burger with the family.
Captain's House, Miller Lobster Rolls from Around the World Box Lunch for $15 per person. Captain's House Miller offers many types of breakfast, lunch, dinner , pastries, catering services and cooking classes.
Coody Brown's Lakeside Grill, Wolcottville Stop in Coody Brown's May 6-12 to get 50% off your appetizers from 11am - 4pm. Enjoy family dining and a full-service bar right on Witmer Lake. You'll enjoy the laid back atmosphere here at Coody Brown's Lakeside Grill.
Dewig Bros. Packing Co., Inc., Haubstadt Hello Foodie Friday Friends! Dewig's Famous Bierstube Bratwurst has been a best seller around the tri-state area, the state of Indiana, and all over the United States! This old world German recipe sausage is very tasty grilled or even boiled in beer. These quarter pound links are great for cook outs, parties, events or any other reason to gather! Save $25 on a 10-pound box and save $6 on a 3-pound box. Offer valid May 10 - 16, 2018.
Doc's Smokehouse and Craft Bar, Dyer Enjoy Doc's South Shore Sampler of ribs, brisket, pork, wings and turkey with chips and beans. 2 people for $30 on Foodie Friday. Doc's Smokehouse and Craft Bar uses only fresh and local ingredients. The only ingredients in their meats are smoke, spice and time. Handmade sides, a wide variety of craft beers on tap, more than 100 bourbon and whiskey choices, and their very own sauces bring the flavors of the South to the South Shore.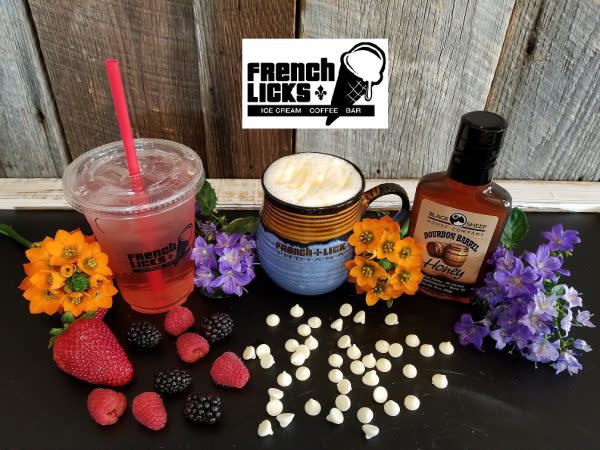 French Licks
French Licks, French Lick Bees Knees is an amazing latte drink that will have you savoring Spring and Summer all year long. Artisan Teas are gourmet blends that are simply divine to sip iced on a steamy summer night, or hot on a long winter evening, and serving the joy, are our passions. All of our teas are blended with as many local ingredients as possible, straight from the garden, farm, forest, and briar patch. Available Hot or Cold.  Save 50% during Visit Indiana Week, May 6 - 12.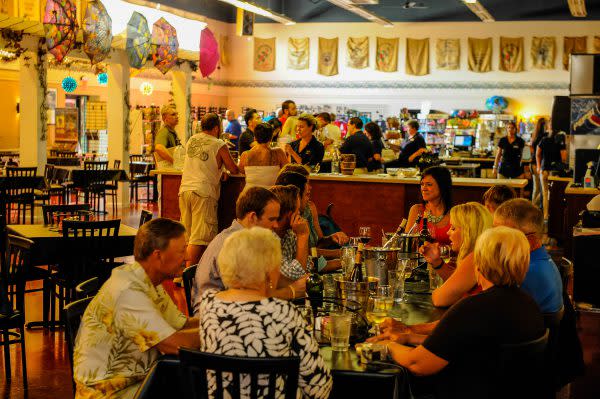 French Lick Winery
French Lick Winery, West Baden Springs Stop by the Vintage Cafe located inside French Lick Winery for the special Caprese Portabella.  Portabella mushroom stuffed with pesto, sun-dried tomatoes, fresh mozzarella all baked to perfection, then finished with a balsamic reduction.  While there you can purchase wine tastings, indulge in signature cocktails from Spirits of French Lick or browse the expansive gift shop.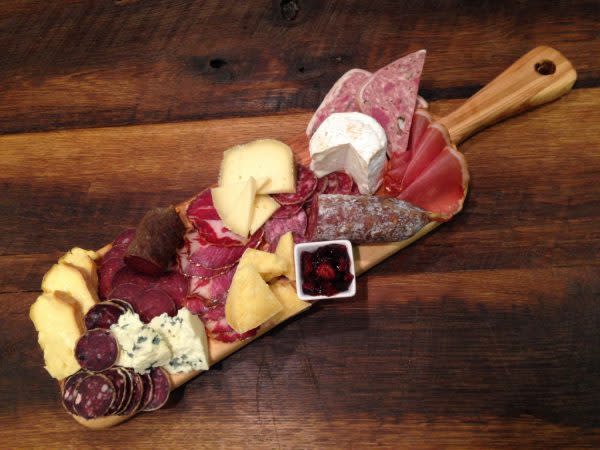 Goose the Market
Goose the Market, Indianapolis Goose the Market is your full-service butcher shop and gourmet market. With a craft beer and wine cellar, farmstead cheeses, local produce, baked goods, sandwiches, and more, Goose celebrates over ten years of serving the the best of the harvest from Indiana and beyond. Celebrate #FoodieFriday with 20% off Smoked Duck Pear Port Sausage, Mexican Chorizo, Smoked Kitchen Sink Sausage, and Circle City Poppy Seed Buns.
Hunter's Brewing, Chesterton 15% off food orders on Foodie Friday. Dine in only. Must mention Foodie Friday to get the discount. Located in Chesterton's South Calumet district, Hunter's Brewing offers flavorful small-batch brews in a wide variety of styles, along with house-made vegetarian food.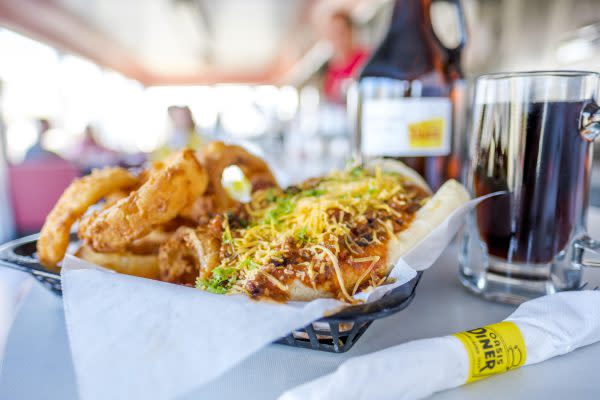 Oasis Diner
Oasis Diner, Plainfield Purchase any Breakfast, Lunch or Dinner entree and receive a FREE Handcrafted Soda Float on Foodie Friday as part of Visit Indiana Week! You can mix and match any of our 11 flavors of Locally Made Handcrafted Sodas with one of our 6 flavors of Hand-Dipped Super Premium Ice Cream!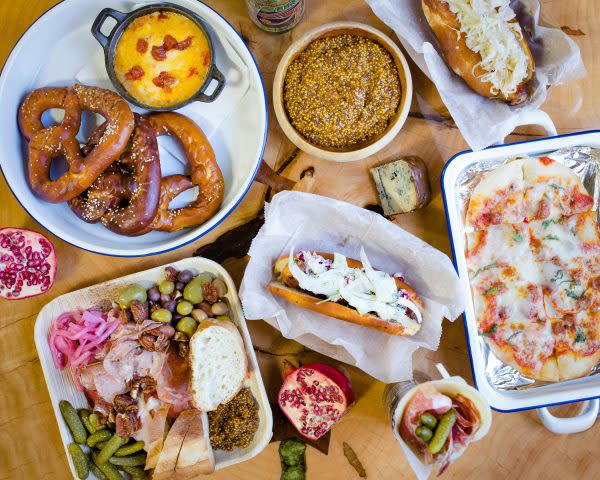 Oca
Oca, Indianapolis In Italian, Oca means goose. In Indy, Goose means over a decade of good eats. Over the years, Indy's Goose butcher shop has partnered with Sun King Brewing for special releases like beer sausages and hopped salumi. Now these two birds of a feather are together with Oca's delicious counter inside Sun King's tap room. Order from Oca's menu of sausages, pizza, sandwiches, and more. Stock up on #FoodieFriday (May 11) with 10% OFF all grab-n-go Smoking Goose meats: salumi, sausages, bacon, and more!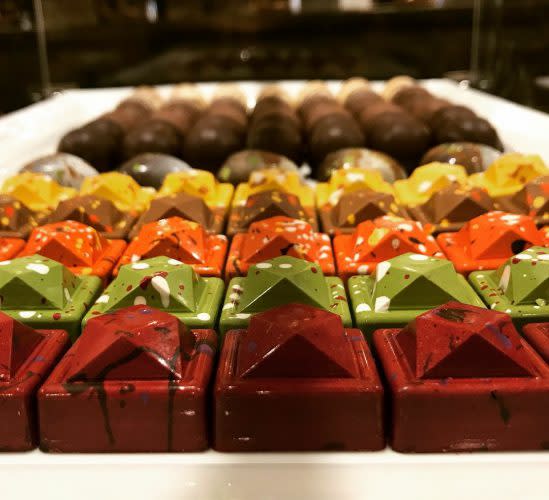 Chocolates at The Olivet
The Olivet, New Albany Celebrate Visit Indiana Week at The Olivet in historic downtown New Albany and take $5 off your purchase of $25 or more. With so many great things to see and taste, you are sure to "Awaken Your Inner Gourmet" and find something wonderful!
Our Sandwich Place, Nashville Enjoy a tasting of 6 different flavors of ice cream for $5. Also, try the special sandwich we've created just for Foodie Friday! A straightforward, no frills, laid-back dining experience, Our Sandwich Place is your go to for good grub! Tucked away under the historic Nashville House, Our Sandwich Place teems with tasty, reasonably-priced luncheon platters…and basketball! Decked out in Hoosier sports decor, this sandwich shop started with a simple plan…a fun atmosphere and limited menu, mostly of sandwiches, with a minimum of pretension and fussiness.
Region Ale Taphouse & Eatery, Schererville Free appetizer with the purchase of any two sandwiches or entrees. Maximum value of $8. Not eligible to be used with any other promotion or discounted items. Regional Ale has 50 rotating taps of craft beer that change every day and they feature the Region's finest micro brews. We balance these offerings with a large selection of wine from local and regional wineries.
River City, Evansville Receive $1 OFF any coffee, latte or tea at River City on May 11th! River City opened in 2016 with a vision of providing a place for local makers to showcase their high quality, handmade goods in a relaxed and social setting.  The shop is a unique blend of amazing coffee as well as one of a kind gifts from our local makers. River City has products from over 50 makers from Evansville & throughout the U.S.
River Kitty Cat Cafe, Evansville  Only the second cat cafe in Indiana, River Kitty Cat Cafe offers a unique experience for its guests. If you love cats, this is the place for you! Enjoy time playing with the adoptable cats and hop over to our relaxing cafe to indulge in macaroons, pastries, other delicious food and the beverage of your choice. You might as well have more than one macaroon because on May 11th they are 20% OFF!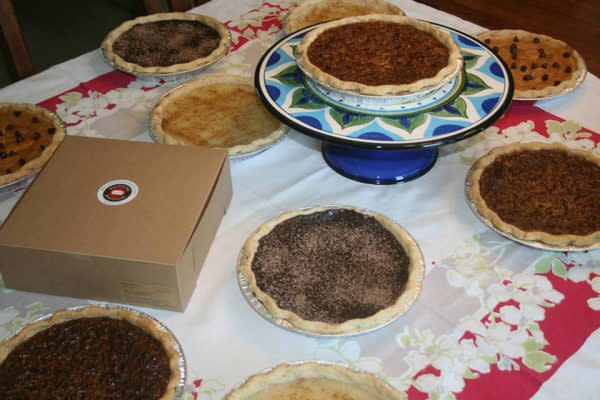 Rolling Pin Bakehouse
Rolling Pin Bakehouse, Roanoke The Indiana state pie is quite the treat and the one offered from Rolling Pin Bakehouse is the most delicious one you'll ever taste. You may have seen us on TV recently, as we were featured in the nation-wide PBS documentary, A Few Good Pie Places. During Visit Indiana Week, we are offering our sugar cream pie with a 25% discount on Foodie Friday, so you pay just $9 for our 9 inch pie.
Schimpff's Confectionery, Jeffersonville Watch and smell the cinnamon red hot drops being made at 2 p.m. on Tuesday, May 8 and 11:30 a.m. on Thursday, May 10 at Schimpff's Confectionery. Husband and wife duo, Warren and Jill Schimpff will demonstrate the art of making cinnamon red hot drops in their family-owned and operated store in downtown Jeffersonville. You can laugh with them as they describe the process and make jokes along the way. NOTE: This takes place on Tuesday, May 8 and Thursday, May 10.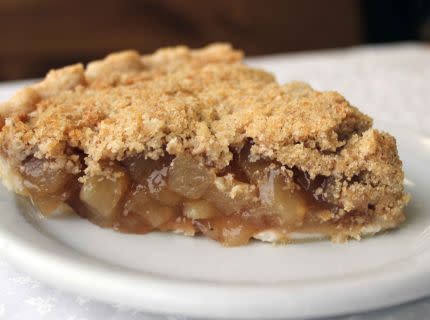 Auction Restaurant in Shipshewana
Shipshewana Trading Place Auction Restaurant Stop in the Auction Restaurant for a free slice of pie with a purchase of $20 or more on May 11. It's a nice tasty dessert to finish off a delicious meal.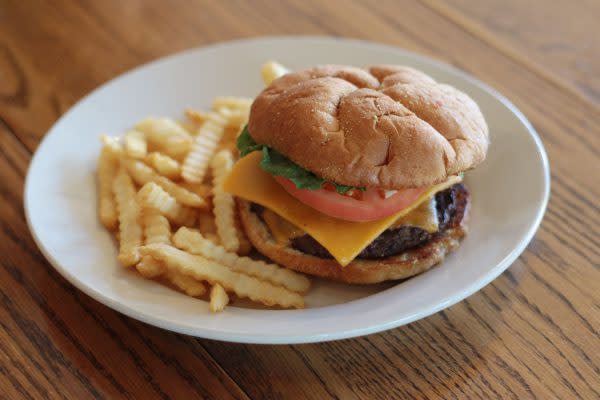 St. Nick's Restaurant
St. Nick's Restaurant, Santa Claus Enjoy 10% off of your entire food purchase at St. Nick's Restaurant on Foodie Friday of Visit Indiana Week. St. Nick's Restaurant is a family-friendly, Christmas-themed restaurant conveniently located inside Santa's Lodge in Santa Claus, Indiana. The full menu of delicious items includes steak and chicken entrees.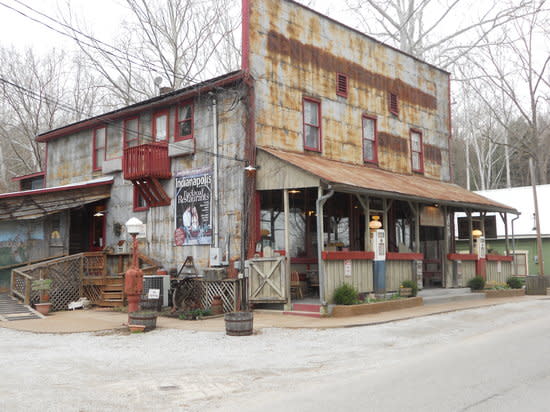 Story Inn
Story Inn, Nashville 10% off the Bar Menu on Foodie Friday! The Story Inn is Indiana's oldest country inn, located just 20 minutes south of Nashville. The Story Inn is actually an entire town, founded as a logging community in 1851.The little town/inn is dominated by the old General Store which is now a gourmet restaurant with a neighborhood pub in the basement. Remaining buildings in town include the Old Mill, the Sawmill, and several homes and out-buildings serving as overnight accommodations or special events facilities.
Sugar Creek Barbeque Co., Nashville Our Large Pulled Pork Sandwich and any side of your choice for only $6.99! We are a true Hoosier-style BBQ restaurant that takes pride in offering a full-service, family-friendly experience. The Creek's barbeque is slow-smoked for up to 14 hours every day with hickory and cherry woods.  This time-consuming process gives the meat a pink tinge called a "smoke ring" and is a prized attribute in barbeque meats. In beef, the ring is a reddish-pink and in pork and chicken it's bright pink.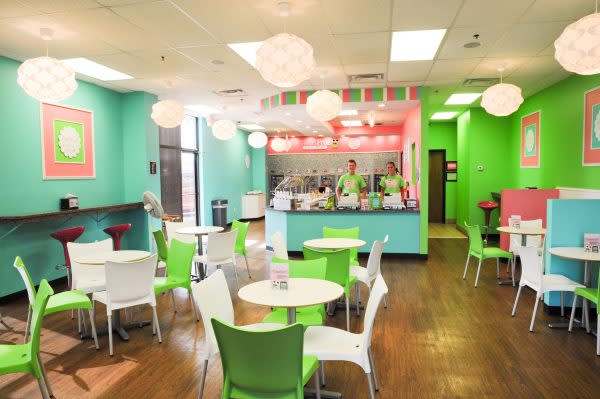 Sweet Frog
Sweet Frog Frozen Yogurt, Clarksville Sweet Frog is the Area's premier Frozen Yogurt Experience, and has won every major award over the past several years.  You create your own Dessert Masterpiece with Over 16+ Flavors of delicious Fro-yo combined with Over 60+ Toppings! And with this offer, you will receive $2 OFF your purchase of $10 or More for an even better Value!  Come in & discover why at Sweet Frog, FUN is our Secret Ingredient! Offer valid May 6 - May 12, 2018.
The Thomas Family Winery & Rustic Bakery, Madison Located just two blocks from the Ohio River in a rehabilitated 1850's stable and carriage house, visitors and friends alike gather at The Thomas Family Winery for relaxation and refreshment. We are proud of our hand-crafted, traditional wines and old-world ciders made on-site. On Foodie Friday (5/11)- "Double Down"  cheese & charcuterie!
Timbrook Kitchens, Munster Timbrook Kitchens is a fast, casual, comfort food eatery with seating for twenty guests. The menu changes daily with savory pies, sandwiches, hand pies, breakfast pastries and sweet pies! Stop in during Visit Indiana Week on Foodie Friday to receive one free sweet or savory slice of pie with the purchase of a slice.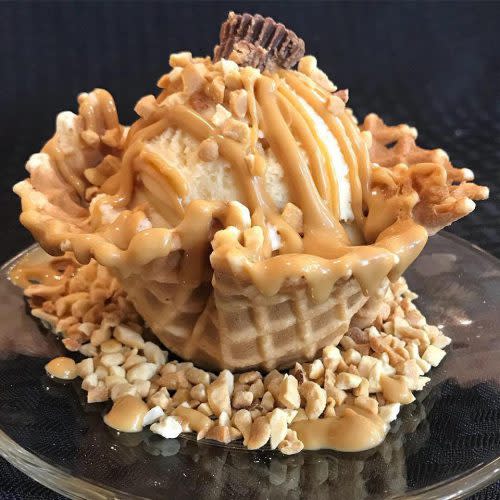 Ullery's Ice Cream
Ullery's Ice Cream, Richmond Visit Ullery's Ice Cream on Foodie Friday, May 11, 2018 for a free scoop of real, hand-crafted homemade ice cream with purchase. Handmade waffle cones plus over 16 delicious flavors to choose from. Located in the Historic Depot District of Richmond, IN. Limit one free scoop per person.
State Parks Sunday kicks off a week of discounts around the Hoosier State for Visit Indiana Week on May 6 with free admission to 51 Indiana DNR properties. Travelers will be able to see discounts and/or free admission at 200+ properties during Visit Indiana Week! May 7 is Museum Monday with discounted or free entry at 29 museums around the state. Tastings Tuesday will see discounts at 38 Indiana wineries, breweries, cideries and meaderies on May 8. Wild Wednesday features discounts at 13 animal and wilderness experiences on May 9.  Throwback Thursday celebrates Indiana's historical destinations with discounts at 35 locations around the Hoosier State on May 10. Bring the appetite on Foodie Friday, as 28 Indiana eateries will offer discounts on May 11. And close out the week with Sports and Outdoor Saturday, featuring 21 discounts on sporting events, history or activities on May 12.