Editor's Note: This guest blog was submitted by Bruce Williams, director of media and public relations at the Indiana State Museum.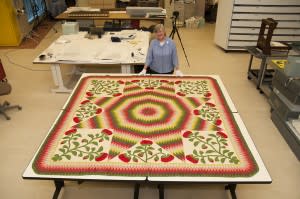 Mary Jane Teeters-Eichacker, curator of social history, with the Lone Star Quilt
Mary Jane Teeters-Eichacker is seeing stars these days as she does the final prep work for the latest exhibition 19 Stars: Quilts of Indiana's Present and Past opening June 13 at the Indiana State Museum.
In anticipation of the state's bicentennial, Mary Jane is showcasing her spirit and love of history in this stunning collection of historic and contemporary star-themed quilts—exhibiting some of the most important quilts in Indiana collections.
If you ask me, the quilts are gorgeous! The detail and color of each quilt is so impressive and mesmerizing. I love seeing bright, colorful quilts hanging on gallery walls and reading the labels to learn the stories behind the creations.
Mary Jane says stars were a favored pattern among quilt-makers during the 19th and 20th centuries and appear in many variations in this show. She admires the collection for its beauty and history.
Mary Jane is focusing on the number 19 because Indiana was the 19th state to join the Union and the state's flag depicts 19 stars.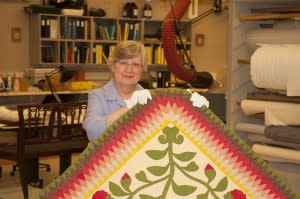 Mary Jane Teeters-Eichacker, curator of social history, displays the Lone Star Quilt
The show will be featured in two galleries. One gallery will feature 19 historic star-patterned quilts selected from the Indiana State Museum's collection. These quilts span 150 years of quilt-making in Indiana, from the 1830s through the 1980s. The quilts feature traditional piecework and appliqué.
The second gallery will feature 19 contemporary star-themed quilts created by 14 of Indiana's best and brightest quilt artists. In contrast to the historic collection, these quilts were created specifically for this show with the star patterns presented in various ways from overt (unhidden) to illusory (not real). The artists demonstrate improvisational collage, layering and richly textural thread painting.
Along with these incredibly meticulous and artful quilts, there are fun programs scheduled including a dessert reception on June 12 to celebrate the opening.
A photo can never do a quilt justice. Come see each creation for yourself! You have until October 4. Call 317.232.1637 for ticket information or visit indianamuseum.org for details.