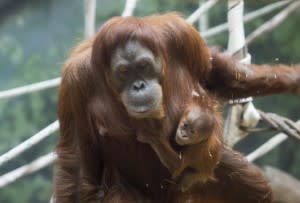 Baby Asmara clings to her mother.
 If you've had 'Visit the Fort Wayne Children's Zoo' on your family's bucket list, make plans to get there this summer. There's never been a better time!
 The Fort Wayne Children's Zoo, which opened April 25, is kicking off a summer-long 50th birthday celebration filled with new exhibits and special events. They're even throwing in (not literally, of course) an adorable baby Sumatran orangutan.
 Asmara, the baby Sumatran orangutan, makes her public debut this season. She was born at the zoo in November 2014. Not only is she adorable, but Asmara represents a critically endangered species on the brink of extinction.
 I admit, the orangutans are one of my favorite exhibits. Their personalities are reflected in their aggressive, playful and sometimes comical behavior. They remind me of certain people!
 I plan to keep an eye on Asmara all season and see how she grows and develops her own personality.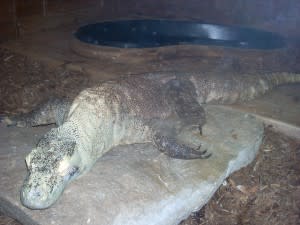 It may not be endangered, but I really love the zoo's Komodo Dragon. They are native to Indonesia and possibly were discovered in the 21st century during WWII. I've never visited another zoo that has one!
Another new exhibit is The Reef. This exhibit, which opens in late May, will feature venomous lionfish and a completely renovated 17,000-gallon coral reef tank. Over the winter the zoo staff drained the tank, rebuilt the artificial coral, and buffed decades of tiny scratches off the 27-foot-long acrylic window. I've always loved watching fish of every combination of color hypnotically swim in the darkened room of the giant aquarium. It's so relaxing!
 Other fish that will move into the 50,000-gallon Shark Tank later this season include pilchards and black-tip sharks.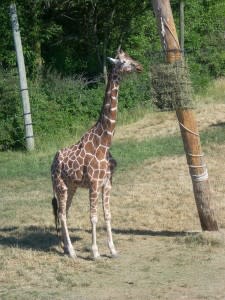 July is a big month at the zoo. A zoo birthday party will take place on July 1. Then, on July 11, the Three Rivers Festival parade will showcase the zoo. A one-of-a-kind animal-themed float will glide through, designed by zoo keepers.
If stingrays are more your style, you'll want to visit Stingray Bay which also opens in July. I once spent the night at the zoo as part of the 'Sleep with the Sharks' Adventure. Maybe I'll spend the night with Stingrays this year!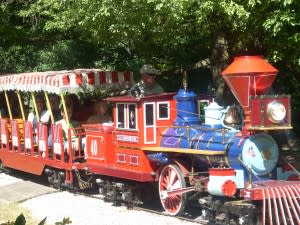 Some things never change. The zoo still features old favorites like Croaky the Frog, the Lion Drinking Fountain, and Monkey Island, which have been at the zoo since it opened on July 3, 1965.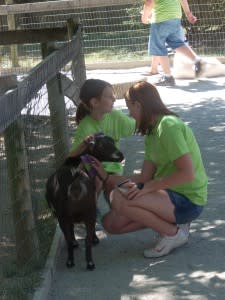 Our kids always loved the petting part of the zoo. Goats snuggle up, hoping for a snack.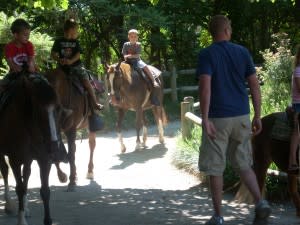 The horses have always been a favorite of our family.
The cost for these extras is minimal.
 Insider tip: Scan the website prior to your trip to decide on 'extras' your family can afford.
 The zoo helps preserve endangered and threatened animals from around the world, including Sumatran orangutans, reticulated giraffes, African penguins, black-breasted leaf turtles, and Sumatran tigers. I love that we are able to get within a few feet of these species that are being protected and valued.
 Insider tip: Get there when the zoo opens. The admission lines will be shorter and the animals less drowsy than in the heat of the day. better yet, buy a season pass and visit at your family's convenience during the summer!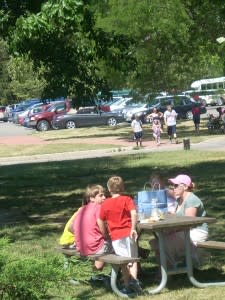 Franke Park  adjoins the zoo. Buy a snack at the zoo and carry it over to sit on picnic tables under big shady trees of the park.
 Need further convincing the zoo is worth your time?
Check out these accolades:
 The Fort Wayne Children's Zoo has become northeast Indiana's largest tourist attraction.
The zoo received the 2014 TripAdvisor Travelers' Choice Award.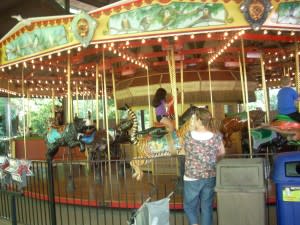 It was voted Indiana's #1 'Gotta-Do Summer Attraction'.
 It is consistently named one of the nation's Top Ten Zoos for Kids by national media outlets.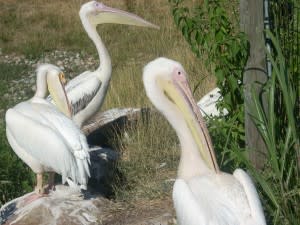 Sign up for VIP Experiences and go behind-the-scenes to help zoo keepers feed the  penguins, toss fish to the pelicans, create treats for the giraffes, or feed the jellyfish.
 Having attended the zoo all of my life, I didn't know it is non-profit and receives no tax funding. It is a well-loved zoo with approximately 540,000 visitors each season.
 Zoo hours:
The zoo is open seven days a week through October 11, 2015.
9:00 AM – 6:00 PM daily; last admission 5:00 PM.
Exhibits, rides, & buildings close at 5:30 PM.
Admission:
$14.00 for adults;
$10.50 for seniors age 60+;
$9.00 for children ages 2-18. Babies age 1 and under
Zoo Society Members are admitted free.
Fort Wayne Children's Zoo | 3411 Sherman Blvd. | Fort Wayne, IN 46808 | 260.427.6800 | kidszoo.org