Looking for a luxury? Want to make it a special getaway? You should book a stay at one of 11 AAA Four Diamond hotels in Indiana!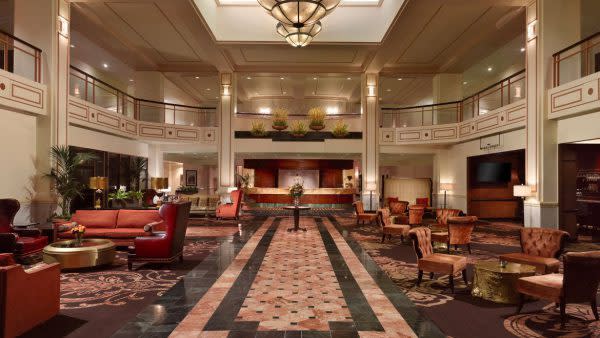 Triple AAA defines the ratings here:
"Think of each additional Diamond as an indicator of more extensive services and amenities - on a scale from no-frills to highly personalized. One Diamond means a bed, a pillow and a bargain. Two Diamonds mean a familiar, casual, affordable setting. Three Diamonds deliver the comforts of home, minus the effort. Four Diamonds provide a notable splurge for a special occasion."
Continue below to learn about all 11 Four Diamond Hotels in Indiana! Hotels are listed in chronological order based on when they first earned Four-Diamond status.
1. Omni Severin Hotel (Indianapolis, 1990)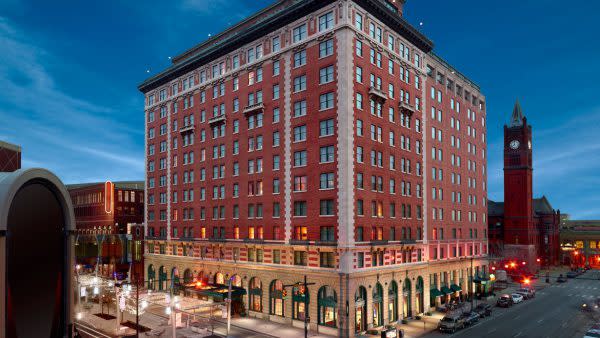 The Omni Severin offers the elegant grandeur of the early 1900s mixed together with modern amenities. Located in the heart of Indianapolis, it is the longest running luxury hotel in Indianapolis. Its history makes it one of the landmarks of the town. Exceptional service, wonderful grandeur and an acclaimed restaurant make this Four Diamond hotel the place to experience the best in sensible luxury.
2. The Westin (Indianapolis, 2004)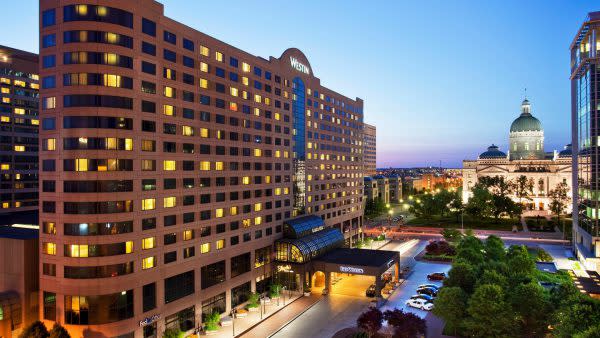 The Westin is a staple in the Circle City! Connected via skywalk to the Circle Centre Mall, The Westin is perfectly located to enjoy restaurants, shopping, and nightlife. Some of their amenities include bell service, catering, valet, lounge and restaurant on sight, a swimming pool, and much more! This 4 diamond hotel is perfect for a peaceful night and rejuvenating sleep.
 3. French Lick Springs Hotel (West Baden, 2007)

Established in 1845, the French Lick Springs Hotel is full of historic charm while offering modern-day amenities including a full-service spa, Vegas-style casino, and both casual and formal dining options. Recreational activities such as championship-level golf, bowling, horseback riding, FootGolf, biking and hiking are available for the whole family. Be sure to take one of the historic tours to learn unique stories about the hotel!
4. West Baden Springs Hotel (West Baden, 2007)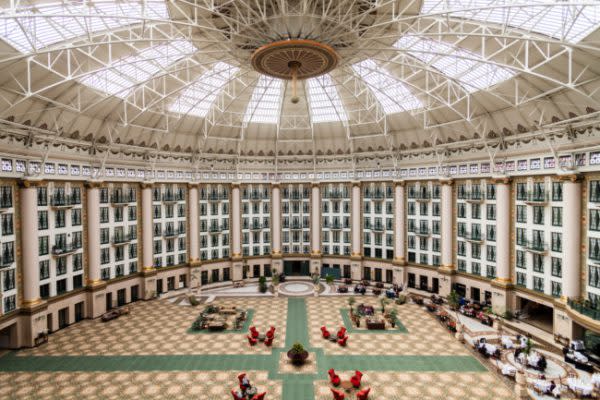 Located at French Lick Resort, the West Baden Springs Hotel was once known as the "Eighth Wonder of the World" for its breathtaking six-story free-span dome. The hotel was sold in 1994 and restored by the Cook Family which eventually reopened it in 2007. Today, it is home to the prestigious Pete Dye Course and has been recognized on the exclusive Conde Nast Traveler's Gold List. Its amenities include a world-class spa & golf, dining, shopping, pools, horseback riding, historical tours, entertainment & events, and meeting space.
5. Conrad (Indianapolis, 2007)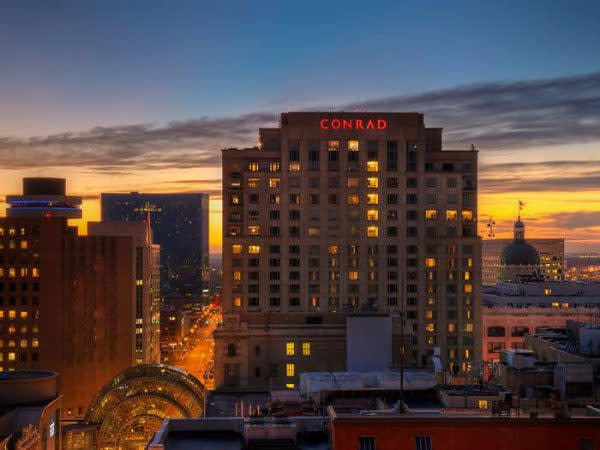 Conrad Indianapolis offers travelers a personalized guest experience with their 241 guestrooms, 20 corner suites, 2 executive suits, and one gallery suite. Guests can also enjoy fine dining, award-winning wine and relaxation at the hotel's sixth-floor urban oasis, Evan Todd Spa & Salon. Featuring works ranging from "Picasso to Pop," Conrad Indianapolis offers guests the opportunity to explore world-class art in the hotel's on-site gallery, public space and 18th-floor Gallery Suite, named one of the "Top 101 Suites in the World" by Elite Traveler Magazine.
6. JW Marriot  (Indianapolis, 2011)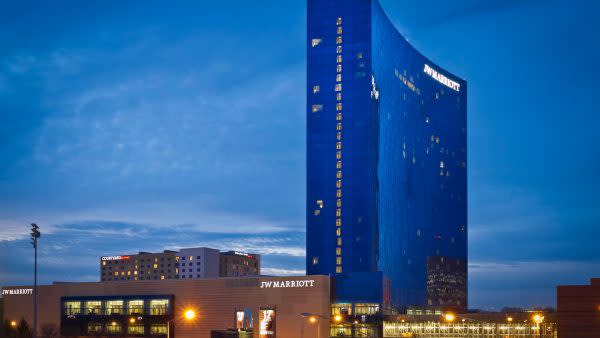 Soaring 33 stories above downtown, JW Marriott Indianapolis boasts posh accommodations and intuitive amenities. Their luxury rooms and suites contain plush beds topped with sumptuous duvets and plump pillows awaiting to immerse you with serenity. Floor-to-ceiling windows provide stunning panoramic views of the sweeping skyline. The Marriott's on-site sports bar and Italian restaurant offer an opportunity to indulge and enjoy the luxury of Indianapolis.
7. Hyatt Regency (Indianapolis, 2013)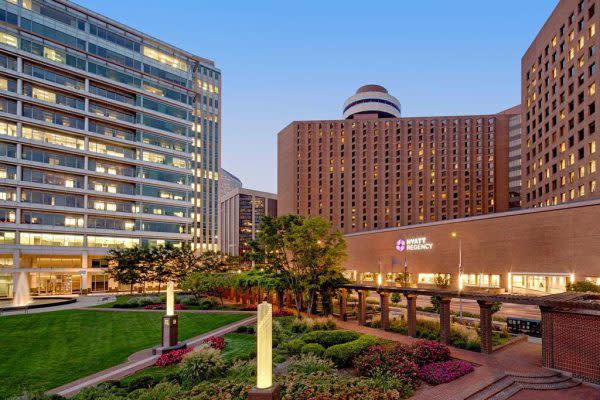 Beautifully designed and refined, Hyatt Regency is a contemporary downtown Indianapolis hotel conveniently connected to the Convention Center and just steps from Lucas Oil Stadium. The modern amenities at the hotel like the library, fitness center, and pool blend effortlessly with the classically designed elements in the building. Hyatt Regency even has one of the 100 Most Romantic Restaurants in America located within, The Eagles Nest.
8. The Alexander - A Dolce Hotel (Indianapolis, 2014)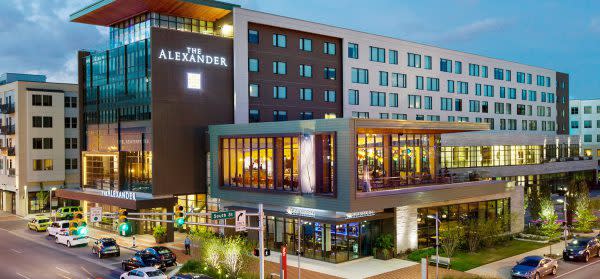 Nestled in downtown Indianapolis, The Alexander features outstanding business amenities and an emphasis on art and design. The hotel is all about using art inspiration to provide its guests with a curated and cultural experience while visiting Indianapolis. Its $3 million art collection of local and international pieces can be seen throughout the hotel's rooms, lobby and meeting spaces. The Alexander also offers a gorgeous outdoor plaza that is the perfect venue to relax or hold your event in.
9. Morris Inn (South Bend, 2013)

Renovated for $30 million in 2013, the Morris Inn sits at the heart of Notre Dame's storied campus. The Inn offers 150 guest rooms, 18 grandeur suites, and a beautiful ballroom. Its re-imagined Rohr's restaurant is a modern tavern with a casual, warm gathering place with a focus on bright, flavorful food. While on campus, enjoy the Warren Golf Course at Notre Dame, a Coore & Crenshaw designed course that is both challenging and beautiful.
10. Le Meridien (Indianapolis, 2015)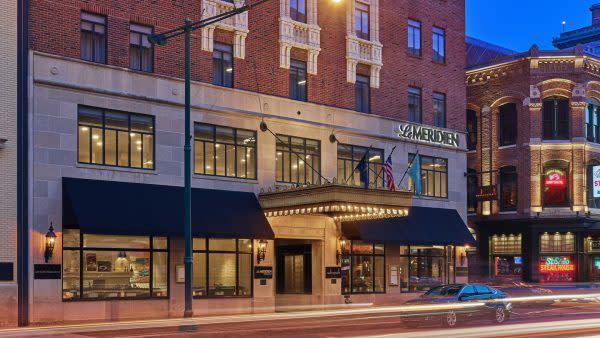 Le Meridien opened in 2014 after a $9.5 million remodel of the famous Canterbury Hotel in downtown Indianapolis. The hotel features a chic design ethos that juxtaposes the property's historic architecture with a contemporary style. The renovation included 99 modern guest rooms, an expansion on the fitness center, a re-designed restaurant and lounge, and more than 2,500 square feet of upgraded meeting and event space. The hotel features the brand's signature Le Meridien Hub, which re-interprets the traditional lobby into a social gathering place, and further builds on the brand's award-winning arrival experience and coffee culture.
11. Ironworks Hotel (Indianapolis, 2019)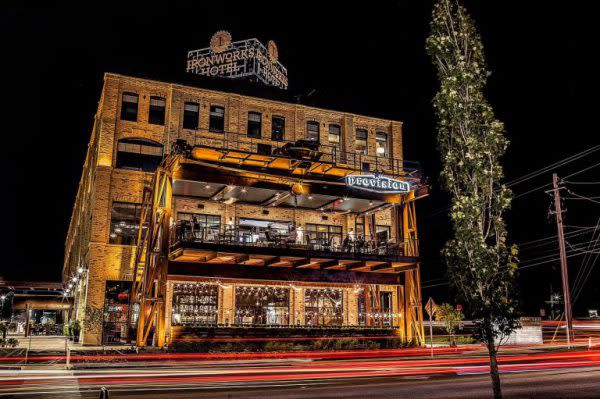 Modeled after America's industrial age, Ironworks Hotel offers its guests a unique experience as the only boutique hotel on the north side of Indianapolis. It is an eclectic first-class experience for local guests and travelers alike. The five-story, 100,000-square-foot original brick industrial building was inspired by 19th-century architecture and features 120 guest rooms, a fitness center and three conference rooms. In addition, the Ironworks Hotel also offers 15,000 square feet of street-level retail space.
Find more about the AAA Four Diamond Hotels in Indiana here. Want more hotel options in Indiana? See the lodging listings on VisitIndiana.com.