French Lick... if you aren't a Hoosier you might wonder where in the world French Lick is and what might it have to offer. But if you are a Hoosier you are likely well aware of this Southern Indiana destination and all it has to offer - especially in the most recent years as it has undergone many changes and renovations.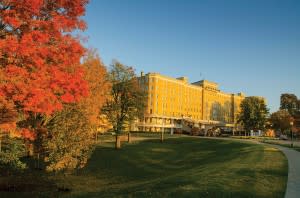 Photo Credit: Orange County CVB
Let me give you a quick history lesson. In 1845 Dr. William Bowles, an Indiana physician, opened a hotel in French Lick. Using his knowledge as a doctor he began to explore the healing properties of the mineral springs in the area. The hotel continued to prosper for years under various owners until the early 1900s when Tom Taggart purchased the property and began making great strides in decor, development and transportation. Before long, well-known politicians and actors began visiting the destination and the healing mineral springs were growing in their popularity.
In 1946, Taggart sold the property and over the course of the years, the resort fell into disrepair (along with its neighbor West Baden Springs). In 2005 COOK Group, Inc. (a global medical device company) stepped in to preserve both hotels. After a multi-million dollar renovation the hotels have been returned to their original grandeur. (For the complete history, be sure to visit the French Lick Resort's website.)
Now that you are up to speed, let me enlighten you on what French Lick offers today. While you  may know about their adult amenities (like the casino), you might not be aware of their fabulous family activities. For the quick overview of our trip, watch this video ...
Now for the more in-dept version of our visit. When we first arrived, we took time to just walk around the French Lick Resort. Southern Indiana is so geographically different from the rest of the state with the rolling hills that it is just beautiful to walk around and take it all in!
Afterwards we walked over to the French Lick Scenic Railway. We were able to take part in their Wild West Hold Up which is only offered at certain times of the year. Not only did we get to enjoy the roughly 2-hour train ride, but halfway through our train was "robbed" by local bandits.
When we got back to the hotel we headed over to the KidsFest Lodge.This area is pretty dreamy. For kids with their parents you can take full advantage of their games, coloring books and toys. We stopped here a few different times during our visit and it was a great addition to their other offerings. If your kids are between the ages of 6-12 you can drop them off (for a small fee) and they can take part in activities that happen throughout the day.
This is also where you can rent bikes to tour both hotel properties. We decided to take the long path so we could bike over to West Baden Springsand walk through their gorgeous property.
Photo Credit: Orange County CVB
The next morning Maggie and I got to enjoy time at the French Lick Stables. We took advantage of the free shuttle between the resort's properties and found ourselves up high with a gorgeous view!
Maggie even got to ride a pony and feed their goats! Once my husband finished his work for the day, we all headed to Big Splash - an indoor water park. It is really large ... say 40,000 square feet of fun! We didn't stay on property, but they have day passes available (check their website for details). Maggie loved the kiddie area where she would go down the slide without an adult. I was busy trying to figure out how to squirt my husband with the water guns. No luck. And if that wasn't enough, on our way out of town, we hit Shotz Miniature Golf. We weren't too far down the road and Maggie fell asleep. Guess all of the touring around really did her in! It was a great few days full of activities.
Be sure and visit French Lick's visitor website if you are planning a trip. Find out what events are going on and check out all of the activities available to do ... some we didn't even have time for. They were a huge help in planning our visit!
So if you haven't been to French Lick in awhile ... or at all ... put it on your list to go! It won't disappoint.