A 2010 episode of Parks and Recreation is responsible for the term, Galentine's Day. Leslie Knope created a special day for "ladies to celebrate ladies." Since 2010 Galentine's Day has been dubbed an unofficial day to celebrate female friendships. Traditionally, Leslie Knope would celebrate the day before Valentine's Day but who said you had to follow the rules for an unofficial holiday anyway? We've put together a few ideas for you to get together with your favorite gals and celebrate in the month of February!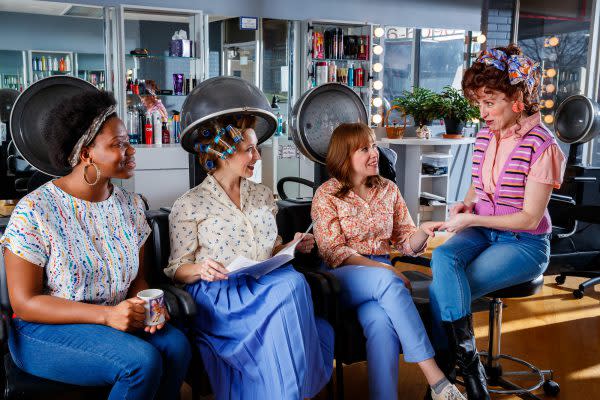 Steel Magnolias debuts at the Theatre at the Center in Munster. Photo credit: Guy Rhodes
Steel Magnolias – It just so happens that this hilarious and heart-warming tale will be playing at the Theatre at the Center from Feb. 22 to March 25. The story takes place in a Louisiana beauty shop – following the hopes, dreams, triumphs and tragedies of six colorful characters inspired by the 1989 film by the same name. Ticket prices range from $20 to $44 and can be purchased online.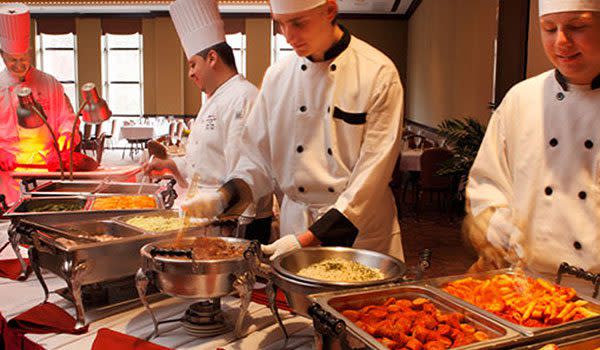 Brunch at the Center for Visual and Performing Arts Center in Munster
Brunch – Seems like a lady-like thing to do; as well as what the ladies of Parks and Recreation did for their Galentine's Day! Why not enjoy a champagne brunch at The Center for Visual and Performing Arts that includes breakfast and lunch selections. Cost is $23 per adult. Brunch is on Sundays with seating at 11:00 a.m. to 2:00 p.m. Patrician Banquets also offer a Sunday Breakfast Buffet from 8:30 a.m. to 1:30 p.m. You can enjoy an omelette station, waffles, a carving station and more for $11.95 per adult. This is the perfect opportunity to bring your mothers and grandmothers for a fun Galentine's celebration. (Learn more about Champagne Brunch at CVPA &  Sunday Breakfast Buffet at Patrician Banquet)
Shelf Ice Brewfest – Grab the ladies (and your winter gear) for an outdoor beer fest in downtown Michigan City. More than 40 local and region breweries will be represented. There will also be ice sculptures, food trucks, fire pits and "fun snow stuff" to enjoy. This event takes place on Feb. 17 from 1:00 p.m. to 5:00 p.m. Tickets are available online. 
Tyler Henry, "5 Life Lessons Learned from the Departed" – Tyler Henry, the star of hit television show, "Hollywood Medium" will visit The Venue at Horseshoe Casino Hammond on Feb. 24. The evening will include Tyler discussing his unique gift, life and don't worry…a Q&A session! For an upcoming Venue schedule, including Gladys Knight and Boyz II Men visit here. 
First Friday at the Shops on Lake Street – Enjoy food, entertainment and fun along Lake Street in the Miller section of Gary. Shop boutiques, view artwork and grab a bite to eat on the first Friday of every month. Plan ahead and schedule you're a time to visit the yoga studio, juice bar or plan a "paint and sip" party at the Shops on Lake Street. 
Eat Up Wine Down – The first Thursday of each month you can enjoy discounted drinks and food at participating restaurants in downtown Valparaiso. You can enjoy girl time at Sage Restaurant, Radius, Pikk's Tavern and more and the specials are only $6/piece. Eat Up Wine Down specials run on the first Thursday of the month from 5:00 p.m. to 10:00 p.m.  
There are plenty of other activities in the Region for Galentine's Day celebrations including wineries, breweries and of course a nice dinner. Visit www.alongthesouthshore.com for more ideas.