Are you searching for signs of spring? Madison in Bloom Spring Garden Tour is a sure sign that spring has arrived in southeast Indiana. For 2 weekends, May 13-14 and 20-21, 2017, you can explore (not just peek through the fences) some of Madison's most beautiful gardens and interact with the homeowners who have created these spaces. Tour hours are Saturdays 10am-4pm, Sundays 12pm-4pm.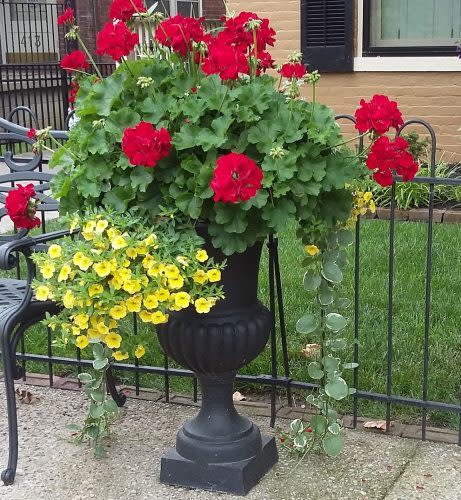 Stunning!
Known for its National Historic Landmark District, outstanding historic homes, vibrant Main Street, and perfect location along the Ohio River, Madison comes alive in spring. This year, Madison in Bloom features 5 private gardens in the heart of Madison's historic district, all on Main Street and all surrounding those beautiful historic homes. In addition, there is 1 public garden at the Jeremiah Sullivan House right downtown on West Second Street. And…there are 4 Garden Spot Sponsors where you can present your Bloom ticket to receive a free gift - native Indiana saplings. So don't forget to stop!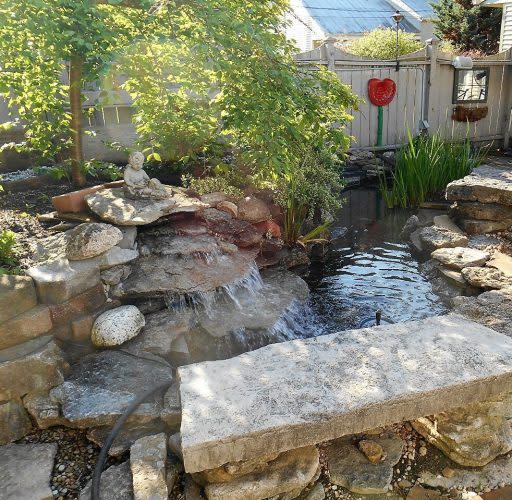 Outdoor Living!
So what will you see? Some of the private gardens have water features and intricate historic ironwork. You'll find a turtle garden, bonsai peach tree, lemon and lime trees, Japanese Cherry Willow and, of course, an assortment of flowering plants. There are outdoor living spaces and items unique to their owners (sun blockers with pictures of last year's flowers and family members). And you'll definitely want to sample the lemonade & cookies at the Davis garden.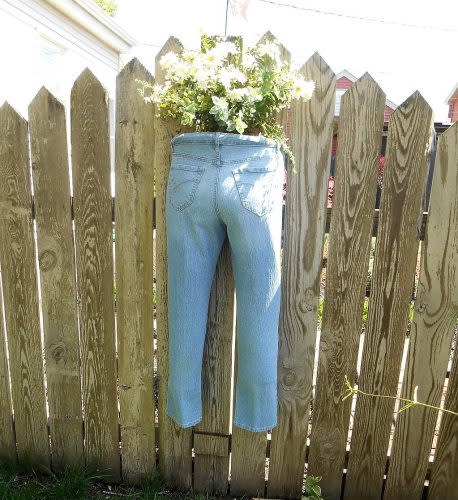 Is it bad when jeans look better on the fence than on me?
At the Jeremiah Sullivan House, the garden is divided into 3 sections: the Virginia-style parterre garden - a Pleasure Garden with boxwoods and flowers popular in the late 18th and early 19th centuries, the Native garden displaying examples of Indiana aboriginal plants and a kitchen herb garden with samples of the herbs of the time period. Historic Madison, Inc, owner/operator of the Sullivan House, will host a native plant sale during the Madison in Bloom Spring Garden Tour.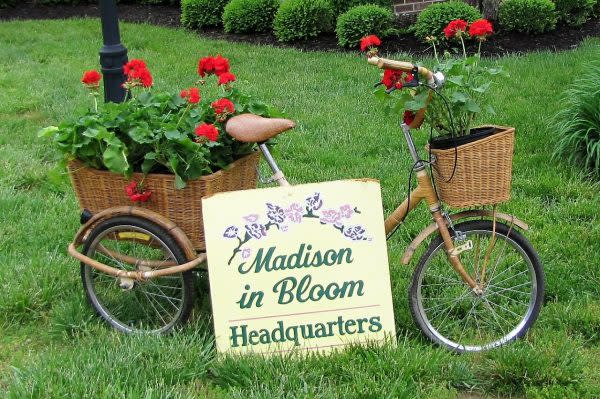 Start Here!
Don't miss the 27th Madison in Bloom Spring Garden Tour, May 13-14 and May 20-21, 2017, tickets are just $20 and if you hurry, just $15 if ordered by April 22, 2017. Tickets are will call at the Jefferson County Historical Society's History Center, 615 W. First Street beginning 1 week before the event through the event weekends. Order Tickets Here! Just a reminder that Sunday, May 14, 2017 is Mother's Day. You could be mom's favorite with a gift of Madison in Bloom!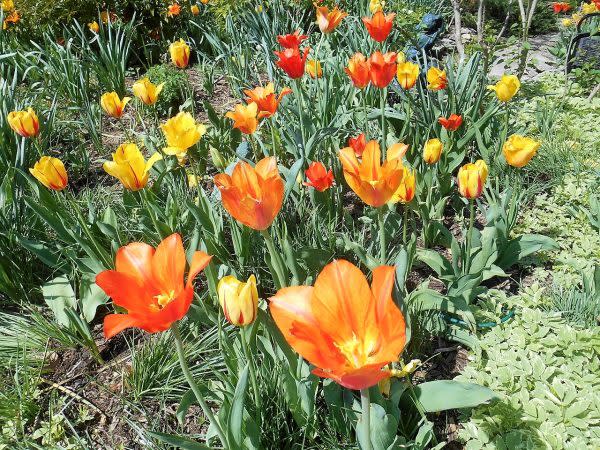 Flowers Everywhere!
Call your girlfriends and make it a girlfriend getaway or a get together with the family! Make this your spring fling weekend, find places to stay, eat, shop at Visit Madison.
Can't get enough spring flowers? Check out 250,000 Spring Blooms at the Indianapolis Museum of Art or the Azalea Path Arboretum & Botanical Gardens in Hazelton.
Photos courtesy of Madison in Bloom.