As a young adult, I'll do anything for the adventure. In the past that habit has lead me to mountain biking the Rockies, rock climbing canyons in Kentucky and even cliff diving in Mexico. However, if you're a fellow thrill-seeker like me, you're always eager to try the next best thing and you're in luck: the next best thing is available right here in Indiana. Geocaching is a real-world, outdoor treasure hunting game using GPS devices. It's a modern day hunt for treasure in Indiana's own backyard!
It' simple, fun and easy! Here's how it works:
1. You register for a basic membership on www.geocaching.com and there you can view GPS coordinates of hidden caches all over the globe just waiting to be found!
2. On the site you can also narrow down your search by simply entering your zip code! This will narrow down your search to a surrounding area and all you have to do is plug in the coordinates of hidden caches around your zip code. The rest is left up to your sense of exploration and adventure!
What are these caches and what do they look like? To add to the challenge these caches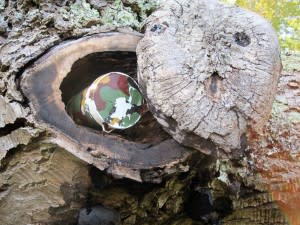 Do you have what it takes to find these hidden treasures?
vary in shapes and sizes. Some are easily as noticeable like a plastic container hidden among leaves but others could be camouflaged in a hidden compartment underneath a rock. It takes a keen eye to spot one of these hidden pieces of treasure!
Indiana has cache locations scattered around the state! Anderson, Evansville, Fort Wayne, South Bend and West Lafayette are just a few of the towns in Indiana hiding treasure. Before the weather turns ugly and the snow covers the ground, tie up your boots, grab your friends and hit the outdoors! Those not craving the thrill of adventure need not apply.
However if you hanker for exploration and living a life like Indiana Jones, geocaching is most definitely for you. Are you up for the challenge?